How to play KOF
Italian translation by @ArtikoKashir – "Pao Pao Cafe Italia" PS4 Community
Quando si vuole fare più di una combo, quando vuoi sapere perchè non li stai colpendo, o perché ti stanno colpendo, è ora di studiare un po' prima di diventare un maestro! Ci sono molte cose che non sono ovvie e molte cose di cui i giocatori non approfittano, il che permette di mantenere i migliori giocatori al top. Fai le tue considerazioni dopo questa lettura, controllando queste guide e video prima di leggere le info sul tuo personaggio! Sapere è potere.
GUIDA PERSONAGGI
KOF XIV ANTONOV GUIDA ITALIANA
KOF XIV BANDEIRAS GUIDA ITALIANA
KOF XIV BENIMARU GUIDE – ITALIAN
KOF XIV GANG-IL GUIDA ITALIANA
Spiegazione del sistema di gioco
Questo video comincia fin dalle basi : quello che vedi sullo schermo di gioco, come funzionano le barre e il tempo.
Ora parliamo del misuratore di potenza ( a volte detto semplicemente come " barra delle super " ).
0:14 Spiegazione del livello dei personaggi, l'equilibrio di gioco e l'importanza di scegliere un personaggio adatto per i principianti.
03:45 Movimento ( salti, 10:00 rotolate, 12:38 movimenti in base al comando immesso).
19:40 Parate.
22:01 Difesa.
27:45 Anti-aeree, controllo dello spazio e posizionamento del personaggio.
0:45 Corsa e annullamento della corsa.
2:08 Rotolate, rotolate in guardia, spazzate e spazzate in guardia.
7:47 Limite della barra di energia, come far crescere la barra di energia, barra di energia aggiuntiva sul ko / sconfitta per time out.
12:36 Attivazione veloce del Max mode, tasti di attivazione, mosse EX, consumo mosse EX e durata del Max mode.
18:34 Totale del contatore del Max " gauge " mode.
20:33 Attacco " rush ".
23:35 Attacchi counter.
24:41 Combo partendo da terra, attacchi in corsa, prese in corsa.
29:20 Quando costa questo/a ? ( consumo barra delle super ).
31:37 Energia vitale, ripristino della salute nei confronti dell'avversario sconfitto.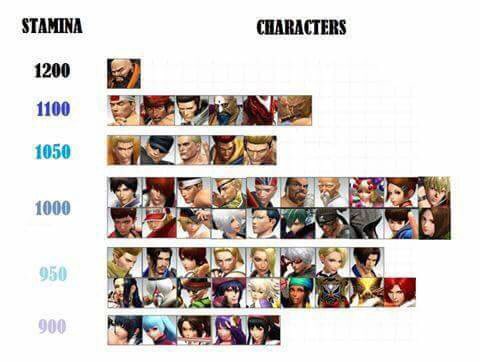 Informazioni sul recupero della barra della vita dopo il ko, a seconda del tempo trascorso :
Il tempo di base è impostato su 60, che sono 90 secondi nel tempo reale. Se un giocatore vince un round, riceverà una determinata quantità di salute a seconda di quanto tempo ha impiegato a battere l'avversario.
Dai 42 secondi in sù = 300 di salute
Da 41 a 30 secondi = 250 di salute
Da 29 a 18 secondi = 150 di salute
Da 17 a 0 o time out = 100 di salute
0:52 Differenze tra danni pesanti e leggeri.
1:35 Diverse possibilità di attacchi in KOF XIV.
2:30 Impostare le combinazioni e la difesa.
6:28 Spiegazione delle counter, del contatore e di come usarlo.
8:00 L'importanza delle collisioni e delle combo adattate alle varie situazioni.
10:43 Controllo del proprio spazio, controllo della zona di attacco e attacchi counter.
16:52 – 30:02 Ko pesanti, salti sicuri e opzioni di gioco.
31:00 Possibili usi delle spazzate, riconoscimento falsi attacchi /partenze/ movimenti offensivi, mancati attacchi e conseguenti punizioni da parte dell'avversario.
34:50 Diventare forti : pratica delle collisioni e come ottimizzare le combo ( alte/ basse ) a seconda della situazione.
44:30 Comandi delle prese, salti sicuri con spazzata, comandi armor e counter.
47:00 Una menzione del gruppo ben organizzato " lasagna lyers " ( citando infernoKong ).
48:30 Rotolata in guardia ( annullando l'attacco avversario ) per poi punirlo.
Ora che hai visto le basi, devi sapere che ci sono cose più particolari da imparare. Continua a leggere!
Gallery Unlocking
Interactions
Alice: Billy, Daimon, Terry
Andy: Geese, Mai, Tung
Angel: Kensou, Kula, Sylvie
Athena: Kensou, Love, Mian
Bandeiras: Choi, Mai, Robert
Benimaru: Love, Luong, Zarina
Billy: Alice, Hein, Joe
Chang: Kim, Leona, Muimui
Chin: K', Nakoruru, Tung
Choi: Bandeiras, Kim, Love
Clark: Maxima, Ralf, Ramon
Daimon: Alice, Joe, Ryo
Dinosaur: Mian, Nelson, Terry
Gang: Vice, Xanadu, Yuri
Geese: Andy, Ryo, Terry
Hein: Billy, K', King
Joe: Billy, Daimon, Nelson
K': Chin, Hein, Ralf
Kensou: Angel, Athena, Muimui
Kim: Chang, Choi, Luong
King: Hein, Ryo, Yuri
Kukri: Kyo, Iori, Shun
Kula: Angel, Sylvie, Zarina
Kyo: Kukri, Iori, Shun
Leona: Chang, Mature, Ralf
Love: Athena, Benimaru, Choi
Luong: Benimaru, Kim, Ramon
Mai: Andy, Bandeiras, Mian
Mature: Leona, Muimui, Xanadu
Maxima: Clark, Nelson, Ramon
Meitenkun: Shun, Sylvie, Vice
Mian: Athena, Dinosaur, Mai
Muimui: Chang, Kensou, Mature
Nakoruru: Chin, Vice, Zarina
Nelson: Dinosaur, Joe, Maxima
Iori: Kukri, Kyo, Tung
Ralf: Clark, K', Leona
Ramon: Clark, Luong, Maxima
Robert: Bandeiras, Xanadu, Yuri
Ryo: Daimon, Geese, King
Shun: Kukri, Kyo, Meitenkun
Sylvie: Angel, Kula, Meitenkun
Terry: Alice, Dinosaur, Geese
Tung: Andy, Chin, Iori
Vice: Gang, Meitenkun, Nakoruru
Xanadu: Gang, Mature, Robert
Yuri: Gang, King, Robert
Zarina: Benimaru, Kula, Nakoruru
---
Secret Illustrations 
Team Dragons: Ryo, Mui Mui, Kensou
Team Tigers: Ramon, Joe, Robert
Team Old Masters: Tung, Gang Il, Chin
Team Beautiful Hair: Nakoruru, Athena, Kula
Team Tung's Disciples: Terry, Geese, Shun'ei
Team Lucky 7's: Mui Mui, Love Heart, Alice
Team Birds: Zarina, Nakoruru, King of Dinosaurs
Team Mysterious Newcomers: Hein, Kukri, Luong
Team NESTs Girls: Sylvie, Kula, Angel
Team Ninjas: Andy, Mai, Bandeiras
THE KING OF FIGHTERS
All trophies acquired.

1.25%
ULTRA RARE

Aspirations
[TUTORIAL] Clear all subjects.

50.11%
COMMON

The Birth of a Legend
[STORY] Clear for the first time.

73.37%
COMMON

Living Legend
[STORY] Clear at computer level 5 with no continues.

5.71%
VERY RARE

Onward to the Next Legend
[STORY] Clear using all teams (including boss and mid-boss).

5.93%
VERY RARE

Hmph… An expected outcome!
[STORY] Acquire rank S or above at the victory screen.

80.03%
COMMON

Yay! Perfect!
[STORY] Acquire rank SS at the victory screen.

68.49%
COMMON

Power of the Champion
[STORY] Defeat the mid-boss.

74.14%
COMMON

Sealed Power
[STORY] Defeat the final boss.

73.39%
COMMON

Perfect winner!
Win 10 matches with a perfect.

33.32%
UNCOMMON

Straight to the finish!
Win 10 matches without losing a round.

60.90%
COMMON

Wow!
Perform 50 SUPER SPECIAL MOVES finishes.

20.10%
UNCOMMON

That settled it!
Perform 50 MAX SUPER SPECIAL MOVES finishes.

11.69%
RARE

One hit! One kill!
Perform 50 CLIMAX SUPER SPECIAL MOVES finishes.

8.29%
VERY RARE

Combo Attacker
Perform 50 SUPER CANCELS.

25.06%
UNCOMMON

Graceful Attacker
Perform 50 ADVANCED CANCELS.

4.96%
ULTRA RARE

Ferocious Offense
Perform 50 CLIMAX CANCELS.

4.51%
ULTRA RARE

Weep! Scream! And DIE!
Perform 50 Rush attacks.

48.41%
UNCOMMON

Student
[TRAINING] Enter training mode for the first time.

90.44%
COMMON

Title Collector
Unlock all titles.

13.07%
RARE

Item Collector
Unlock all items.

3.90%
ULTRA RARE

Welcome to My Museum
Unlock all gallery items.

2.93%
ULTRA RARE

Synchronize your watches at 16:35.
[MISSION] Clear Time Attack for the first time.

21.98%
UNCOMMON

Mission Complete!
[MISSION] Clear Time Attack within 4:00.00.

11.01%
RARE

When you look up at the moon, remember this.
[MISSION] Knock 1 person out in Survival.

34.02%
UNCOMMON

Mukuro, Lurking in the Moonlight
[MISSION] Knock 30 or more people out in Survival.

14.29%
RARE

You're tough, aren't you!
[MISSION] Clear 1 trial.

63.55%
COMMON

Special talent agent!!
[MISSION] Clear 100 trials.

20.20%
UNCOMMON

International KOF League Room Creation Board Member
Create 10 rooms.

15.09%
RARE

Everybody's out to get me…
[FREE MATCH] Play SINGLE VS for the first time.

23.53%
UNCOMMON

A BEAST OF PREY
[FREE MATCH] Play SINGLE VS 50 times.

6.71%
VERY RARE

I can handle this… by myself.
[FREE MATCH] Play SINGLE VS 100 times.

5.16%
VERY RARE

Comrade
[FREE MATCH] Play PARTY VS for the first time.

21.73%
UNCOMMON

Reliable Being
[FREE MATCH] Play PARTY VS 50 times.

6.43%
VERY RARE

Unshakable Trust
[FREE MATCH] Play PARTY VS 100 times.

4.33%
ULTRA RARE

Teamwork
[FREE MATCH] Play TEAM VS for the first time.

41.23%
UNCOMMON

Here We Go, Partner
[FREE MATCH] Play TEAM VS 50 times.

12.47%
RARE

Old Bond
[FREE MATCH] Play TEAM VS 100 times.

7.88%
VERY RARE

Sweet Taste of Victory
[RANKED MATCH] Win for the first time.

30.01%
UNCOMMON

Hey, Mr. #1 in Japan!
[RANKED MATCH] Win 50 times.

5.96%
VERY RARE

No One Is Better Than Me
[RANKED MATCH] Win 100 times.

3.75%
ULTRA RARE

Full-Fledged
Reach Rank 11 or higher.

12.34%
RARE

Peak Performance
[RANKED MATCH] Win 5 consecutive matches.

13.74%
RARE

Now… no one can stop me
[RANKED MATCH] Win 10 consecutive matches.

8.76%
VERY RARE

Kyokugen Style Dojo Online Branch
[ONLINE TRAINING] Train with another player.

17.35%
RARE

Hehe, fired up?
[FIGHTING LIST] Receive your first FIGHT BONUS.

19.50%
RARE

Arch-Rivals by Blood
Finish 10 versus battles.

29.69%
UNCOMMON

A Good Match
Share your first replay.

13.92%
RARE
---
EXTRA
---
Credits
Frame Data
dmmbrage *
Guides
Additional Movelist transcription:
Khalill Marsh
General Writing, Admin & Everything else:
Alan Francois
Interactions and Special Illustrations:
Jermaine Flanders
Trophies data:
* Frame Data: These guides will use data from dmmbrage, but Atma, Ahmed Sule, & Outlaw Nightmare should be credited and thanked for their work on this extremely laborious and tedious work.