How to play KOF
When you want to do more than combos, when you want to know you are not hitting them, or why they are hitting you, it's time to study, before you can become a master!  There are many things that are not obvious, and many things that players are not taking advantage of, which keeps the top players on top.  Reap the rewards of reading by checking out these guides and videos before reading up on your character!  Knowledge is power.
Notation
Original text by Coliflowerz
P = Punch
K = Kick
A = LP = Light Punch (Square)
B = LK = Light Kick (X)
C = HP = Heavy Punch (Triangle)
D = HK = Heavy Kick (Circle)
st. = standing
cl. = close
cr. = crouching
j. = jumping
b, d, f = back, down, forward respectively
[n] = hold n direction for at least half a second
qcf = quarter circle forward (d, df, f)
qcb = quarter circle back (d, db, b)
hcf = half circle forward (b, db, d, df, f)
hcb = half circle back (f, df, d, db, b)
dp = dragon punch (f, d, df)
rdp = reverse dragon punch (b, d, db)
xx = cancel
arrow = do immediately after unless specified
– = follow up
(n) = cancel after nth hit of the move
System Tutorials
This video starts from the very beginning, what you see on the screen, how the bars and timer work.
Now let's talk about the power meter (sometimes referred to simply as "bar").
Check the [System Notation] first before we get in depth about it!  Now we'll look at how the game actually works, and what you should be doing as a player.  There are timestamps below, which if you click, will fast forward to that explanation.
0:14 Explaining character tiers, balance and implications of choosing a character for beginners.
03:45 Movement (jumps, 10:00 rolls, 12:38 Command movements)
19:40 Blocking
22:01 Defending
27:45 Anti airing, space control and positioning
0:45 Run and run cancelling
2:08 Rolls, guard cancelled rolls, Blowbacks and guard cancelled blowbacks
7:47 Meter limit, meter building, extra meter on ko/loss
12:36 Max gauge raw activation, button cancelled max gauge, ex move sin max and ex moves cost
18:34 Max mode meter overall count
20:33 Rush auto combos
23:35 Counter hits
24:41 Otgs (off the ground), running charge, running grabs
29:20 What costs what (meter cost)
31:37 Stamina values, health recovery on opponent ko/loss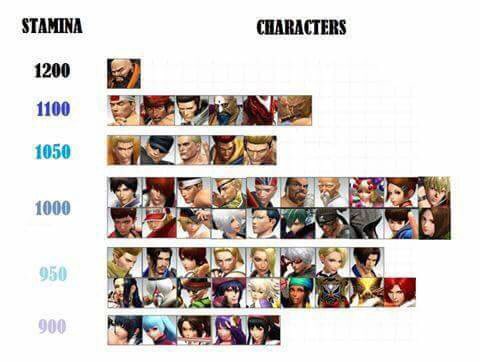 Info on life bar recovery on KO depending on time:
The clock at default is set at 60 ticks which is 90 real time seconds. If a player wins a round, they will regain certain amounts of health depending on when they knock out the opponent.
42+ ticks = 300 health
41 to 30 ticks = 250 health
29 to 18 ticks = 150 health
17 to 0 or timeout = 100 health
0:52 Differencies between hard and soft knockdown
1:35 Different possibilities of attacks in kof
2:30 Setting up mixups and dealing with defence
6:28 Explaining how everything has a counter, layer of depth in the metagame
8:00 The importance of conversions(hitconfirming) and optimized combos
10:43 Space control, offensive space control and counters
16:52 – 30:02 hard knockdowns, safe jumps and option select
31:00 Blowbacks in neutral possible uses, recognizing fake strings, whiff punishes
34:50 Getting good fast: practicing hitconfirm and optimizing combos (openers high/low) depending on bars / situation
44:30 Command grabs, blowing up safejumps with them, armored command grabs and counters
47:00 A mention of depth organized by lasagna layers (quoting infernoKong)
48:30 Guard Roll cancelling through high recovery strings to punish
Now that you've gone through the basics, there are more particular things to study.  Keep going!
Characters
Gallery Unlocking
Interactions
Alice: Billy, Daimon, Terry
Andy: Geese, Mai, Tung
Angel: Kensou, Kula, Sylvie
Athena: Kensou, Love, Mian
Bandeiras: Choi, Mai, Robert
Benimaru: Love, Luong, Zarina
Billy: Alice, Hein, Joe
Chang: Kim, Leona, Muimui
Chin: K', Nakoruru, Tung
Choi: Bandeiras, Kim, Love
Clark: Maxima, Ralf, Ramon
Daimon: Alice, Joe, Ryo
Dinosaur: Mian, Nelson, Terry
Gang: Vice, Xanadu, Yuri
Geese: Andy, Ryo, Terry
Hein: Billy, K', King
Joe: Billy, Daimon, Nelson
K': Chin, Hein, Ralf
Kensou: Angel, Athena, Muimui
Kim: Chang, Choi, Luong
King: Hein, Ryo, Yuri
Kukri: Kyo, Iori, Shun
Kula: Angel, Sylvie, Zarina
Kyo: Kukri, Iori, Shun
Leona: Chang, Mature, Ralf
Love: Athena, Benimaru, Choi
Luong: Benimaru, Kim, Ramon
Mai: Andy, Bandeiras, Mian
Mature: Leona, Muimui, Xanadu
Maxima: Clark, Nelson, Ramon
Meitenkun: Shun, Sylvie, Vice
Mian: Athena, Dinosaur, Mai
Muimui: Chang, Kensou, Mature
Nakoruru: Chin, Vice, Zarina
Nelson: Dinosaur, Joe, Maxima
Iori: Kukri, Kyo, Tung
Ralf: Clark, K', Leona
Ramon: Clark, Luong, Maxima
Robert: Bandeiras, Xanadu, Yuri
Ryo: Daimon, Geese, King
Shun: Kukri, Kyo, Meitenkun
Sylvie: Angel, Kula, Meitenkun
Terry: Alice, Dinosaur, Geese
Tung: Andy, Chin, Iori
Vice: Gang, Meitenkun, Nakoruru
Xanadu: Gang, Mature, Robert
Yuri: Gang, King, Robert
Zarina: Benimaru, Kula, Nakoruru
---
Secret Illustrations 
Team Dragons: Ryo, Mui Mui, Kensou
Team Tigers: Ramon, Joe, Robert
Team Old Masters: Tung, Gang Il, Chin
Team Beautiful Hair: Nakoruru, Athena, Kula
Team Tung's Disciples: Terry, Geese, Shun'ei
Team Lucky 7's: Mui Mui, Love Heart, Alice
Team Birds: Zarina, Nakoruru, King of Dinosaurs
Team Mysterious Newcomers: Hein, Kukri, Luong
Team NESTs Girls: Sylvie, Kula, Angel
Team Ninjas: Andy, Mai, Bandeiras
THE KING OF FIGHTERS
All trophies acquired.

1.25%
ULTRA RARE

Aspirations
[TUTORIAL] Clear all subjects.

50.11%
COMMON

The Birth of a Legend
[STORY] Clear for the first time.

73.37%
COMMON

Living Legend
[STORY] Clear at computer level 5 with no continues.

5.71%
VERY RARE

Onward to the Next Legend
[STORY] Clear using all teams (including boss and mid-boss).

5.93%
VERY RARE

Hmph… An expected outcome!
[STORY] Acquire rank S or above at the victory screen.

80.03%
COMMON

Yay! Perfect!
[STORY] Acquire rank SS at the victory screen.

68.49%
COMMON

Power of the Champion
[STORY] Defeat the mid-boss.

74.14%
COMMON

Sealed Power
[STORY] Defeat the final boss.

73.39%
COMMON

Perfect winner!
Win 10 matches with a perfect.

33.32%
UNCOMMON

Straight to the finish!
Win 10 matches without losing a round.

60.90%
COMMON

Wow!
Perform 50 SUPER SPECIAL MOVES finishes.

20.10%
UNCOMMON

That settled it!
Perform 50 MAX SUPER SPECIAL MOVES finishes.

11.69%
RARE

One hit! One kill!
Perform 50 CLIMAX SUPER SPECIAL MOVES finishes.

8.29%
VERY RARE

Combo Attacker
Perform 50 SUPER CANCELS.

25.06%
UNCOMMON

Graceful Attacker
Perform 50 ADVANCED CANCELS.

4.96%
ULTRA RARE

Ferocious Offense
Perform 50 CLIMAX CANCELS.

4.51%
ULTRA RARE

Weep! Scream! And DIE!
Perform 50 Rush attacks.

48.41%
UNCOMMON

Student
[TRAINING] Enter training mode for the first time.

90.44%
COMMON

Title Collector
Unlock all titles.

13.07%
RARE

Item Collector
Unlock all items.

3.90%
ULTRA RARE

Welcome to My Museum
Unlock all gallery items.

2.93%
ULTRA RARE

Synchronize your watches at 16:35.
[MISSION] Clear Time Attack for the first time.

21.98%
UNCOMMON

Mission Complete!
[MISSION] Clear Time Attack within 4:00.00.

11.01%
RARE

When you look up at the moon, remember this.
[MISSION] Knock 1 person out in Survival.

34.02%
UNCOMMON

Mukuro, Lurking in the Moonlight
[MISSION] Knock 30 or more people out in Survival.

14.29%
RARE

You're tough, aren't you!
[MISSION] Clear 1 trial.

63.55%
COMMON

Special talent agent!!
[MISSION] Clear 100 trials.

20.20%
UNCOMMON

International KOF League Room Creation Board Member
Create 10 rooms.

15.09%
RARE

Everybody's out to get me…
[FREE MATCH] Play SINGLE VS for the first time.

23.53%
UNCOMMON

A BEAST OF PREY
[FREE MATCH] Play SINGLE VS 50 times.

6.71%
VERY RARE

I can handle this… by myself.
[FREE MATCH] Play SINGLE VS 100 times.

5.16%
VERY RARE

Comrade
[FREE MATCH] Play PARTY VS for the first time.

21.73%
UNCOMMON

Reliable Being
[FREE MATCH] Play PARTY VS 50 times.

6.43%
VERY RARE

Unshakable Trust
[FREE MATCH] Play PARTY VS 100 times.

4.33%
ULTRA RARE

Teamwork
[FREE MATCH] Play TEAM VS for the first time.

41.23%
UNCOMMON

Here We Go, Partner
[FREE MATCH] Play TEAM VS 50 times.

12.47%
RARE

Old Bond
[FREE MATCH] Play TEAM VS 100 times.

7.88%
VERY RARE

Sweet Taste of Victory
[RANKED MATCH] Win for the first time.

30.01%
UNCOMMON

Hey, Mr. #1 in Japan!
[RANKED MATCH] Win 50 times.

5.96%
VERY RARE

No One Is Better Than Me
[RANKED MATCH] Win 100 times.

3.75%
ULTRA RARE

Full-Fledged
Reach Rank 11 or higher.

12.34%
RARE

Peak Performance
[RANKED MATCH] Win 5 consecutive matches.

13.74%
RARE

Now… no one can stop me
[RANKED MATCH] Win 10 consecutive matches.

8.76%
VERY RARE

Kyokugen Style Dojo Online Branch
[ONLINE TRAINING] Train with another player.

17.35%
RARE

Hehe, fired up?
[FIGHTING LIST] Receive your first FIGHT BONUS.

19.50%
RARE

Arch-Rivals by Blood
Finish 10 versus battles.

29.69%
UNCOMMON

A Good Match
Share your first replay.

13.92%
RARE
---
---
Credits
Frame Data
dmmbrage *
Guides
Prince Thabet
Raf Ah
Trulyamiracle
Chris Ax
Additional Movelist transcription:
Khalill Marsh
General Writing, Admin & Everything else:
Alan Francois
Interactions and Special Illustrations:
Jermaine Flanders
Trophies data:
* Frame Data: These guides will use data from dmmbrage, but Atma, Ahmed Sule, & Outlaw Nightmare should be credited and thanked for their work on this extremely laborious and tedious work.