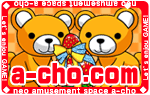 KoF XIII in a-cho
I'm not sure if many people remember, but a-cho was one of the most amazing places for KoF XIII 1.1 footage back in the old days when there it was no console release. Unfortunately, it seemed that the arcade was unable to procure a board for XIII Climax and thus the fun was gone by the time Nishinippori started to rol.
Fortunately, having KoF XIII as a software release has helped change that. Of course the over-all skill level and execution skills aren't the same as they where when the 1.01 game was played at it's fullest, but right now the game is now "there".
[youtube]http://www.youtube.com/watch?v=fzKvLy0HnwA[/youtube]
Aditionally, some other arcades have adapted the game as well, like Game Chariot (which was famous for it's 2k2 footage back in the day).
[youtube]http://www.youtube.com/watch?v=hril_pKyTLQ[/youtube]