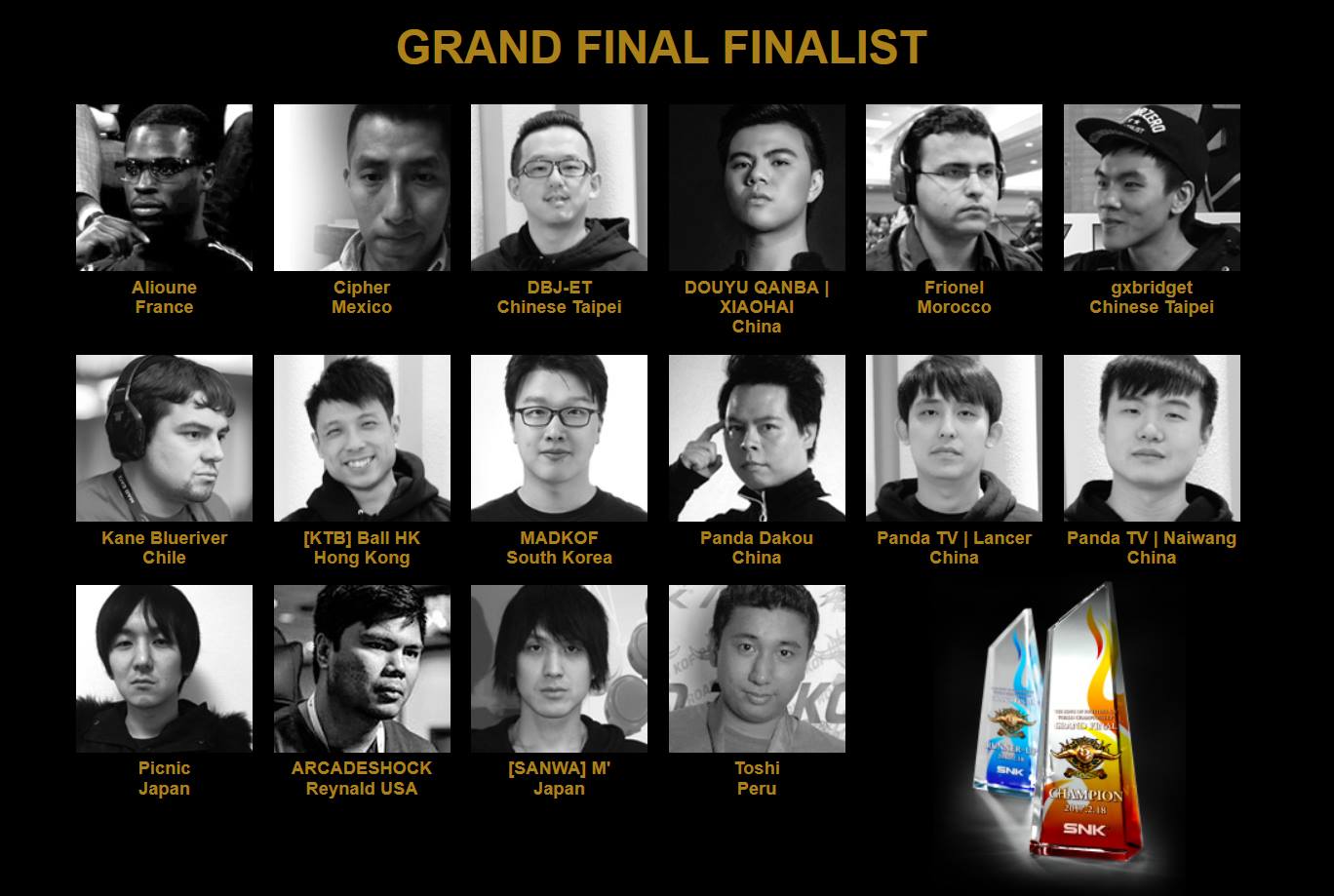 KOF WCS, old games refusing to die, Yuzutaku, Cannes, Juicebox
Updates for KOF WCS, a great guitar cover, Tournament Replays, old games refusing to die, plus a little tabloid pop off concerning Juicebox…
Updated Roster for World Championships!
Finally someone took the time to put Alioune's photo up (thx Harris), now the roster is complete.  SNK will be giving out prizes to spectators and there will be multiple language streams!!! Check out the updated info here.
Who's coming to Cannes?
White Ash will be there!  There's also a hot rumour that Charlybeatz, Mr Wolf, Semper, Freezer,  Tahar, Samba, Farid and the infamous Salim will also be attending!  Confirmations hopefully soon!
White Ash ! The King of Fighter XIV GCCMajors Champion wiil be attending the Cannes WInter Clash 2017 ! #CWC2017 #KOFXIV pic.twitter.com/hoh6eTuVk9

— Cannes Winter Clash (@GLcwc) February 3, 2017
OLD GAMES REFUSING TO DIE
At Cannes, there is also a KOF13 tournament!!! It's a difficult decision to make but it seems many players can't handle the two game systems at once.  KOF13 is now a classic game, but with the choice of two, how many will enter the old and the new incarnations of KOF?  Who will come just for this game?  There are some players who can multi-game, and some who can play all KOFs!  It'll be interesting to see, and perhaps Mr Wolf will be here only for this!
While some players feel that KOF13 should step down to give KOF14 the spotlight, some players like KOF13 so much they are still trying to petition SNK to make KOF13UM.  It hasn't garnered so much support, however, and we know that spritework is very expensive compared to the flexibility of 3D modelling. However, putting in a Shingo or Kyo-2 or some EX characters might not be too much work – but would that be satisfactory?  As for the netcode… that would only be for steam, as the last gen consoles are all but abandoned – we still don't have 2k2um on ps3; it seems most online players are now on PS4 and PC.
Yuzutaku Replays
A fun day with lots of casuals and as usual by the end of the day you level up to 9000, having learnt lots of flowcharts and punishes and mixups (way too late for the tournament) and then you go home and it starts to drain away immediately…. Ggs everyone, and notably thanks to the communities for supporting their game as it's clear that without them, the event would be nothing.
Pools – check out Gunsmith abusing a player who doesn't know Ramon :3 and Shinkawa with a pocket MuiMui! Shoutouts to Cobalteblue for the LoveHeart workshop we had in casuals
TOP 8 Hype!  Don't miss ON.Vic's Bandeiras!
For more events, check out the list!
20% off Redbubble today only:
Use code: GETWEIRD20 – grab some stickers!!!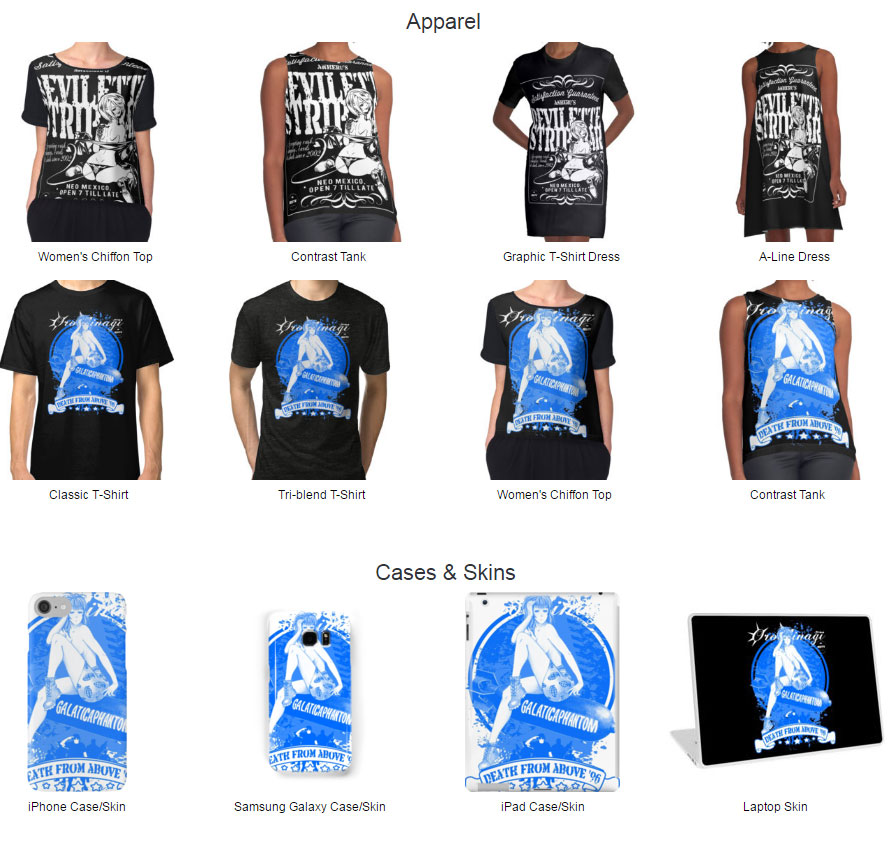 BIG SHOT
Here's a nice guitar play along with a classic tune from FF3!  If you think it's a simple riff, just wait a bit!  Very nice skills!
Oh and here's a nice Shermie themed tune!

Annnnnd now a bonus tabloid article
Juicebox insults opponents after win!
Well, not really, but you can be the judge of that.
Undefeated just came and went: here are the results:
#KOFXIV #Undefeated top-6 (15 entries)

1 @Juicebox_FGC
2 @JWonggg
3 @Kyoku236HS
4 @NYChrisG
5 @NerdJosh
5 @TheQXD

— Giby 'Dr KOF' Zia (@ManChest) February 5, 2017
Congrats to Juicebox and all participants!  Juicebox posted the following tweet, which… wasn't received very well.
Isn't this exactly what happened when Chris G was messing around in Persona? Poor guy just wants to enjoy some different games lolllll pic.twitter.com/U0Y2km1mDd

— J I Y U N A (@jiyunaJP) February 5, 2017
Was he bragging?  Or was he just confirming he was focused on his game and he's getting results?  What did he really mean?
It doesn't really matter!  The only thing that matters is that ChrisG and Justin Wong (and other players) feel motivated to continue to play, for revenge or whatever, because it's great to see top level players entering, even better to see them playing well, and knowing the tricks and doing good combos.  Their followers might get interested in KOF too.
If they walk away because they feel disgusted by this "behaviour" then that's a bad thing, because a pop off doesn't mean Juice won't help you.  They should know that Juice and other players are certainly willing to share information and tips about the game!  GIT GUD, GET REVENGE, GET WINS!  It's all good for the scene!  We hope to see more and more players getting into KOFXIV!
We're seeing more and more famous and high level players getting fed up of other games (it's really only the cash that keeps them playing) while the gameplay of KOFXIV is attracting them more and more, watch out!