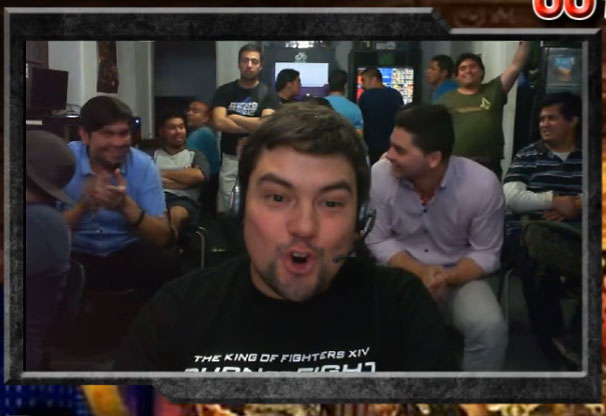 KBR's problems with the FGC + video roundup
Video Round up (Angel, Terry, Antonov, Multi) with global streams (Costa Rica), plus a chat with KBR.  Dec 12 marks the end of the surveys and polls, they will get shipped off to SNK.  Make your feelings known, please.  I really hate that tracking.
ps. SNK has just announced the dates of their World Championship Finals!
Who will be crowned as KOF XIV's best player? "KOF XIV WORLD CHAMPIONSHIP" tournament dates finally announced!https://t.co/yoS9tLfFYZ pic.twitter.com/oyoYBMXxlY

— SNK GLOBAL (@SNKPofficial) December 9, 2016
First of all let's take another look at Dark Chaotix's Angel combo, re uploaded
True Challengers, with support from Orochinagi, had their tournament in Costa Rica, at Kuri 2016, at an anime convention.
Welp, thanks to SFV, the Grand Finals didn't take place until 2am, and of course the players were wrecked – they still managed to pull out the stops but you'll see the tiredness affecting their play.
Then we have Kane Blue River at the Dream Match tournament. He recently highlighted the sad fact that he has a high level scene yet only manages 20-30 viewers.  Perhaps this replay (link below) with a thrilling comeback in grand finals will convince you to tune in and subscribe!
While KBR is best known for his achievements as a Marvel player, he was in fact known by some as a KOF player before that. Before the squabbling begins, KBR stated for the record that he is a FG player, above all. 
Kane Blue River has travelled across the oceans, and stuck with his big body characters, win or lose, sometimes complaining more about the playing style he didn't understand rather than the characters, showing a real dedication regardless of the sometimes very limited or nerfed capability of such characters (RIP vanilla 13 Raiden).  He's now been helping out Dreammatch with their social networks and advertising for their tournaments and commentating on stream, so the low figures still has him scratching his head.
But the concern over viewing figures for all that effort is not his alone:
Last weekend, a major in another part of the world had official support from SNK, pulling in 30 entrants with high level play, yet it only attract 9 viewers, when I tuned in, which was a miserable Saturday morning, only having woken up because I was ill. So we can say timezones are always a problem for viewing figures.  But what about the locals?   What's the point in attracting foreign viewers when you're trying to boost your local scene?  Well, this is a main point in something else I'm writing about…. the ripple effect.
Last night, the Orochinagi EU Thursdays pretty much went down in flames.  The lobbies were full, from people from the Americas.  The stream had maybe 5 viewers.  Were EU people busy?  Were they playing Garou or FFXV?  Or did they simply not like KOFXIV anymore?  We will continue but it's not a good sign.  I hope everyone has filled in the surveys!
For now, have a look at KBR helping out Dream Match with their tournament, featuring familiar names from Chile including Whip, Misterio, Rocklee, Baek, Zero Black, Chile Chico, Isaurito and more! (brackets) Do you think it deserved more views?  Make sure you sub to all the channels and don't miss out on this action!!  We'll be chatting more to KBR too in an upcoming article – stay tuned!
Still here? Last night's Thursdays tournament was an all time low for EU attendees, but in terms of the Americas, the players still pack out our rooms!  Had some fun, regardless!  Check out a nice Ramon getting the setplay to work *cough cough* and congrats to our new champ, GRIMULUS!
Coli's been hard at work too
Wauhti's first combo vid!
?????????!
??????????????#2016????????4?#????? pic.twitter.com/EEHs8H9Efj

— MIHARU (@MiharuCosplay) December 8, 2016
YAMAZAKIIIIIIIIIIIIII YAAAAAAAA pic.twitter.com/5yHt5GvT19

— Burly??Burly (@Burlee_Girlee) December 6, 2016
Antonov Full Tuts video added to the guide
LAST DAYS TO HIT THE SURVEYS!!!! Dec 12, it all gets closed off and sent to SNK.