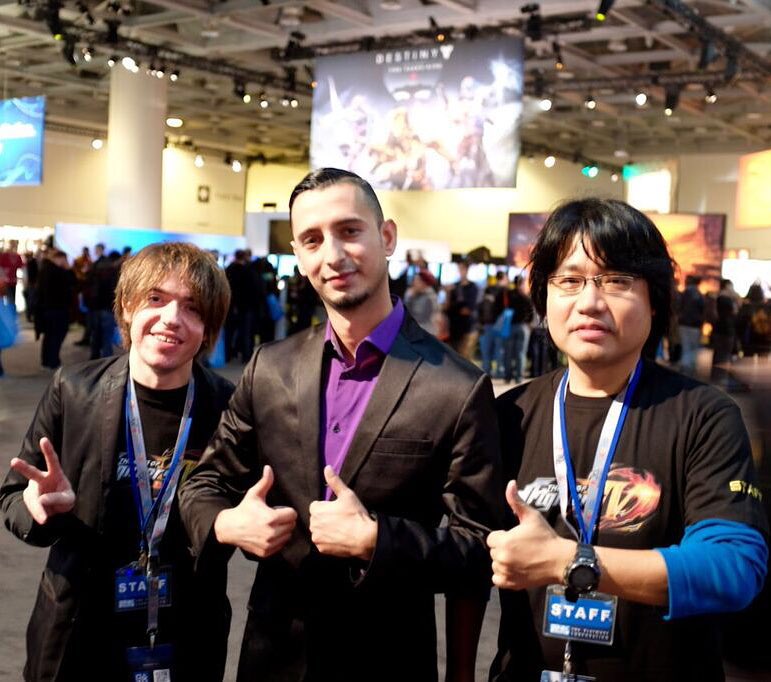 #KOFXIV Battle #E32016 Oda & Romance
Romance gives his report on E3, Oda gives an interview and there's lots of battle footage and artwork!
E3 Battle
So if you didn't know, SNK (Oda and Adam) were at E3 hitting the crowd, schmoozing with Sony and the players!
Oda posted:
Thank you to all of the KOF community. We were able wonderful experience!

Gracias a todos los de la comunidad de KOF. Pudimos experiencia maravillosa!
The matches lasted over the whole event, featuring the most famous fighters in the US.
KOFXIV got great coverage with a big crowd checking it out.
#KoF14 looks like its gonna be ??? #E32016 @SNKPofficial @deepsilver pic.twitter.com/VC5oSlVMZV

— TechGamingToday (@TechGamingToday) June 15, 2016
Yeah this happened. #KOFXIV #KOF14 pic.twitter.com/2hxIxss2Wf

— Kane317 (@DC_Kane317) June 15, 2016
Oda and Adam had a chat about their plans for KOFXIV, netcode and dlc
As the big boys came on to demonstrate for Atlus, early footage of the fights were captured by Dengeki Online as tweeted by Gatoray & AMVGFan!!
Featuring  AS Reynald, Mr KOF, Kane317, Metaphysics and Tasty Steve!
https://twitter.com/AMVGFan/status/743120569332207616
Then we get cooking as KOFXIV Producer Oda himself takes on AS.Reynald & Romance in a heated battle!!
Then you get to see some real battles as Reynald and Romance go at it!  You can also see Luis Cha in the video below this one.
Romance reported the following (using Google translation with original Spanish afterwards)
It's over ?#?e3? ?#?wnf? and with my participation in the exhibition games of?#?kofxiv? and as always I'll report to the Spanish speaking people! I'm excited and eager to try new things, new combos, new strategies, new everything! Adapting to go looking for optimal damage and the best position to be able to peel with so much new character and with the new system of game are things that we have to work when I get out the game but in the end they are just ideas and more ideas that I came up with after Played several days, as all get out to try new things and grow as a community of course. Well, here's what I saw note and I played!…. The Images That we saw at the beginning were very ugly I'm honest, but in what we play these days I'm sure if you look at the stream look at what became / and check the cool stages, the characters are very improved and it seems there's still a change or the settlement before the release, imagine Angel, kensou, Alice, etcetera. The game is a bit slower this if i let that, of course, but I also want to make it clear that I wouldn't want to go negative to say that it's not the same, that float and that fly, Why this part of the new strategy, and a lot has to do to make our community grow, and have more communities together to support the game we have quality events and awards, with the same note: I know that some don't. We tried our best to get results Decent in sf, let us show that our community accepts anyone with skill and rifen / that try to play the game as some did in their game 😉 this way new people would have a little more time to react by example… 3 Jump Cds of Clark or jump c of iori, their games require less implementation, less reaction more "Footsies" so to speak, it's not nice to welcome a new player that way just leave the player. So, on that side also opinion to support people to try out the game if it's in your hands and like to do it. Not all the characters are "crops up" for my opinion until now and those who can do this are strong for the echo to have that tool. Looks like and if I'm not mistaken, when you wake up in any way you have 8 Frames Where you can't get right away as in other kofs, now you have to wait a little bit to be able to make it, 1 BAR MAX MODE ACTIVATE 2 Ex and a super more than when you as a former super if it's in max mode is very good investment for damage and we'll see a lot in the game, cancel regular movement to super and super to ex-Super was good to ensure kills, there's characters who by The simple fact of having several súpers change to be characters of a certain level to be very dangerous characters or safe after get in max mode without combo that at the same time it lasts longer that way… An example that I saw in my team that I tasted was king, it was another character with best offensive and the version of ex trap shot was invincible…. As was said does not serve the ultimate guard then play characters of grip is different you tel use to fight against and more if the guard alternative was part of your strategy. 3 BARS THIS VERY FINE 2 EX and climax to damage good and fast, note that's confirmed are faster / difficult for the same thing that after the second hit you have to do some special movement and thus, the combos with movements to weak Max mode combos and except some characters of course. Is Kof, are the characters we grew up with and a speed different if, but nothing to what we do not we can adapt as we have done in other kof's past. Already in a few months hopefully more gameplay and more things, it appears that evo will be the full roster so that way we will be supporting the game and sharing information from what I saw or what they'll let us play! Super exhausted but happy, we'll see you soon, and for there to tell you that I'm hosting a tournament in Colombia in October and Peru in December with awards of mad catz, things like posters things official official t-shirts of snk, something of affective and for hanging in there Talking to more sponsors to see what else comes out, so keep in mind if u would like to travel or to participate in the tournament (" We will keep you posted ") Here greetings to the backyard and atomix in Peru and px in Colombia.!! Something that will also be raffle tickets for free to all participants at the event, let us hope that the entry is cheaper or not very expensive to motivate people is another detail told me, stay tuned.!

Se acabo ?#?E3? ?#?WNF? y con el mi participación en los juegos de exhibición de ?#?KOFXIV? y como siempre a reportarme con la gente de habla hispana! Estoy emocionado y con muchas ganas de tratar nuevas cosas, nuevos combos, nuevas estrategias, nuevo todo! adaptarse para ir buscando daños óptimos y la mejor posición para poder pelar con tanto personaje nuevo y con nuevo sistema de juego son cosas en las que debemos trabajar cuando salga el juego pero en fin son solo ideas y más ideas que se me ocurrieron después de haber jugado varios días, ya que salga todos a intentar cosas nuevas y crecer como comunidad claro. bueno ahí les va lo que vi note y jugué!…. Las imágenes que vimos al principio estaban muy feas soy honesto, pero en lo que jugamos estos días estoy seguro que en el stream se vea lo bacan/chido de los escenarios, los personajes muy mejorados y parece aún hay un cambio o arreglo antes del la salida, imagínense Ángel,kensou,alice etc etc el juego Es un poco más lento esto si, eso dejo claro, pero también quiero dejar en claro que no me gustaría fuéramos negativos al decir que no es lo mismo,que flotan y que vuelan, por qué esta parte de la nueva estrategia y mucho tiene que ver para que nuestra comunidad crezca, tenga más comunidades y juntos apoyando el juego tengamos eventos de calidad y con premios igual, nota: sé que algunos no nos trataron de lo mejor por tener resultados decentes en SF, demostremos que nuestra comunidad acepta a cualquiera con habilidad y que se rifen/que intenten jugar el juego como algunos lo hicimos en su juego 😉 de esta forma gente nueva tendrían un poco más de tiempo a reaccionar por ejemplo… a 3 jump cds de Clark o jump C de iori, sus juegos requieren de menos ejecución, menos reacción más "footsies" por así decirlo, no es agradable recibir a un jugador nuevo de esa forma solo ahuyentas al jugador. Así que por ese lado también motivemos a gente apoyen a probar el juego si está en sus manos y gustan hacerlo. No todos los personajes hacen "crops up" para mi opinion Hasta ahorita y los que pueden hacer esto son fuertes por el echo de tener esa herramienta. Parece y si no me equivoco, cuando te levantas de cualquier forma tienes 8 frames donde no te pueden agarrar de inmediato como en otros kofs, ahora tienes que esperar un poquito para poder lograrlo, 1 barra activar Max mode 2 EX y un súper más que te cuando como EX súper si está en Max mode es muy buena inversión para daño y veremos mucho en el juego, cancelar movimiento regular a súper y de súper a EX súper era bueno para asegurar kills, hay personajes que por el simple echo de tener varios súpers cambian de ser personajes de cierto nivel a ser personajes muy peligrosos o seguros después de ponerse en Max mode sin combo que al mismo tiempo dura más ese modo… Un ejemplo que vi en mi team que probé era king, era otro personaje con mejor ofensiva y la versión de EX trap shot era invencible….como ya se dijo no sirve la últimate guard entonces jugar personajes de agarre es diferente te tel usar que pelear en contra y más si la guardia alternativa era parte de tu estrategia. 3 barras esta muy bien 2 EX y Climax para daño bueno y rápido, note que los confirms son más rápidos/difíciles por lo mismo que después del segundo hit debes hacer algún movimiento especial y así, los combos con movimientos débiles a Max mode combos y excepto algunos personajes claro. Es Kof, son los personajes con los que crecimos y una velocidad distinta si, pero nada a lo que no nos podamos adaptar como lo hemos echo en otros KOF's anteriores. Ya en unos meses esperemos mas jugabilidad y más cosas, parece que en Evo estará el roster completo así que por ahí andaremos apoyando el juego y compartiendo información de lo visto o lo que nos dejen jugar! Súper agotado pero contento, nos vemos pronto, y por ahí les comento que estoy organizando un torneo en Colombia en octubre y Perú en diciembre con premios de mad catz, cosas oficiales como pósters cosas playeras oficiales de snk, algo de afectivo y por ahí ando hablando con más sponsors para ver qué más sale, así que tengan en cuenta por si gustan viajar o participar en el torneo ("seguiremos informando") aquí saludos a the backyard y atomix en Perú y PX en Colombia.!! algo que también habrá serán rifas gratis para todos los participantes en el evento, esperemos que la entrada sea lo más barato o no muy caro para motivar a la gente es otro detalle platicado,Estén atentos.!
Don't forget to grab yourself a bargain shirt to rock this summer!
Gatoray made a combo compilation from the footage
NicoNicoNemo
I keep thinking Famitsu killed their battle gaming programming but we keep seeing more, which is great!
Here Nemo demonstrates the 36 character build.  At the very start you get to hear the Invitation theme, which lots of people are raving about.  It reminds me of Fatal Fury 3 boss stages… yes it's good!
Original Nico Stream is here so if you have a premium membership you can watch it again with live comments and everything.
Update: Gatoray has uploaded the footage to youtube.  There are no versus matches, these are just demonstrations of the characters.
Shun'ei – 00:50, Muimui – 08:40, Hein – 14:40, Kukri – 20:35, Nakoruru – 26:00, Choi – 32:30,
Yuri – 38:30, Maxima – 44:25, Joe – 49:55, Sylvie – 55:10, Ralf – 1:00:40, Daimon – 1:07:30
Tung – 1:12:20, Clark – 1:18:00, Dinosaur – 1:23:40, Chin – 1:29:50
Tweets Roundup
Dude. There's too many.  But here's a few of my faves from the last week.
when you show up for the kof tournament but couldn't sleep the night before pic.twitter.com/wJ8Cc3WKUo

— Melly (@MelvanaChainsII) June 18, 2016
The King of Fighters XIV???????????????? pic.twitter.com/xOie97wHyf

— ICHIGAIN?3/29????? (@ichigain880) June 18, 2016
KOF14??????????#KOF14 pic.twitter.com/65yvmbD00j

— ??? (@ranma1530) June 17, 2016
????? pic.twitter.com/UhgFL6kVX8

— 441??????? (@FOOD441) June 15, 2016
??????????????KOF Leona | k.c #pixiv https://t.co/i2ucW15lXH

— ????????????? (@okyochan) June 15, 2016
????????????????????????????? pic.twitter.com/VBSAPDY4cp

— 441??????? (@FOOD441) June 15, 2016
?????????????????????????????
???????????????????????? pic.twitter.com/BLYgMJsuUl

— ?? (@yoiyoiyoi04) June 14, 2016
i wanted to learn #GGXrdR but #KOFXIV pic.twitter.com/8D9DbbNv2W

— AFK|j0shimitsu @??FanimeCon (@j0shimitsu) June 17, 2016
— Toni (@loopkick) June 17, 2016
#KOFXIV #KOF14 pic.twitter.com/C9edDPRzL9

— Gatoray (@gatoray_kof) June 15, 2016