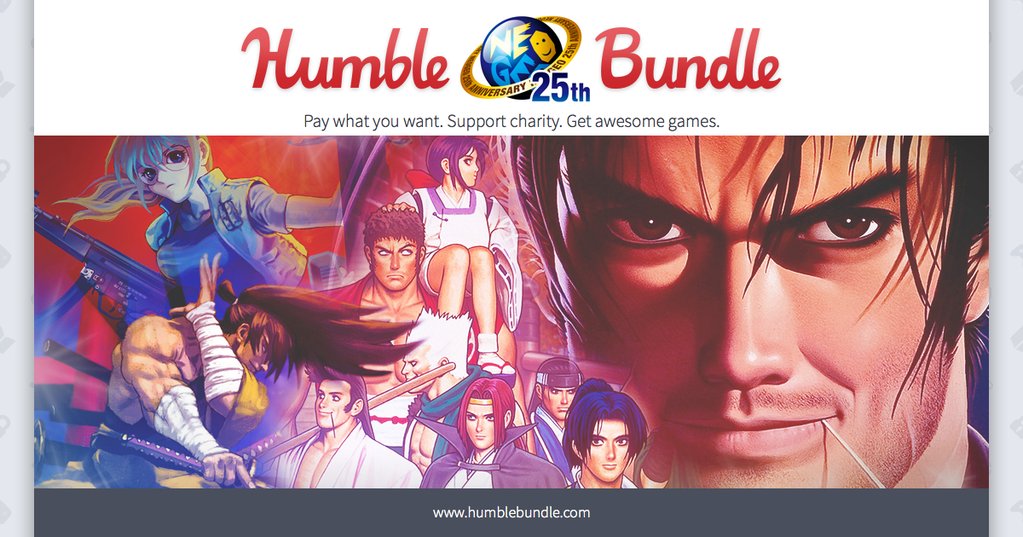 Humble Bundle Encore 72 hrs #KOF #MetalSlug #SNK
If you took the whole pack and tshirt last time, if you dig up that email with the links to keys, you'll find MORE steam keys inside!!!
You'll get:
Metal Slug 2
Baseball Stars 2
Shock Troopers
Twinkle Stars
If you have no idea what the humble bundle is, well, here's the bumpf!  You can still grab it!
The Humble NEOGEO Encore Bundle
What's that? Oh my, that's NEOGEO's music! Looks like it's coming out for an encore! You just can't beat the classics, and this is a bundle full of them! For the next 72 hours, we're bringing back our NEOGEO bundle.
Pay what you want for ART OF FIGHTING 2, FATAL FURY SPECIAL, KING OF THE MONSTERS, METAL SLUG 2, SAMURAI SHODOWN II,SENGOKU 3, THE KING OF FIGHTERS 2000, BASEBALL STARS 2, BLAZING STAR, and IRONCLAD.
Pay $1 (€0.89) or more for a coupon for 10% off Humble Monthly for new subscribers.
Beat the average price to also receive THE LAST BLADE, PULSTAR, METAL SLUG, METAL SLUG 3, SHOCK TROOPERS, NEO TURF MASTERS,THE KING OF FIGHTERS '98 ULTIMATE MATCH FINAL EDITION, TWINKLE STAR SPRITES, The Neo Geo 25th Anniversary Soundtrack, REAL BOUT FATAL FURY 2: THE NEWCOMERS, and THE KING OF FIGHTERS 2002.
Pay $10 (€8.90) or more to get all of the preceding plus SHOCK TROOPERS: 2nd SQUAD, SAMURAI SHODOWN V SPECIAL, GAROU: MARK OF THE WOLVES, METAL SLUG X, and THE KING OF FIGHTERS 2002 UNLIMITED MATCH.
Pay what you want. Together, these games ordinarily cost up to $199. Here at Humble Bundle, though, you choose the price!
Cross-platform and DRM-free. Most of these games can be downloaded DRM-free for Windows, Mac, and Linux or played on your Humble Bundle download page or Humble Library using Firefox and Chrome. Some are only available on Steam for Windows. Please check out the full system requirements here prior to purchasing.
Support charity. Choose where the money goes — between the developers, the American Red Cross, and, if you'd like, a second charity of your choice via the PayPal Giving Fund. For details on how this works, click here. If you like this bundle or like what we do, you can leave us a Humble Tip too.