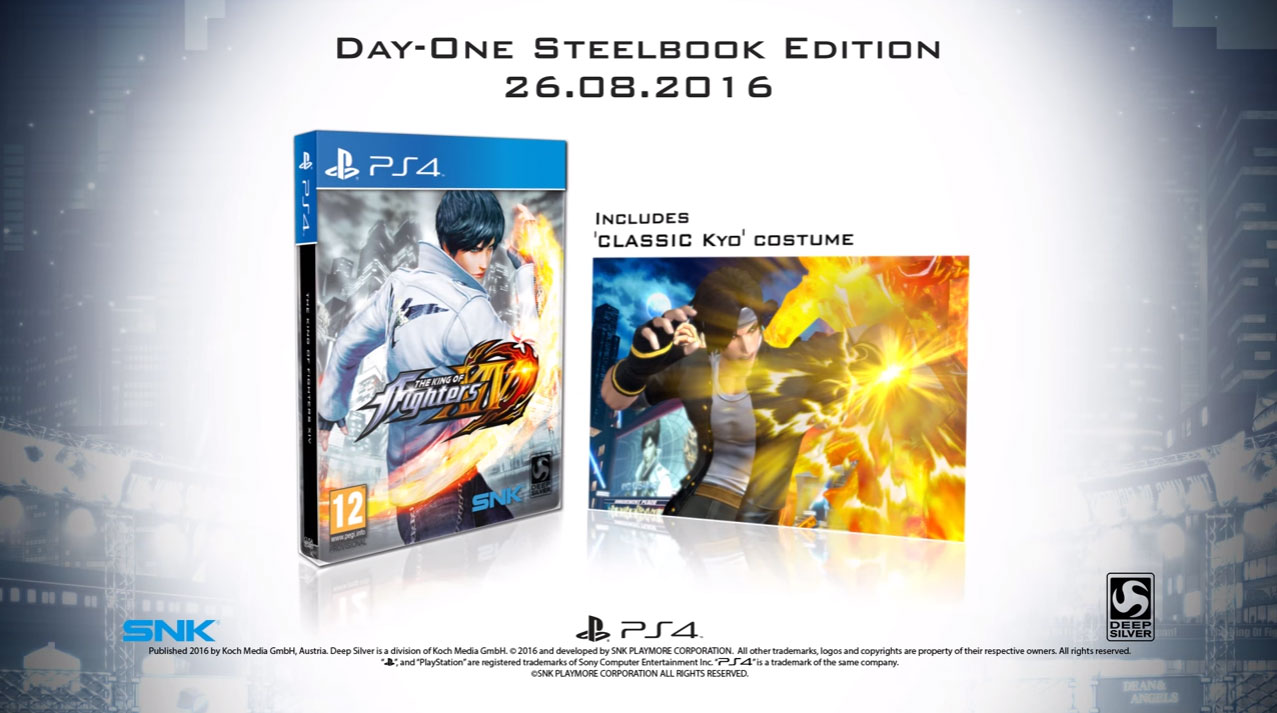 KOFXIV Pre Orders; EU Publisher hints at other titles
Pre-orders for EU:
Interviews, trailers, great art and even a crazy bug video from Dune follow!
Interview with Publisher
Sony is certainly supporting this game, which is why we saw updates on the PS blog and previews at Sony's Experience shows, while SNK remains the publisher in Japan.  In Europe and America, Deep Silver (a label of Koch Media) and Atlus are the publishers.  Here's an interview with Julien El Rab, Production Chief of Deep Silver and OtaXou from Gamelove, translated from French (link to French article below).  We also had a chance to add our own questions for an introduction.
-Some French players have recognised your face, can you explain?
About my history with KOF, some players have probably seen me hanging around during VS Fighting events, as a spectator. The first event I ever attended was "BD Expo" in 2001. I also used to play Garou: MOW a lot at Arcade Street, two to three years ago and a bit of KOF 98-2002 at "La tête dans les nuages" around 2002-2004.  I play casually – one of my best friends owns all the KOFs on NEOGEO and I used to play a lot with him, but I have never been really active online or anything.
-What are your favourite SNK games?
My fav SNK games are KOF 98, Garou: MOW and Last Blade 2.
-What about KOFXIII?
I didn't play much of XIII, but it was really good!
Now onto the main French Interview, note: My French isn't great, and I took some liberties with wording to make the reading flow better.
-Were the game publishing rights taken from Atlus or directly from SNK?
Directly from SNK and we are in direct communications with them.
-Esports is starting to become a large aspect of fighting games. Are Koch media and Deep Silver planning to do something in this aspect?
SNK's culture is anchored in the arcade and this new esports dimension that we are hearing about today is still very new for many developers. Of course, it's not specific to fighting games too.  SNK allowed us to bring KOF14 to Stunfest and stage a grand tournament for the first time in Europe, which shows our ambitions for the title.   There are many new ways and opportunities for Esport games such as "PlayStation Plus League" for example.  We are well aware and are looking at all the possibilities.  To put in place a professional competition on an international scale, we will of course need to work closely with SNK.
-After Stunfest, are there any other events planned for Europe?
Just confirmed yesterday at the press conference, KOF XIV will be playable at Japan Expo in Paris.
-What can you tell us about the game?
(Paraphrasing)  full of rich content, this game is a return to the fundamentals, where the fans of 98 and 2002 will find their footing easily. At the same time, there are features that will help new players get into the game, such as the rush combo, where players can mash a button for a stylish sequence of attacks! We aim to bring all types and levels of players together in kof14.
-So it's a return to roots with an open door to new players?
Exactly, the idea is to get back the fans of KOF98, 2000 and 2002, the fans that stayed on the NEO GEO and original arcade versions, with the new players of this generation.
-With the return of the original development team to SNK, what does this mean for the game?
You can feel the change, as SNK dropped the "PLAYMORE" from its name, you can see a return to the fundamentals. There are rumors that other classic SNK games are returning and we hope that these will be confirmed; the success of KOF14 would certainly allow them to relaunch these grand titles.
-Is the game fully translated?
Everything has been translated apart from the move names, as we had strange results such as Power Geyser becoming "Geyser de puissance" which sounds like something out of a 90s anime dub. Speaking of dubbing, it will remain in Japanese only.  
-Do you think it will sell well or remain a niche?
We'll do our best for it to have great sales and push it as much as we can.
-We have seen EU releases without updates like Guilty Gear Xrd and others with region locks – do you have any information regarding KOFXIV?
It will be released simultaneously with Japan.  The beta version was already fully translated as you saw at Stunfest.  The updates will be the same as in the other territories.  For the DLC plan, I don't know more right now but the game is already complete and we will offer the DLC Kyo costume, which is a Japanese pre-order bonus, plus the steelbook, which is a USA pre-order bonus!  So, you can see we are trying to propose the best solutions for the players!
Thanks to Julien for the interview and thanks to Gamelove for the original material.  The full interview can be read here in French 
Pre-orders for EU are mostly open on Amazon:  UK, Germany,  Italy,  French one should be here.
4th Team Trailer for EU
Here's the fourth trailer from DEEP SILVER, which confirms the Day1 pre-order bonuses and which is starting all kinds of Yuri related frenzies on the social networks.  After the video you'll see some tweets in response.
???? ??.
XIII ??? ??? ??? ?????. pic.twitter.com/UdzMI4C1Cl

— Loped (@loped00) June 3, 2016
YURI KOF XIV https://t.co/WpUdbN94NT

— N4Us @ CB2k16 (@TheN4Us) June 2, 2016
Your booty game is WEAK Cammy! pic.twitter.com/7QvL2mHw63

— Running Wild (@RunningWildWolf) June 2, 2016
#KOF14
?????hshs pic.twitter.com/ScP1G1lmUZ

— ??????@???? (@Makky_CYS) June 2, 2016
#KOF14
?????prpr pic.twitter.com/c9lt8dN3Yh

— ??????@???? (@Makky_CYS) June 2, 2016
???????????????????… pic.twitter.com/enqnONyOpN

— ?????????? (@Keykakko) June 3, 2016
#SNK????????60????? pic.twitter.com/Yf6DV4vGjP

— ?? (@KOFBAIRE) November 13, 2015
More after Dune's Bug Video!
Dune's crazy bug
Dune casually posted this simple looking bug to do. Could it be game breaking? Perhaps it doesn't matter now.
KOF14???????????????????????????…??????????????????????????????????????????????????????????????????????????????????? pic.twitter.com/Zseds1WzWu

— ?? (@Dune_KOF) June 1, 2016
????????????????KNOW YOUR ENEMY ???????????????? pic.twitter.com/ndbcZPjm7a

— ? (@mojyavoltage6) April 28, 2016
??????????????????????????????????????????? pic.twitter.com/heFrCHgJ3g

— ? (@mojyavoltage6) June 3, 2016
Hope you enjoyed today's post. Make sure you're subscribed to all the channels!