Dream Match #KOF Tournaments 25 July Chile
Heads up!


25 July Tournament featuring the greatest KOFs!
Sábado 25 de Julio
-KOF XIII $3.000 / Plataforma Xbox / (Reparte puntos Fighting Games) *
-KOF 98UM $2.000 / Plataforma Steam
-KOF 2002UM $2.000 / Plataforma Steam
Más info en:
Stream:
Watch live video from DM_Channel_1 on www.twitch.tv
Btw there's also more KOF going on at SSB, Aug 15. More info coming up.
Orochinagi Wolf Cup also coming up in Tokyo. More info coming asap!
SNK PLAYMORE EXCLUSIVE SUMMER SALE!
Paid Game Apps at $0.99 each!
July 17th, 2015 ? July 31st, 2015
SNK PLAYMORE EXCLUSIVE SUMMER SALE!
For this sale, we offer popular paid apps in the "THE KING OF FIGHTERS", "FATAL FURY", "METAL SLUG" Series, and more titles as well at "$0.99" each!
Full breakdown here (link updated)
SHIRTS
PREPARE YOURSELF : TSHIRT OFFER 15% OFF COMING IN AUGUST!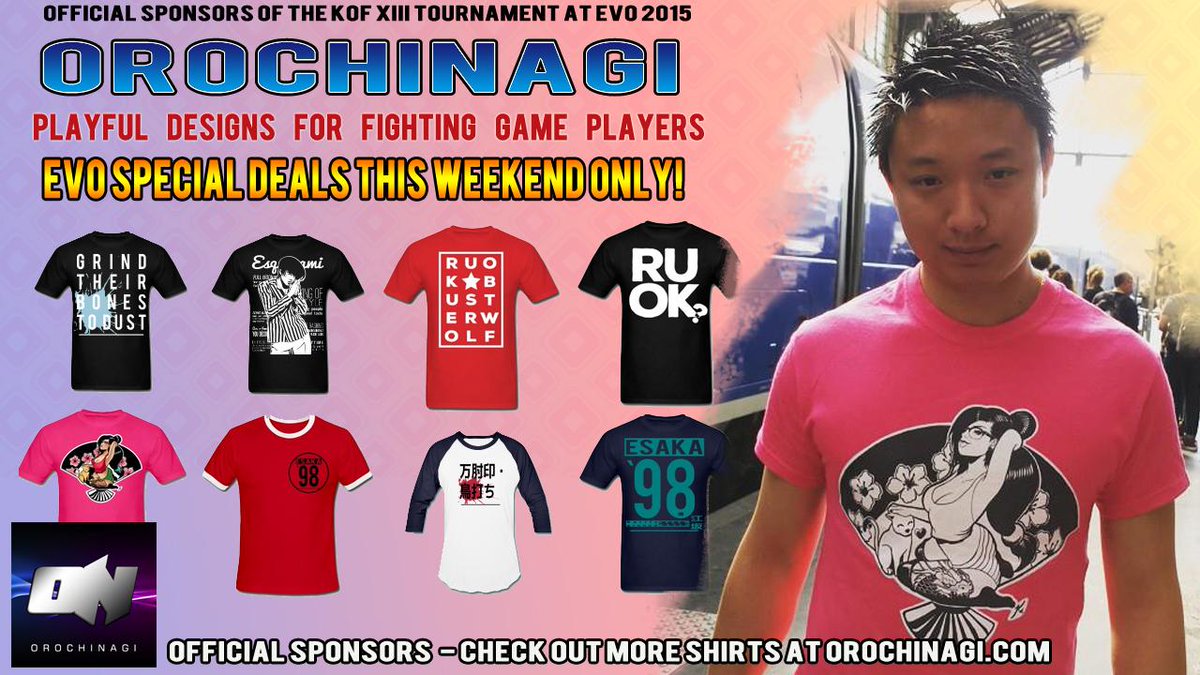 check out our designs in the meantime! EVO discounts still in effect coz I'm happy/lazy.
BUY NOW: US
 | EU
| GB
::  Art Prints > US
BUY NOW: US
 | EU
| GB
::  Art Prints > US
Beastbusters with full apps!
You can now enjoy this game without having to buy anything! The full version is now available from Apple Store and Google Play!
"BEAST BUSTERS featuring KOF DX"!
Not just a paid version of "BEAST BUSTERS featuring KOF", this "Deluxe" version offers more stages, characters, and even more content for thousands of hours of extra gameplay! Moreover, all the extra content that could be acquired via the "Energy consumption" and in-app items can now be obtained by collecting in-app "MEDAL" items in order to fully enjoy "BEAST BUSTERS featuring KOF DX" with no additional payment!
Game Features:
? No need of in-app items to fully enjoy this game!
No need to buy in-app items or consume in-game Energy! Fully enjoy "BEAST BUSTERS featuring KOF DX" anytime anywhere!
? Famous characters from "THE KING OF FIGHTERS" game series join the battle!
"Kyo Kusanagi" is now available as a playable character for KOF 20th Anniversary! Other KOF characters will also support you later during
your mission!
? Master your "Skills" to annihilate the Beasts!
Equip yourself with Fighter Cores in order to acquire "Skills". Step up your status, and activate Special Moves in order to increase your player
abilities.
? Customize the very powerful Special Weapons!
Customize your Special Weapon's firepower, rapid-fire and reload speed parameters, and equip your character with Special Weapons of different
attacks!
? Play in co-op with your friends in "Multiplay" and advance through stages together like FPS game play!
Play with your friends like Arcade & FPS game genres via the "Multiplayer" feature. Join forces and aim together for the stage goal!
AppStore download link: https://itunes.apple.com/en/app/id990910241?mt=8
Google Play download link: https://play.google.com/store/apps/details?id=com.snkplaymore.android015
"BEAST BUSTERS featuring KOF DX" official website: http://www.snkplaymore.co.jp/us/games/apps/bbkdx/
Unleash the AOF power!!!!
"METAL SLUG DEFENSE" has been already downloaded more than 21 million times since its release!
NOW FEATURING ART OF FIGHTING!!!
Here's the newest trailer!
4 PLAYER BATTLES? WHAT THE-
Grab the game here for FREE!
SNKPLAYMORE
Follow SNK for news and giveaways @SNKPOFFICIAL !
FOLLOW OROCHINAGI
[blog_scroll_list style="5″ number="8″ columns="3″ type="recent" space="yes" position="side" orderby="" cat__in="" tag__in="" post__in="" post__not_in="" effect="none" nocrop="off"]