#KOF @ SB2 /Game Underground/ Free Shipping Today ONly!
SB2 Lab: 866 Hunts Point Avenue.
Startup Box South Bronx Website
GAME UNDERGROUND
"I've been meaning to share this for a little while guys…

in Massachusetts, Game Underground has a new space! we are now essentially the arcade at the Natick mall, and the new spot is pretty hype. I did a video walkthrough of the joint, but this is already a month old or so, there's already plenty of other new stuff to enjoy

GU remains to be the premier place to play fighters in MA, and I'm doing what I can to make sure that KoFXIII is a part of that. We do our FightNight on friday nights, and the table area that you see at 1:45 in the video are full of setups on Friday night. There's a lot of Street Fighter going down, but there's enough room for ANY fighter you wanna practice, just look up the local players and they'll get there to play.
I'll be there most fridays with my setups, and especially for those training for Summer Jam 9 I'd like to get some KoF casuals going regularly again ASAP"
You can have a look through the place in the following video:
Orochinagi Wolf Cup also coming up in Tokyo. More info coming asap!
WOAH FLASH OFFER! FREE SHIPPING TODAY ONLY!
CODE= SHIP2015 (US STORE ONLY)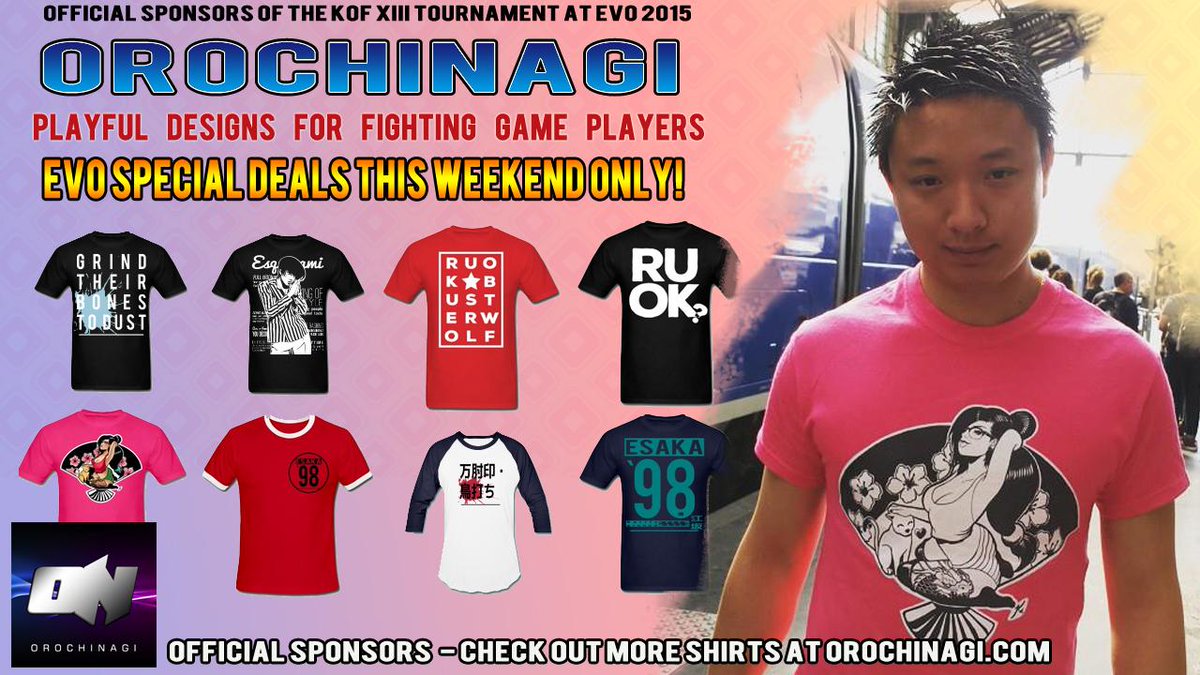 Check out our designs! EVO discounts still in effect coz I'm happy/lazy.
BUY NOW: US
| EU
| GB
:: Art Prints > US
BUY NOW: US
| EU
| GB
:: Art Prints > US
 HUMBLE BUNDLE STILL RUNNING

Donate more than $30 to get this limited Tshirt! All those Android SNK Classics at your fingertips for almost nothing!
Supporting the American Red Cross.
SNK PLAYMORE EXCLUSIVE SUMMER SALE!
Paid Game Apps at $0.99 each!
July 17th, 2015 ? July 31st, 2015
SNK PLAYMORE EXCLUSIVE SUMMER SALE!
For this sale, we offer popular paid apps in the "THE KING OF FIGHTERS", "FATAL FURY", "METAL SLUG" Series, and more titles as well at "$0.99" each!
Full breakdown here (link updated)
Unleash the Ladies Team power!!!!
"METAL SLUG DEFENSE" has been already downloaded more than 21 million times since its release!
NOW FEATURING THE KING OF FIGHTERS!
Here's the newest trailer!
4 PLAYER BATTLES? WHAT THE-
Grab the game here for FREE!
SNKPLAYMORE
Follow SNK for news and giveaways @SNKPOFFICIAL !
FOLLOW OROCHINAGI
[blog_scroll_list style="5″ number="8″ columns="3″ type="recent" space="yes" position="side" orderby="" cat__in="" tag__in="" post__in="" post__not_in="" effect="none" nocrop="off"]