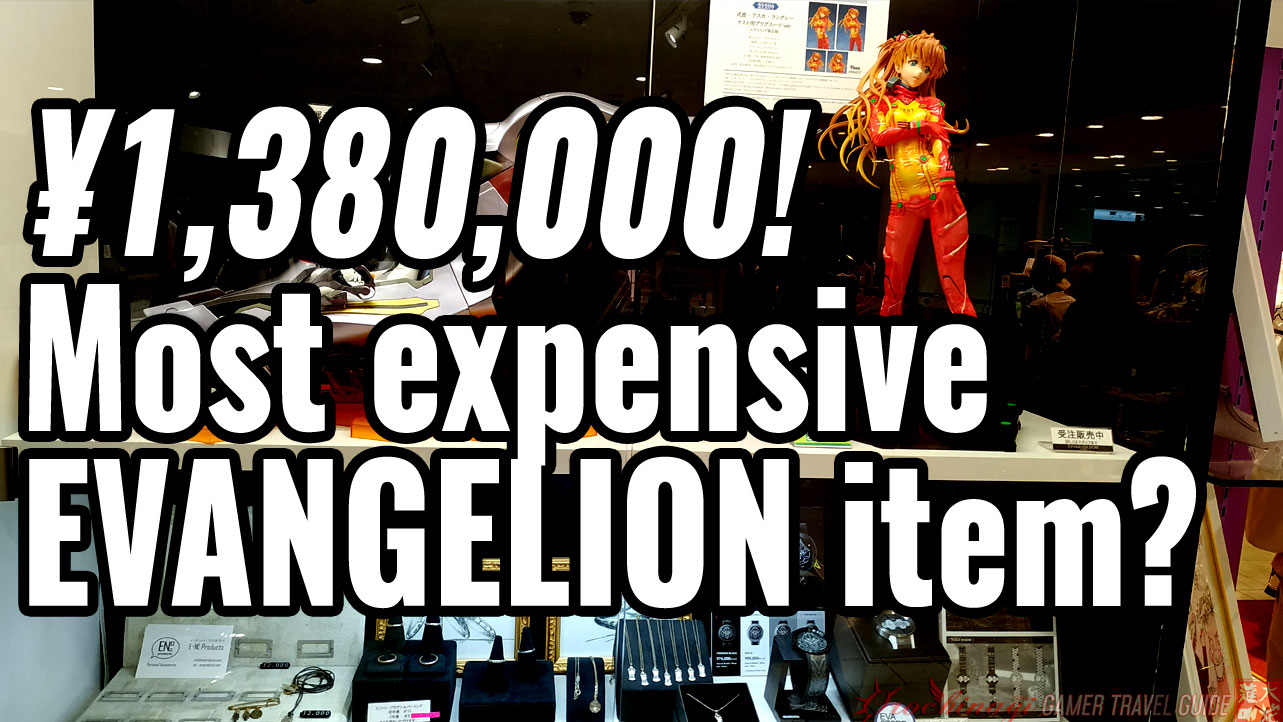 Evangelion Store and Bar Review Aug 2019
If you know the King of Fighters series, you know the link to Evangelion. Now let me tell you a story about freaking expensive items, a song on loop and angelic dumplings.
It begins with the Evangelion Store. Well, or may be actually be fourth or fifth, but it's the only one remaining in Tokyo in 2019. The other three are in Fukuoka, Hakone and Fuji Q Highland.
The other Eva stores in Tokyo have come and gone. The final line of defence remains steady in the Parco mall on the 2nd floor, near Ikebukro station.
You may notice the store is not far from the Evangelion bar… in fact it's 7 minutes walk!  So, you may want to plan a visit to both and the Animate store or even Tokyu Hands on the same day.
When you enter the mall, you can check the floor listing: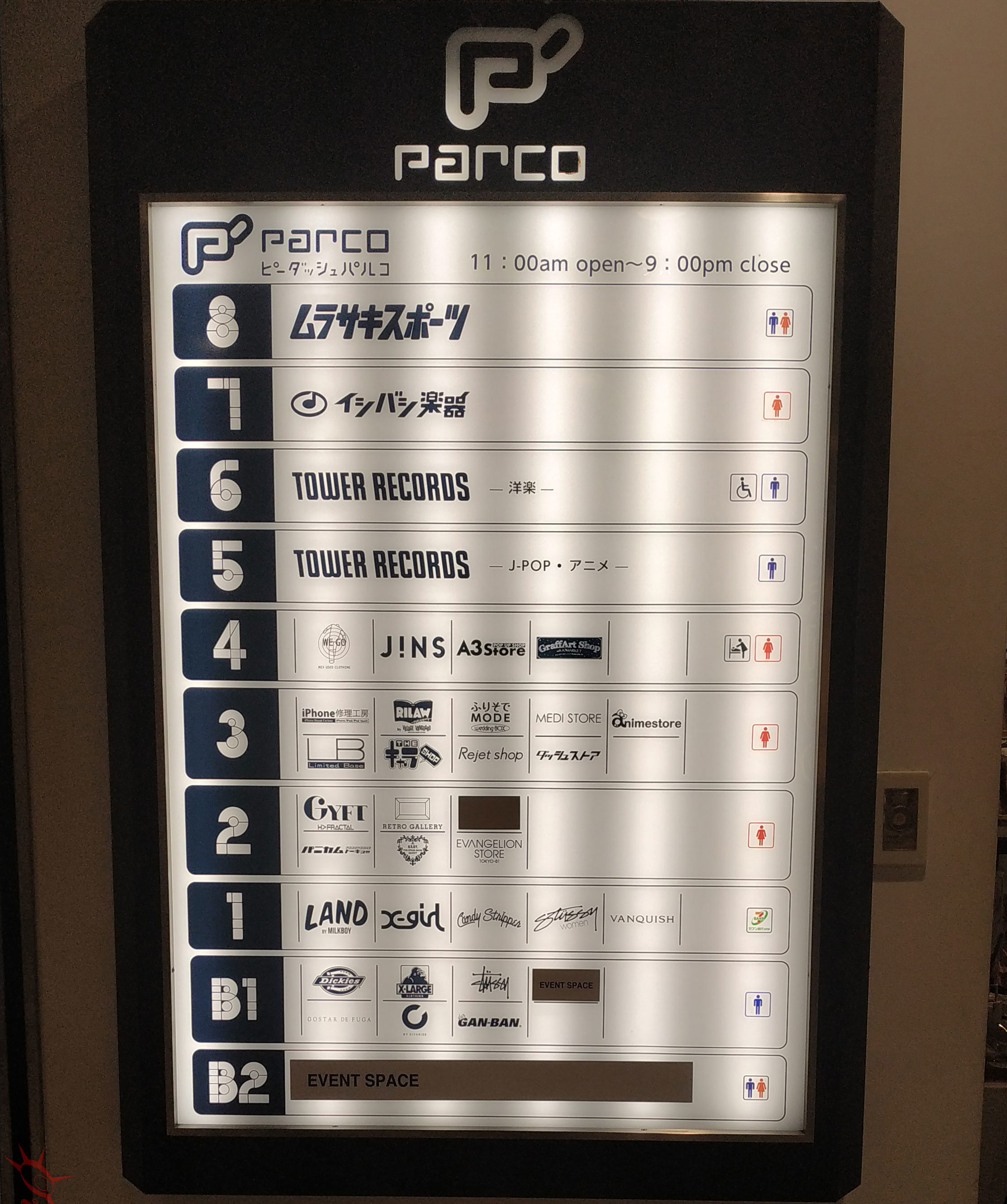 There it is, on the 2nd floor.  The store is pretty small in fact, taking up the average space in a department store.  But it's packed with the latest Eva goodies.
Of course there's a full size Rei to have a photo with, like the one that used to be at the Shibuya store or the one in the schoolgirl uniform that is / was at the Hakone store.
Not sure if the staff get any good perks but they get one of the best doors to walk through every day.
This store is at the forefront of the Evangelion merchandising machine. It stocks the newest items, and with the quantity that they keep churning out, compared to the small size of the store, it's unlikely you'll find older stock, which is when you'll need to go to places like Ami Ami or Kotobukiya.
The Eva designs are, how to say, sharp and trendy, artistic and risky, while many anime shirts are grinding a familiar formula.
Were you looking for the Evangelion necktie?  I took the last one. Sayonara, Turtles.
The jewellry range is fantastic or ridiculous, depending on your stance.  I would say well crafted items at a nonsensical price, only making sense when you're a fan.
The Lance of Longinus twisted into a ring? Ok.
Eva 03 beast mode as a gold ring…? for 12,000 USD.  Hold up.  Waitaminute. Is this the most expensive Evangelion item ? Well, there's one more item that was more expensive. Can you guess? I'll tell you that at the end…
The other items are more affordable, relatively. And won't be there the next time you visit.  The last trend was to cutiefy the Angel Sachiel and … some of the merch is pretty damn good actually.
Did I say these were reasonably priced? Ok I lied, they are expensive.  But I think some of the items merit the higher price, as they have extra stitching, etc. It's pretty cool stuff.
The figurines are top quality of course.  You won't find the gashapon or UFO machine prizes here.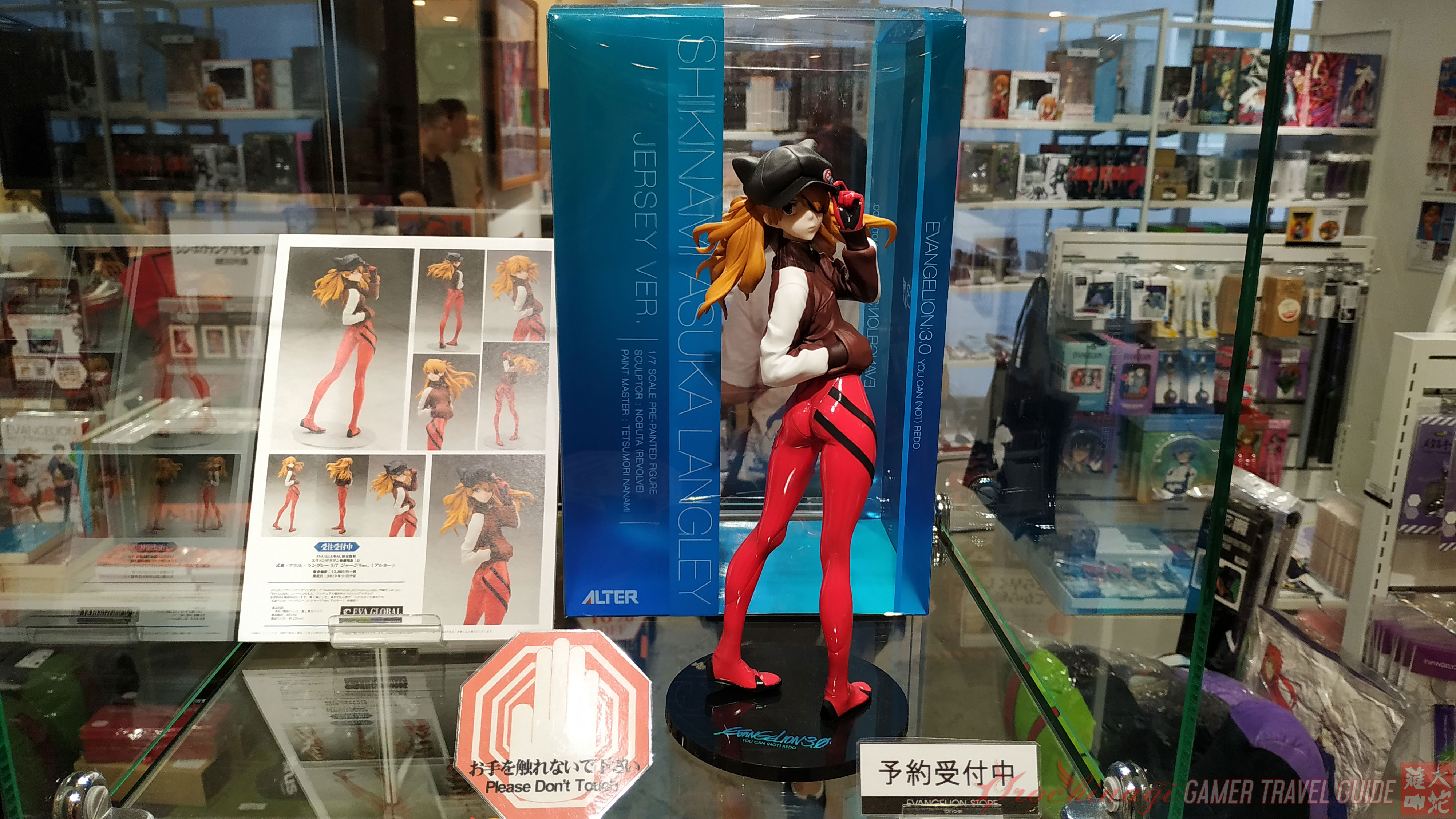 They have straps, notebooks, mugs, artbooks, compasses, pins, bottle warmers, headphones…
Why is it everytime I see a new Eva 01, I want to chuck my old one into the bin?  It's the same freaking robot for crying out loud.  But damn, the quality keeps increasing…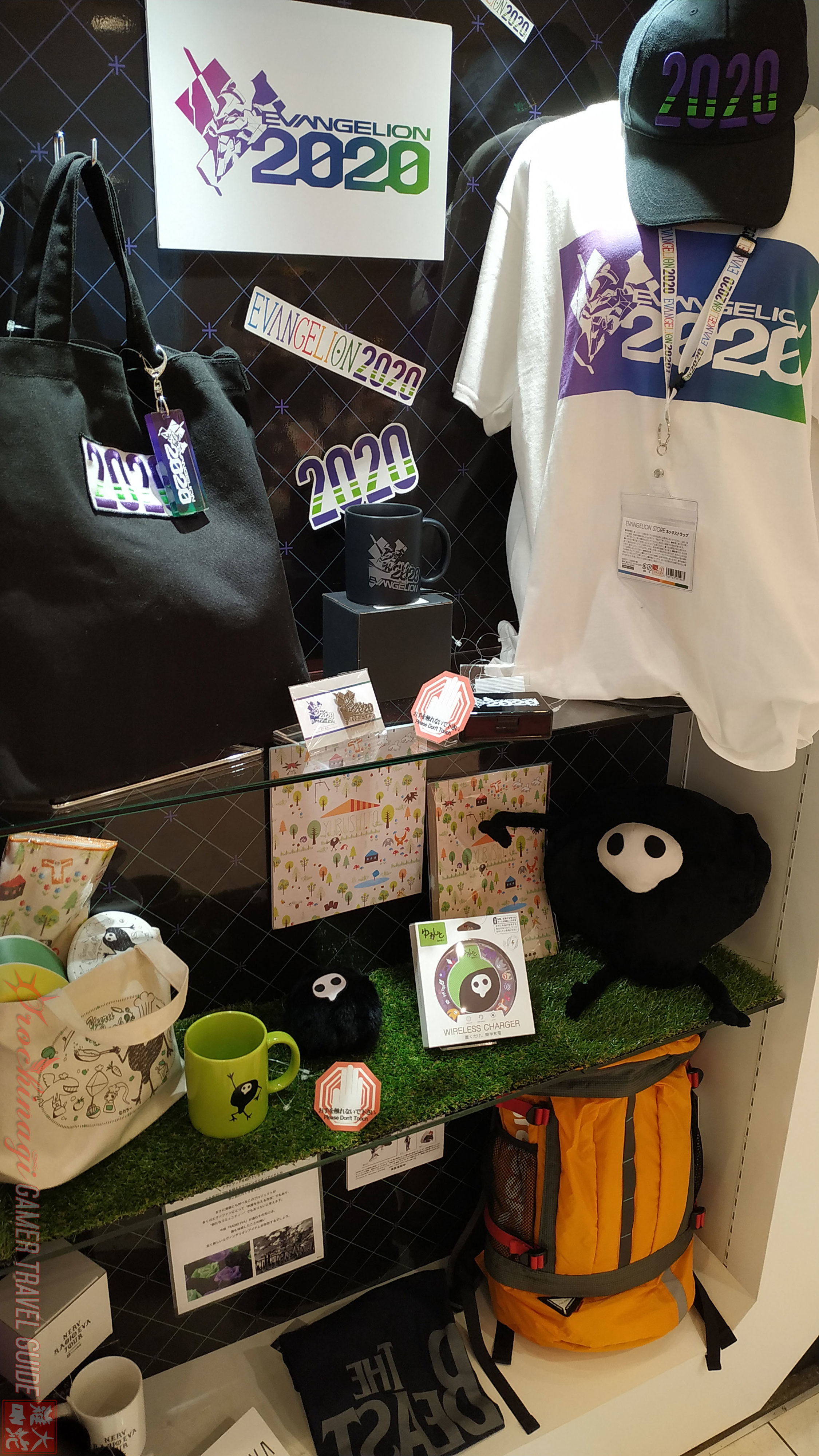 You realise 2020 is in a few months, right.  Then this will be out of date.  Then they'll stop stocking it. Then in about ten years, it'll be vintage and rocket in price…. probably.
Welp, fans visting Tokyo will have to come visit and donate all their monies. If you can control yourself, stay at home, head over to their website and get it shipped over, the visit isn't actually necessary… it really is a small store.  Unless you are also visiting the Eva bar, it is better to go to Eva World instead.
The Evangelion Bar
Digging around, this may be a bar licensed and run by Animate.  Not that that really makes a difference, but it does mean, as with many anime theme bars, it may be time limited.  So you have to go…. Update : The bar closed on September 1st 2019! They hinted that they may turn up somewhere else, another time. Argh!
Location:  it's kind of across from Tokyu Hands… a bit.  As you leave Sunshine city, it's just on the edge, don't cross the road under the bridge, that's walking too far.
Save the pics below, because Google Maps won't be able to show you.  When you get to the location you'll end up spinning around to try to find the entrance.
Look up, you can see the sign up above Matsuya… This is the right building, you just need to find the entrance. it's just to the right!
Notice the hole next to the Matsuya?  That's the building entrance.  Look closer at the signs on the street… it's Misato!  Now you might realise where you need to go.  Walk on in!
This is an Izakaya style bar, which means you order drinks and bites to eat, it doesn't serve full dish, although after some, you may certainly feel like it's time to leave…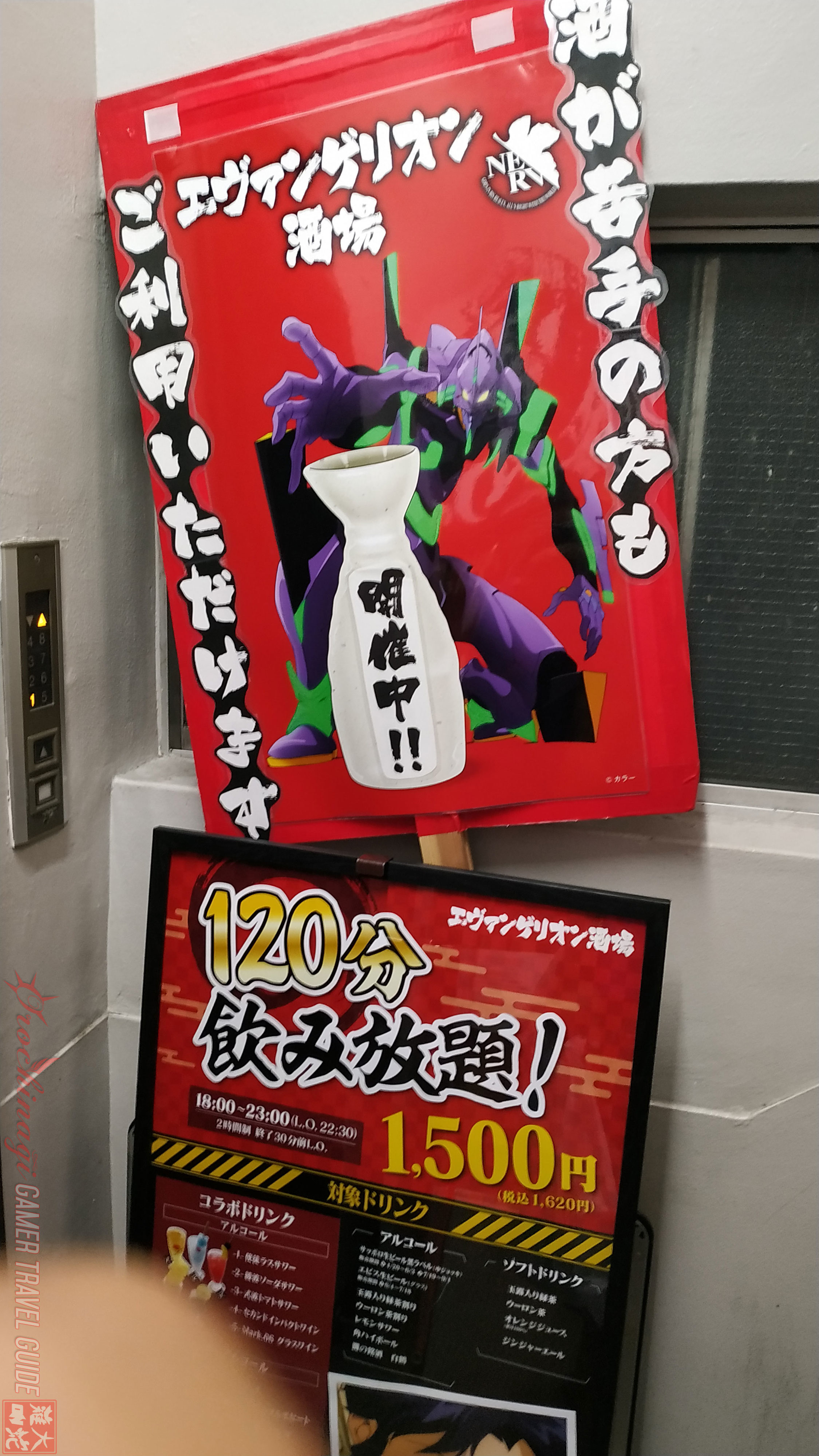 Hint hint, order alcohol!
GET IN THE F*CKING BAR SHINJI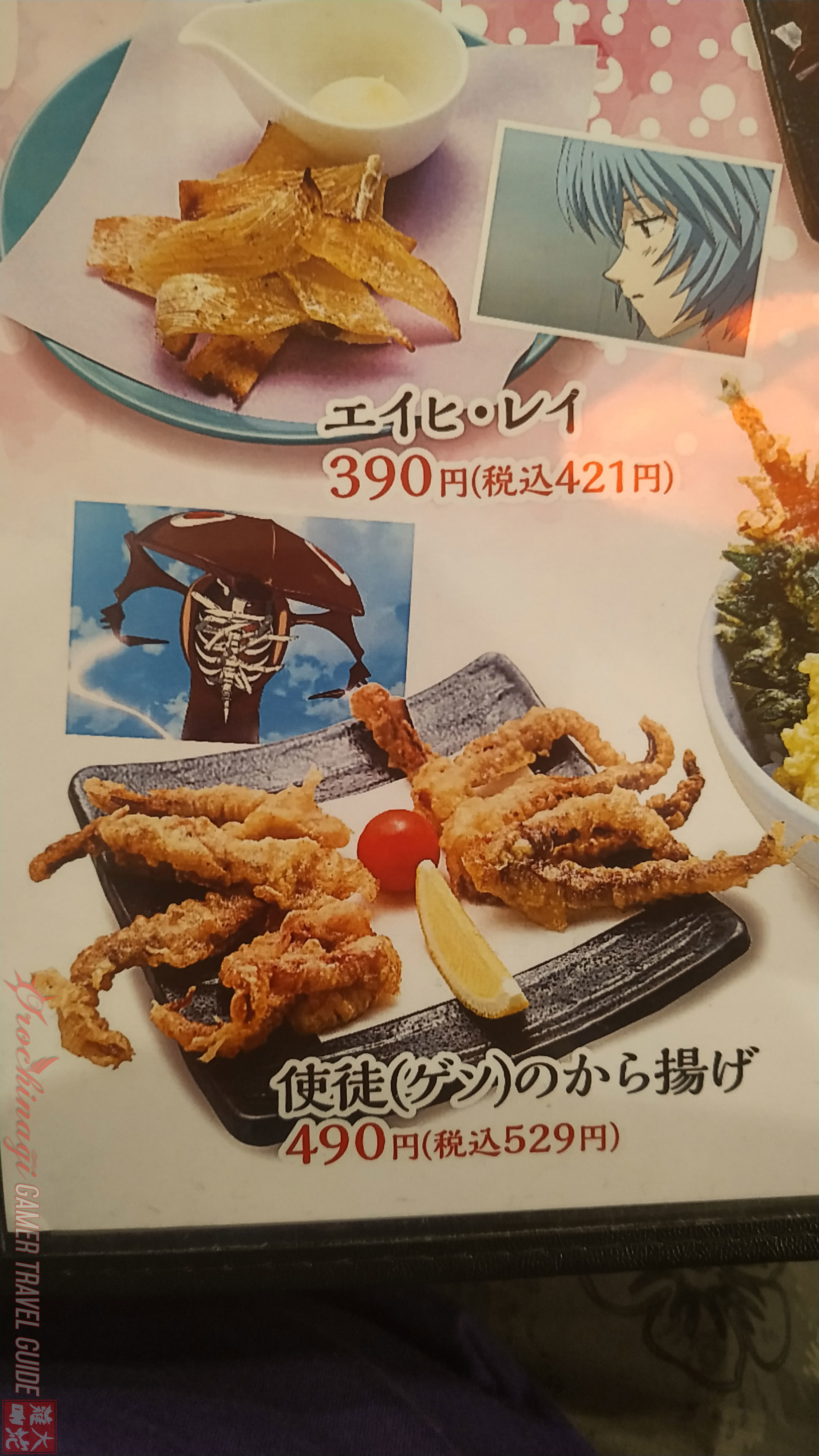 Yep, that looks just like an angel.  Oh, I can eat it?  Ok!  Don't forget to look over your shoulder at least once when you dig in. You do remember Orochi Iori and Leona from the King of Fighters 97 right? No? Maybe you should play it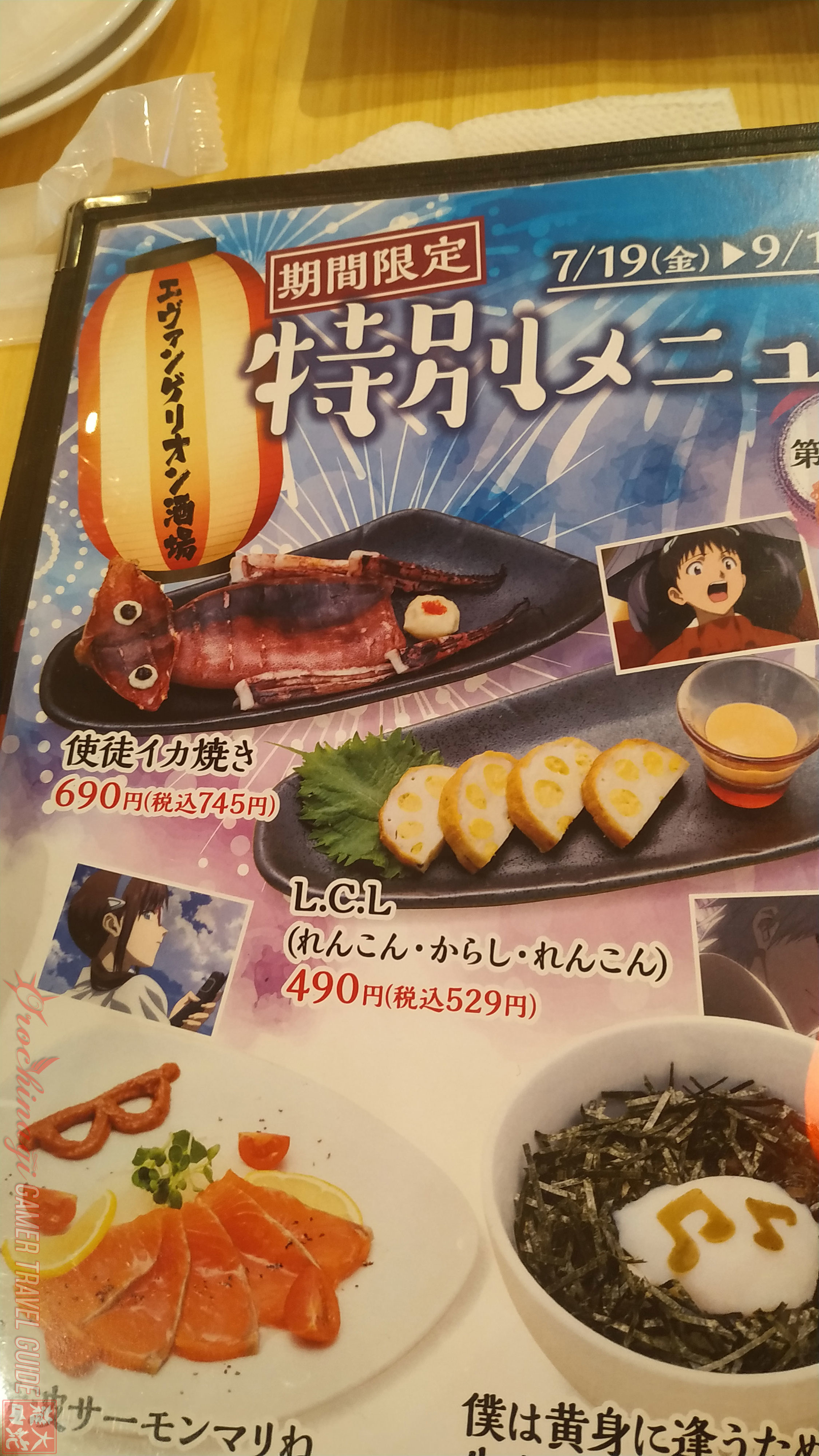 The squid is the most hilarious of all. It just looks so pathetic and rubbery, just like a defenseless angel, I guess.  The sashimi with a glasses shaped whatsit is perhaps the biggest pisstake.  I guess it's hard making character based food. At least you're not an musical blob on wafer seaweed… poor Kaworu
Oh God
The cocktails. Lol. The "Rei" is … I already forgot, but there's a freaking blue ice lolly in it.  Nice little cocktails really. If only I didn't have to eat those damn things looking at me.
Umm… I mean, yumm!!! It was a bit overcooked, and that's by Japanese standards.
On the TV they were playing a program which covered the singer of Cruel Angel's Thesis, Yoko Takahashi, as she travels with her two dancers and sings that damn song over and over again on tour, around the freaking world. Holy crap.  Anyway, the real point was to taste items on the Eva menu, with some zany antics, such as being blindfolded or having someone else try to be her arms and feed her without poking out her eye with a chopstick….
It was kind of distressing and yet interesting at the same time.  And, of course, everything she ate was "delicious". Well, lady, I can tell you, we can't be eating the same thing, because I certainly did not go into orgasmic convultions while eating those pitiful excuses for dumplings.  It's nice at best.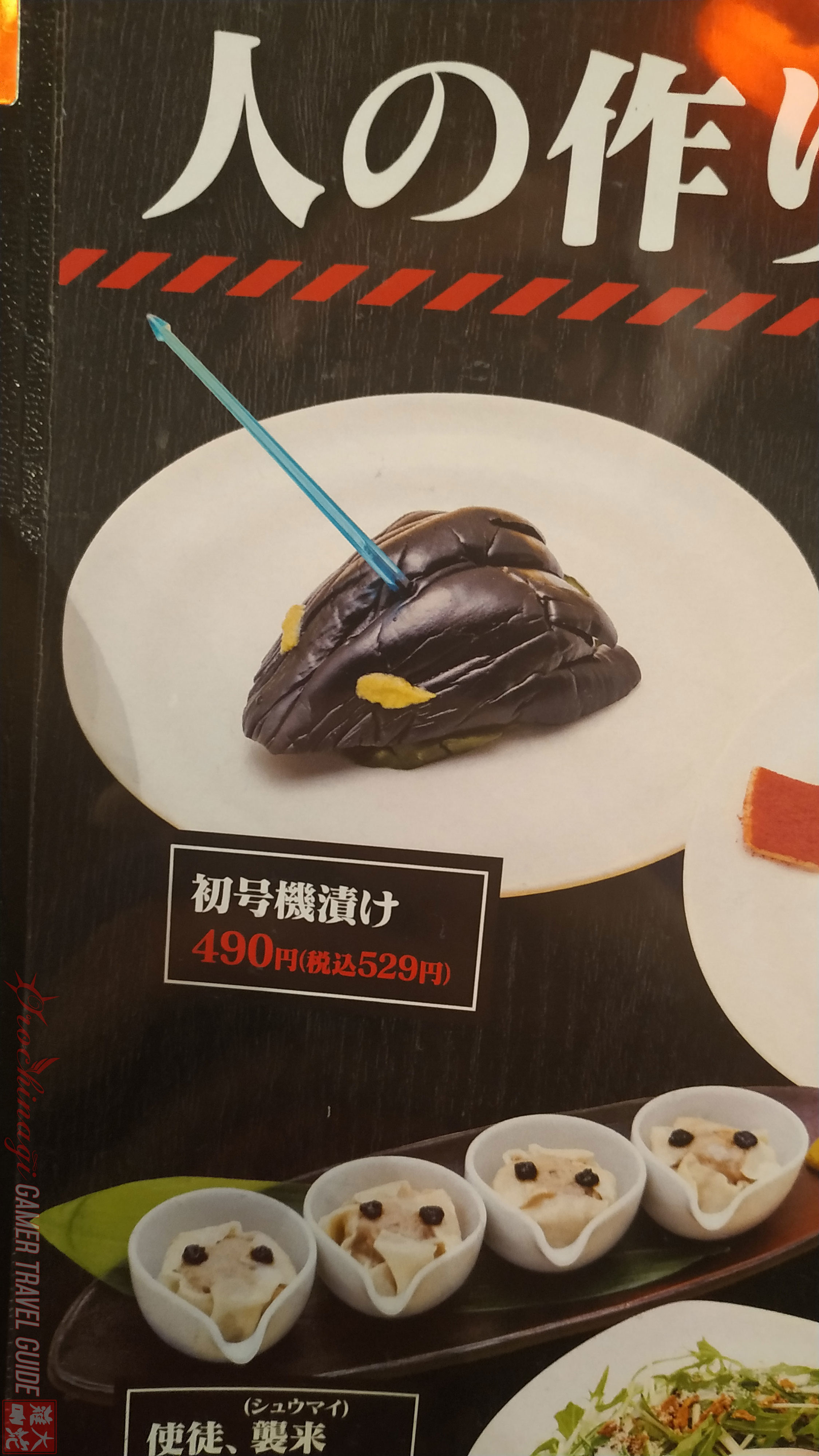 Did I mention those f*cking dumplings?  Did I mention the service was terrible (in other words there was one overworked waitress and god knows what was happening in the kitchen and the place was filling up with more and more customers, I mean, nerds).  At least my beer was cold and there was stuff to watch on the TV.  Of course it was loops of Evangelion, but it had clips of the new stuff coming up, and that sh*t is hypnotising af.
Oh I might as well add, this is no reason to start moaning at the only waitress on the floor, but this one asshole decided it was his right to do so. I suppose it was, but damn, there was only ONE waitress and it sounded like she was helping in the kitchen, on a freaking Tuesday evening. Geez have some sympathy, when you visit, don't be that guy.
Another waitress turned up for duty, probably a university student. Poor kids.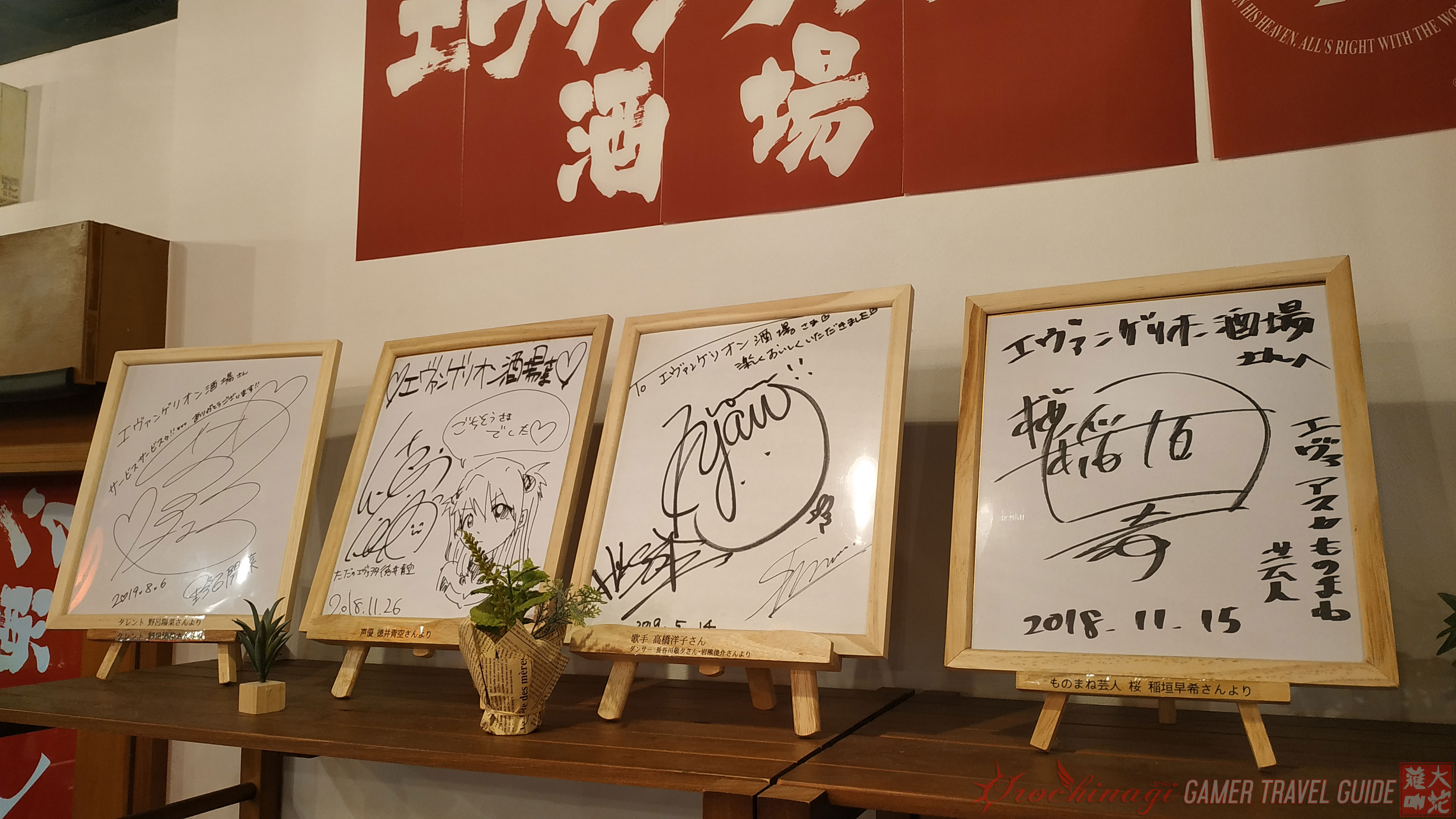 Signatures from the team are a nice touch.  Not sure about the others but the third is definitely Yoko Takahashi's…
They also a small merchandise section to tempt you, and yes, I hadn't seen the stock in other stores dammit (I went to the Eva Store just before this).
Yes sir, if you haven't seen Eva for a while, your eyes will be glued to the screens, although you might be surprised to see that the people in the bar look suspiciously normal. Never fear, they are all heavy, heavy Eva nerds. Flash your Eva shirt and give them a nod, you'll get one back.
aaaa so yeah I don't recommend it but I have to recommend it.  If you're a fan, that is.  If you're a fan, you go, you waste your money, you scratch that item off your bucket list. Done.  And it's still fun, laugh at the food, it's not too bad if you don't expect top cuisine, it's fun to recognise the angels AND THEN EAT THEM.  Then go beserk when you see the bill. It's ok.
The most expensive Evangelion Merchandise?
OK ok, so, the most expensive item was a Evangelion decorated car, which was a limited run, of course, sold for ¥16,000,000 (about 150K USD today), only at 7-11 stores.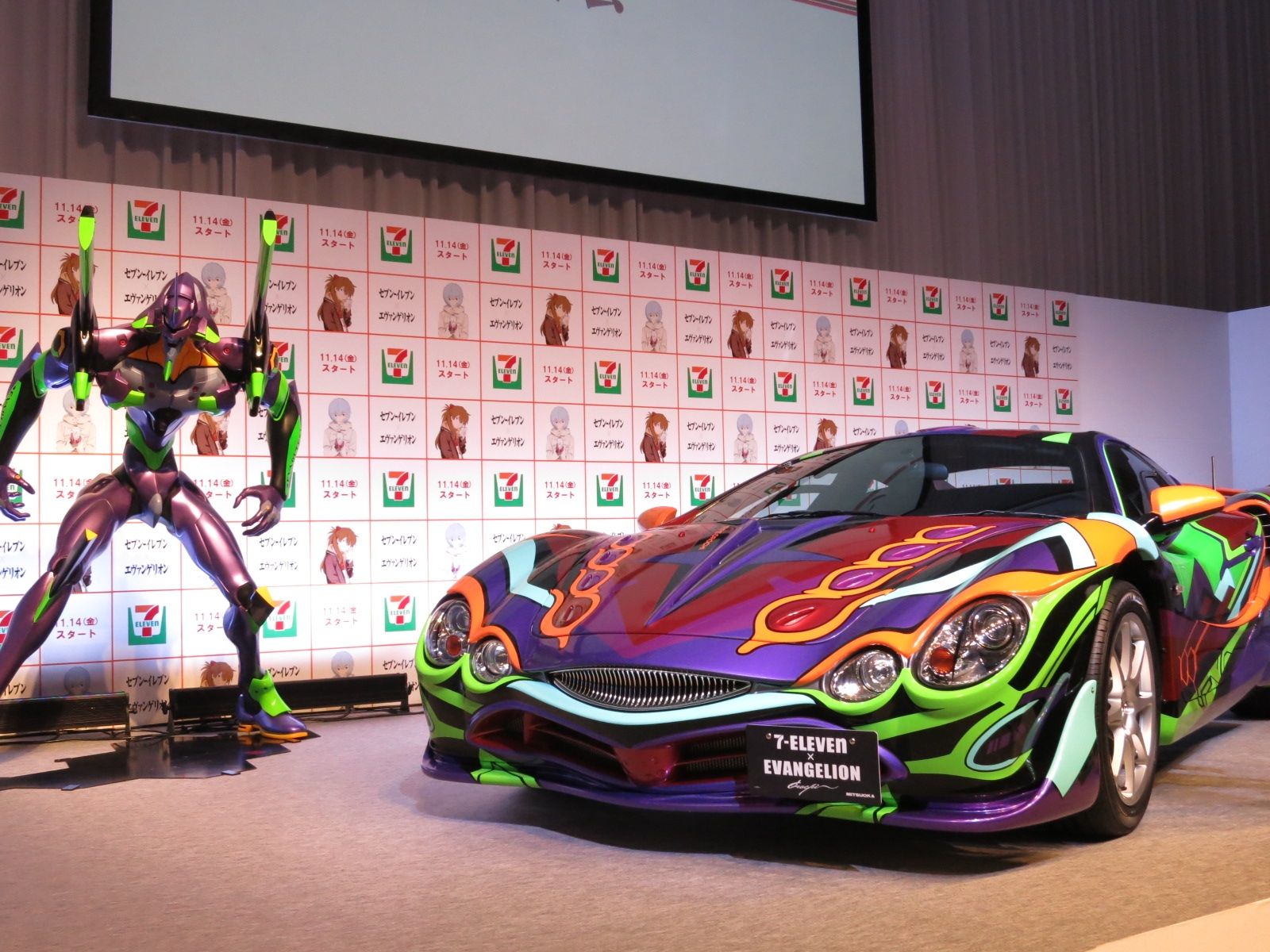 If still alive, we'll try to visit Japan again and get more Eva store updates in 2021.  See you then!
Like Eva and KOF? Get one of our fan shirts!
img taken from pinterest
Back to the Japan Gamer Guide!
Bonus, found some personal photos of the Shibuya Store. Real shame that closed up. 2 floors of coolness.