Carts, Parts and Sticks: Gamer Shops in Akihabara 2019
On this page you'll find a list of stores for those who are looking for a bargain or limited edition controller or console or arcade games / parts in Akihabara!
Beep
Surugaya
Radio Department Store
Furenz (Friends)
Trader
Liberty 5
Book off / Hard off
Super Potato
Retro
Yodobashi Camera & Sofmap
Mak Japan
Beep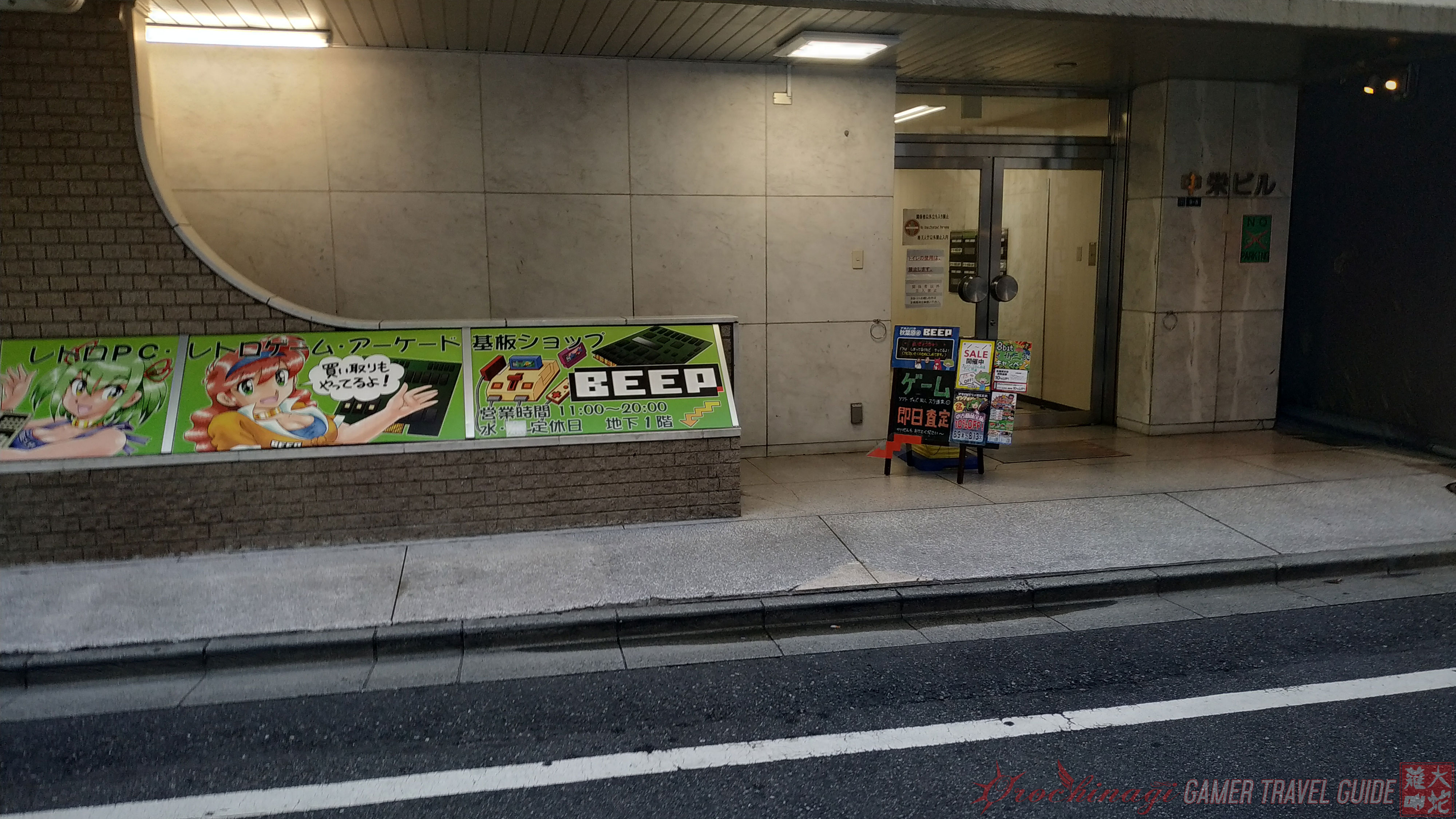 Beep is still there!  This little retro shop has some gems and REALLY old games and arcade boards. Like, for computers you've never heard of.
Went to @BEEP_akihabara for the 1st time today. Super crowded but really cool retro games store. Especially for old computer games. ? pic.twitter.com/FbQjnrv5eL

— Kuso Gaki (@KOFUK) November 5, 2017
????????????????????????????????????????????????????????????????????????????????????? pic.twitter.com/6QCbn3DHr5

— ??????BEEP (@BEEP_akihabara) August 27, 2019
???????????????????????????????????????????????????????????? pic.twitter.com/EiaqHC1TZA

— ??????BEEP (@BEEP_akihabara) August 27, 2019
PC?????????????????????????????????????????????? ?????????????????8?31?????????????????? #akiba #PC???? pic.twitter.com/b6HFpXvn6T

— ??????BEEP (@BEEP_akihabara) August 27, 2019
Surugaya
I somehow couldn't find this store on the last visit, walked around or even past it. But it's right next to Beep, as it has been for the last few years.  Ok whatever.  There was a Tshirt shop here before but Surugaya bought them out and put in their retro section.
It's pretty cramped but perhaps the best prices in Akihabara.  Well, I say that… but they're not going to give stuff away…
Blazing star for 598,000yen!!!! That's around 5,000 Euros.  Saw it on eBay for 320 Euros… WHY? WHYYYYYYYY?  There are three reasons, as far as I can understand: a) this is mint condition, only opened to verify condition. b) the item is rare as hell and the market is flooded with fakes or c) they just feel like hiking up the price.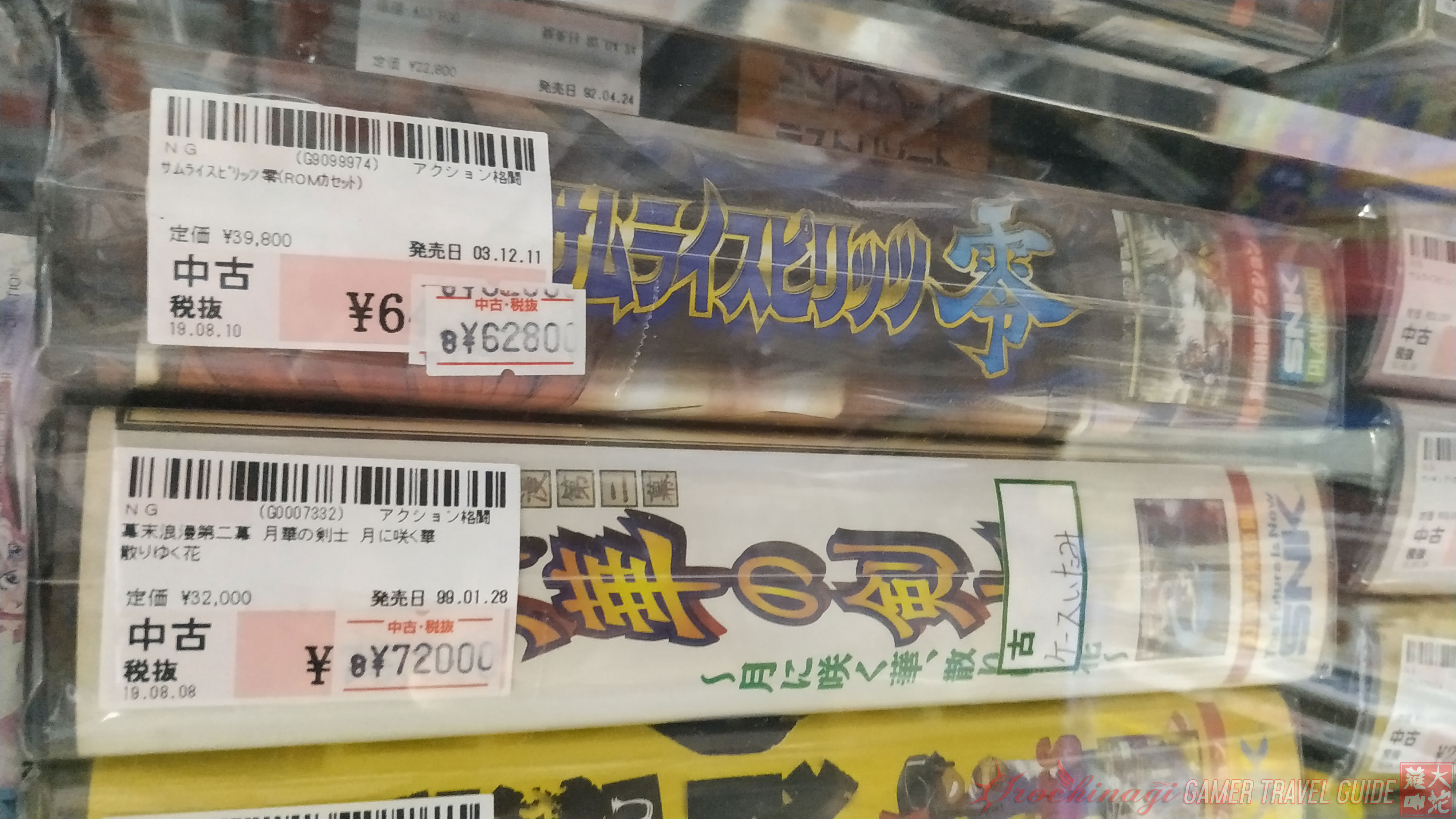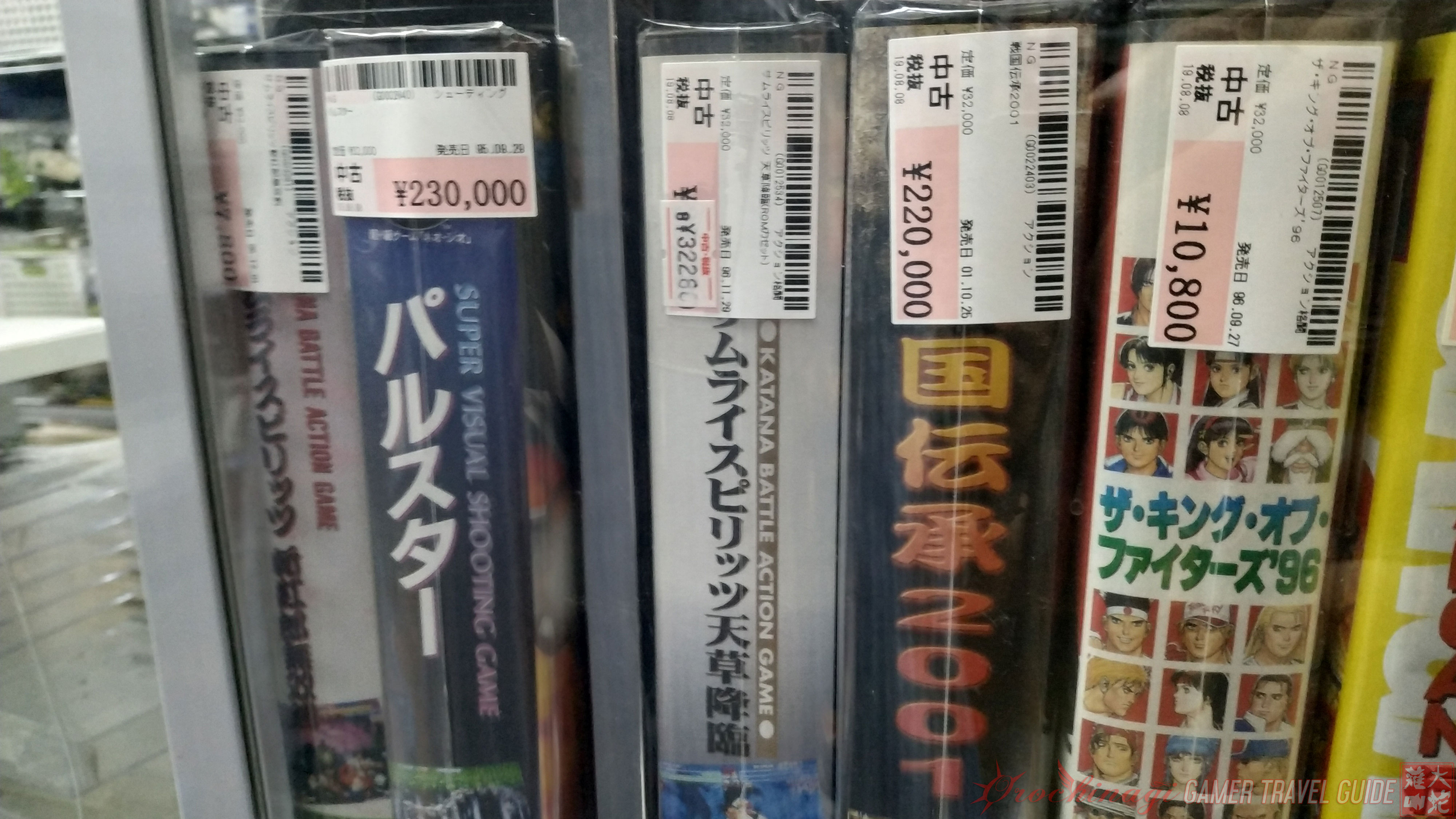 As you can see, KOF is pretty common so it's around 87 euros.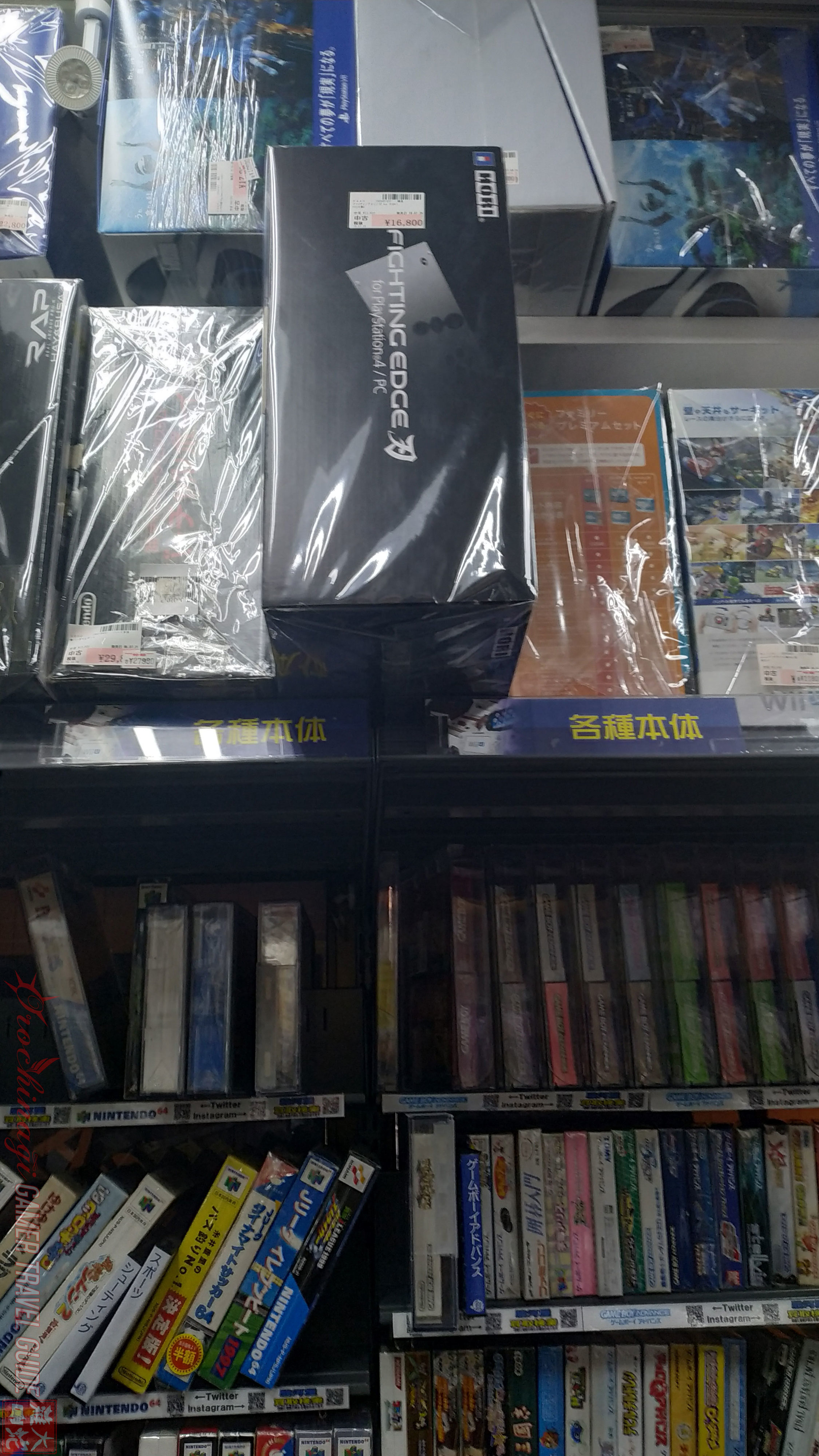 I'll repeat the story of buying a Hori Silent RAP stick here and going home to find out it was the most used stick in existence, with grime around the buttons and the silent buttons were certainly not silent anymore.  Take that into consideration when you see something cheap.  With game cartridges, that's the difference between cheap and expensive items: dirt, creases in the manuals, scratches.
Surugaya certainly has a healthy selection of carts.  Furenz had a 1/4 of this stock, in comparison. But then you'll also have to go to Trader, Super Potato and Retro before making a purchase…

Ha, found the pic of the stick. It still had the sticker from Yodabashi Camera, where it had cost 17K new, where I bought it from Surugaya for 12.8K so there was me thinking I had a good deal.  Uh. no.  Oh I've heard on good authority that Surugaya have low standards and accept all kinds of junk.  In my personal experience, that's true, but you'll get the relevant price for it!  Beware!  If you really want a controller you might want to ask to open it to take a look first.
Tokyo Radio Department Store
Need some stick parts or arcade bits, or even raspberry pi cases and parts?  This is just over from Trader 2.


Note that they don't sell games, and as with Mak, Hori parts are not available in stores.
Furenzu aka Friends
This store is tiny and probably on its last legs. From the crossroads on Souhericho head past Segafredo coffee on the way towards Onihei. Take right here and go up the stairs!  Retro games and stock at good prices! [ map link ]
Trader 1
This is the first building of Trader. The description on the windows doesn't really match the contents in order, but well.  In the middle of the strip, it's a good shop to visit for a wide selection of goods.
The ground floor contains modern consoles such as the Switch and PS4.  Go up to see the retro section.  Go up higher to see ecchi stuff.
They have figures too. Notice Android 21, brand new for 11,500.  She was available in a damaged box (or maybe missing parts) for 5000 at Ami Ami… oh and these prices are without Tax. The store does offer tax free, you just need to spend a minimum of 5k.

Because of Samurai Shodown going through a resurgence, SSV (aka Samurai Spirits Zero) is now 62,800 at Surugaya and here it's 59,300 while at Mandarake 89,000. Whether it's the physical condition or market competition dictating the price, your guess is as good as mine, you'll have to inspect the carts yourself… SSV Special is even higher at 177,000….

You can see some 360 photos taken by Trader themselves here.
Trader 2
can be found under the bridge, near Mulan and Tokyo LeisureLand. You'll probably spot the KFC first.

Trader 3 has lots of disc based games and a couple of controllers … eh… well, you never know, but I wouldn't put it as a priority.
Liberty 5 has disc games and a few bits and pieces. Meh.
Hard Off
You can find one next to Mandarake / Apa Hotel [ Map Link ] and the other one next to X under the bridge [ Map Link ]
I get the feeling Hard Off is out of touch with the market or is just not a trendy place to visit, so the prices are low. Perhaps the lowest!

If you're into old Japanese import titles, I would recommend Hard off and start with the 2nd store.
Super Potato and Retrocamp
Super Potato is like totally famous and full of tourists so I avoid it/ forget to visit.  I did pop in to the Osaka branch and the prices either reflect the great condition or some sort of extortion?  The vintage market is crazy, get ready to lose your mind here.
These…I'll never be able to afford! #SNK #NeoGeo pic.twitter.com/7bNtNHWxHV

— Jim (@Jim_Bulmer) August 30, 2019
This is a shot from Osaka.  In comparison, Samurai Shodown 5 Special was 177K in Trader.  You decide if a few scratches and creases are worth the price…
I keep missing this store because it's on the other side of the strip and I've always crossed over to visit Trader 1 or Excelsior Cafe.  This is an old photo but I suspect they are competing with Potato and being on the main strip, don't expect low prices.
Yodobashi and Sofmap
These are huge department stores but they have used goods too, and you can find more common controllers and console peripherals here. I'd go here for things like power adapters, sticks, modern music game controllers etc.  You will find the latest sticks here so you can give them a feel before buying.
Mandarake
They get a mention for those hunting retro games, when you don't care about price. They take very much into consideration the condition of items.
88000 for Kizuna Encounter back in 2010

KOF Kyo for 1,575yen compared to Hard off without box 324yen.  Notice the grades on the bottom left: Disc condition rated B, I guess the others are for manual and case.
Mak Japan
This little store can be found in the same building as Toys Golden Age, which is next to Liberty 8. You will walk right into it if you come out of exit 4 of Suehirocho station (which is of course the best starting point to adventure through Akihabara).
Mak sells parts, console sticks and arcade boards and carts. You can find some rarities if you're lucky!!
Prices may be different as the photo above is from 2012 but I did pick up KOFNeowave … I don't even have an Atomiswave, but at this price…

In conclusion
If you're hunting vintage retro games, I would go to Friends then Surugaya, then Beep, then Trader and LAST Super Potato and Mandarake.
If you're looking for arcade carts, go to Mak Japan and Beep.
If you need stick buttons, go Mak or the Radio Dept store.
While you're out here I would recommend checking out the Gamer clothing stores!!!
I would also visit Nakano Broadway.