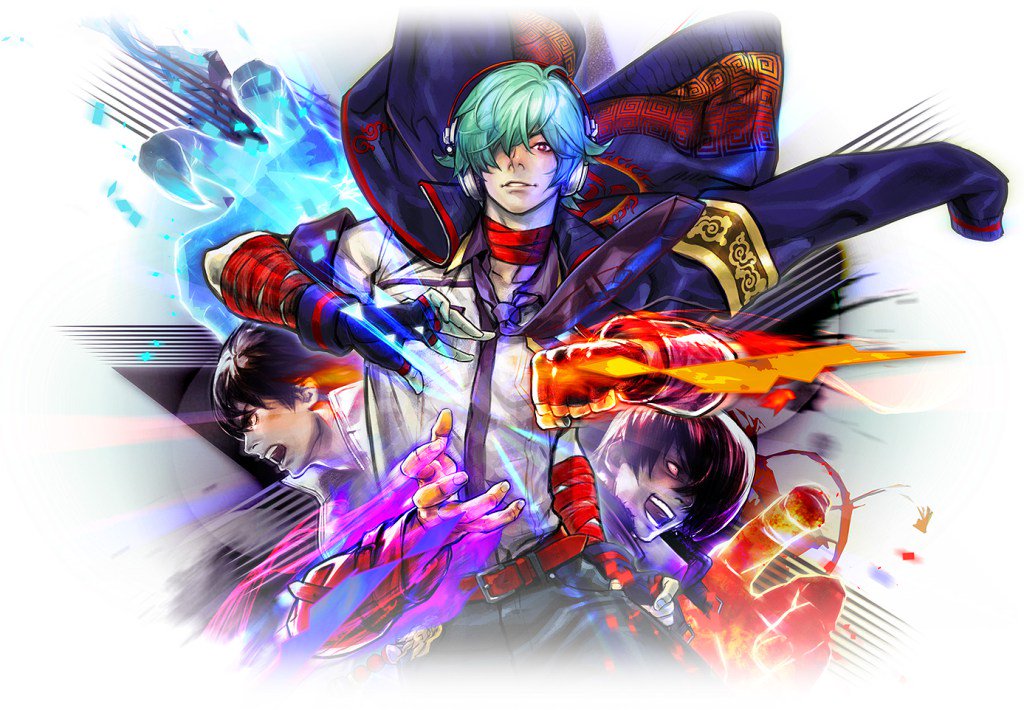 Amazing matches and more for this weekend!
We have a great round up of matches from this week plus all the info you need for this weekend's streams!  Don't miss out on global action hitting hard from east to west!
Gamesworks
Vicio, Romance, Khannibalito, Rosa, Luis Cha, Realkim & more headed down to LV and kicked up the dirt!
The #KOFXIV tournament @GameWorks in Vegas was fun!Thanks to everyone that made it! #NECXVII is next weekend! #BurnToFight @orochinagicom pic.twitter.com/0xizV4Hf6F

— Vicio @ SLAM (@OnVCO) December 12, 2016
GWeSports Vegas says thank you to all our players that came from Cal, Texas, and Mexico to… https://t.co/FDCQtX7YCF pic.twitter.com/bOelIryySj

— GameWorks eSports Las Vegas (@GWeSports) December 11, 2016
Replays can be found here
FREE THEMES NOW AVAILABLE IN US AND EU – probably more regions soon!
New free KOFXIV themes on the EU PSN #PS4share pic.twitter.com/IgM41w5tIJ

— ??????? (@takkuten) December 16, 2016
#KOFXIV fans, 3 new static themes are now free in the PS store! Fatal Fury, NESTS Girls, & NESTS Girls on the BEACH https://t.co/NmI5j0w7au

— Atlus U.S.A., Inc. (@AtlusUSA) December 16, 2016
BESTBOUT Korea
Check out Lacid vs Madkof, watch out for Lacid's Kukri and Daimon, not to mention Madkof's Geese!!!
Bloody hell mate, those Daimon confirms are just ridiculous!
This weekend: 4 Events
IISPO
That is, ichikimitsuhiro, M' ( recently sponsored by Sanwa), Kyabetsu (Cabbage), Kyamei, Kindevu, Go-1, Koji KOG and Dune

— majinobama (@2dJazz) December 12, 2016
2016/12/17 Saturday  Japanese Time 3pm – 5pm (10pm Friday PST / 6am Sat GMT)
Stream Channel: http://www.twitch.tv/iispo_official 
Korea
Madkof will be looking for revenge, but Bash is here too!
3rd Gerrard Cup KOF XIV Online Tournament is now livehttps://t.co/6CVWM0q82R pic.twitter.com/85gyv03DuB

— Gatoray (@gatoray_kof) December 17, 2016
NEC17
A wild Fox appears!  He will be competing at NEC along with Reynald in 8 pools of over a 100 fighters!
Brackets will be posted to the following link when they are completed:
http://bigegaming.challonge.com/
I won kof 14 #NLBC tournament in New York it s à good training for #NEC pic.twitter.com/5HJUkglVC6

— FOX971 (@FOXgwada) December 15, 2016
My Picks to get out of Pool 1 #KOFXIV #NEC17 #PocketsPicks pic.twitter.com/bFqEYCb29Z

— Hellpockets (@HellPockets) December 14, 2016
My picks to get out of Pool 2 #KOFXIV #NEC17 #PocketsPicks pic.twitter.com/4fkGE277aN

— Hellpockets (@HellPockets) December 14, 2016
Schedule:
Please RT: Stream schedule for #NEC17 (Powered by @twitch) w/time zones

Larger version: https://t.co/FroeYcz0TD pic.twitter.com/kfbRO7xJy0

— AceKingOffsuit (@acekingoffsuit) December 15, 2016
Streams will be on KPB (Sat) and Bifuteki (Sun)
AMG2016
all day Saturday 17!
stream https://www.twitch.tv/aagamestv
Featured Tweets
this kula tho pic.twitter.com/TeirSnYlP5

— tone (@tone765) December 16, 2016
KOFXIV DLC Costume Athena Asamiya '98 version will be released on Dec 20~Jan 5 (This is free!)#KOF14https://t.co/6WOmaTAOHD pic.twitter.com/NrEkWhKpYt

— Gatoray (@gatoray_kof) December 16, 2016
#????????????????? ?????????????????????????????????????????????(??`) pic.twitter.com/JLIJbwpaic

— ??@????????? (@hyshiro1118) December 14, 2016
???
?????????????

???
?????????? pic.twitter.com/LitoFUwBA4

— (????)????@??????bot (@lunatic_ryoji) December 15, 2016
Argentina's 1st #KOFXIV Tournament, sponsored by SNK, January 14th 2017 @KaneBlueriverCL @itzRomance @snk_oda @frionel26 @orochinagicom pic.twitter.com/9h60Dmt9K0

— NB | Canno White ?? (@CannoARG) December 15, 2016