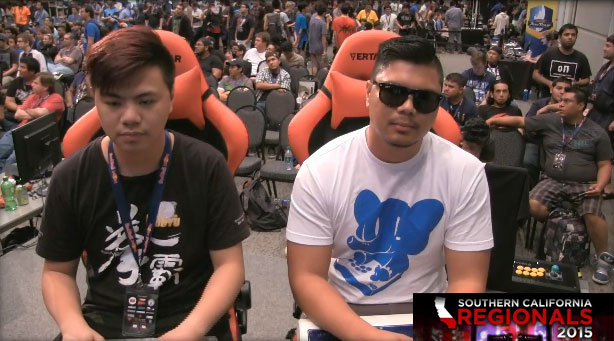 SNK World Championships at SCR: Predictions
We've just missed the Gold Coast Fighters event in Australia but replays and brackets can be found.
After the shambles that was the so called Mexican qualifiers, with some relatively unknown player winning while Bala and everyone had no idea due to basically no advertising in the FGC, this weekend we have the first big, and announced in good time, event for the SNK World Championships: SoCal Regionals.  Let's look at the pools.
Predictions: with top two being taken from 8 pools, it should be easy to guess, but there are dark horses everywhere!
Pool 1: You've got Xiaohai for one, who already won WNF the other day, then you've got Huevo…  and then you've got the SF champion Momochi!  …. I would say Momochi won't make it out of pools… then again, Momochi isn't a champion for nothing….  at the same time we've seen SF players come and go….
In Pool 2: You have the animal Khanibalito, who will eat you alive, a firm favourite. TC Cruz is there who normally places top 5, plus a few other familiar names – but if we wanted to have a bit more buzz in the final brackets, Momochi should have been in this pool or the others!  Well, he's gonna have to learn the hard way!
Pool 3's big dog is Luis Cha, who was only stopped at WNF by Xiaohai.  ChrisKOF is there but otherwise seems like a nice pool.  Sorry if I don't recognise a top player there.
Pool 4 is where things start to get interesting.  You've got Eita, another top SF player, El Rosa and Nerdjosh who's been using the top tiers to full advantage.  El Rosa should make it out in position number 1 but the question is whether Eita can use his fundamentals to get past Nerdjosh's experience of high level play?  It'll be interesting to see.
Pool 5 has Romance and RealKim, so there is no question there, unfortunately, for the other players. But hey, best of luck and we might get some dramatic upsets!!
Pool 6 has Yo5hi and Violent Kain. Again, I don't see anyone else in that pool getting past them, though who knows who has been super training hard with some new tactics!
In Pool 7 we have that guy who seems to have no real knowledge of the game but survives on great reactions and fundamental game plan: Justin Wong.  This guy is one of those who can jump into any game and crush everyone.  However, up against the real experienced players who'll use things like safe jumps and option selects, he's gonna find it much tougher.  Poongko is here too, who is a real KOF13 player but hasn't made much of a mark with KOF14.  Looking at this pool, the other players like Laban could make it through if they use Nakoruru and don't choke!  This will probably be the last opportunity before the patch comes out!!!
Finally in Pool 8 we have Reynald and Go1.  Clear favourites and that is all.
As for the final winner? Top 3?  It's not that clear to me actually: that top 8 should be insane!  Let's find out today on stream!
Disagree? Someone I looked over? Leave a comment!
Brackets:
https://smash.gg/tournament/socal-regionals-2016/events/the-king-of-fighters-xiv/brackets/54675 #KOFXIV
Stream schedule
https://docs.google.com/spreadsheets/d/1pyfntsSnzNiTiWGAf3XWWBLKVrxiHvo9N4-WDDydQBs/edit#gid=134540055
4pm Local Time for KOF on Saturday = midnight Europe (France/Berlin)
All the kof games will be streamed on
https://www.twitch.tv/leveluplive