5.4/5.1 Earthquake hit South Korea. Please pray for everyone not just the idols. Sending my prayers.?#PrayforKorea pic.twitter.com/PYdIhNFj8k

— ron (@ygent__officiaI) September 12, 2016
High quality matches from these players in Korea
Check out this casual between Verna and MadKOF!  Not to mention Bash (SBO finalist) is back in the game!!!
#KOFXIV First Tournament in Korea Result
1st : Vash
2nd : Verna
3rd : Madkof pic.twitter.com/uyfzBlDtJl

— Gatoray (@gatoray_kof) September 11, 2016
128 Man Official Post Launch Tournament in Paris
Bravo @frionel26 qui a remporté le tournoi #returnofthekingoffighterXIV pic.twitter.com/ckagSDlblw

— Rash no Capeta (@Rash_no_Capeta) September 10, 2016
Artwork by Ogura to win today!!! #KOFXIV https://t.co/ZqrhIZCc86 pic.twitter.com/Lz6DiOhNZr

— Shameful Gunsmith #kof15 (@orochinagicom) September 10, 2016
San Antonio Otaku Cafe Weekly
I won the first #KOFXIV weekly tourney @rikricOtakuCafe pic with worthy adversaries. #BurnToFight @orochinagicom pic.twitter.com/ymHHkQzNbE

— Vicio @ Get Vaccinated! (@OnVCO) September 12, 2016
Check out the results from the 1st: [ Replays ] and [ brackets ]
In October
Rumble in the Tundra
1K prize pot bonus!!! The WNY region's Major Fighting Games tournament is back this year and ready for even more action! We've expanded our game lineup, expanded content for our 24 hr. venue and will be featuring more attractions than ever this year! Keep an eye on this page for updates. PS. Expect more Food Trucks this year too!
2.5 weeks left for pre-reg at Rumble in the Tundra 6 #rumbleinthetundra via @smashgg, huge pot bonuses, 24hr venue! pic.twitter.com/VXGJfl8aPq

— The Chach @ BFGC HQ (@ChaCha2daMax) September 2, 2016
[ FB page event link ] [ More info ]
Thunderstruck IV
Then in November
Pro player X presents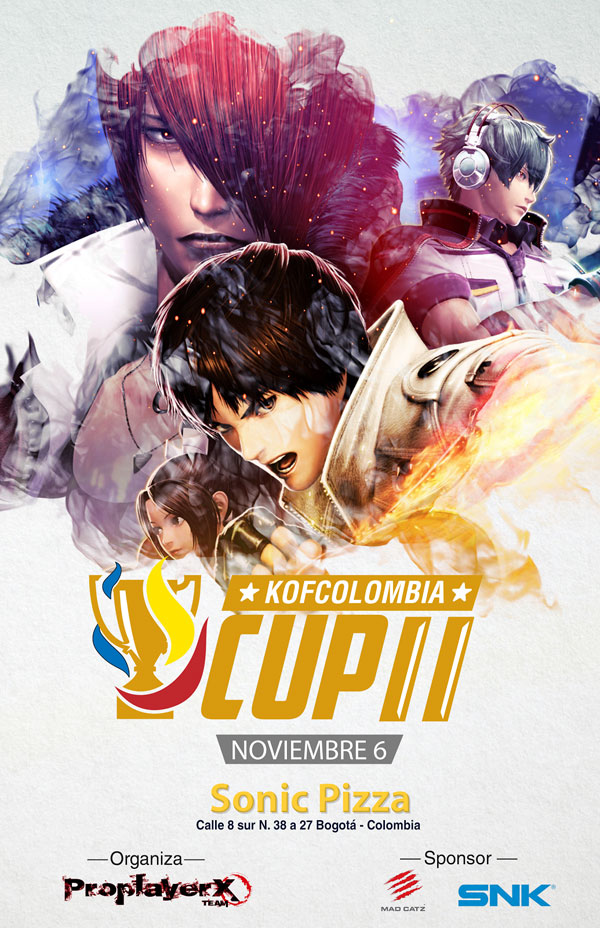 KOFColombia CUP II
Con el exitoso lanzamiento y la gran acogida del ultimo titulo de la serie de videojuegos The King of Fighters el próximo 6 de Noviembre en Bogotá (KCC) reunirá a los jugadores para competir por el titulo "rey de la lucha" en The King of Fighters XIV nuestros patrocinadores SNK y Madcatz esperan grandes competidores para este imperdible torneo.
With on the successful launch and the great success of the latest title of the video game series  The King of Fighters XIV  next  6 November in Bogotá  (KCC) will  bring together players to compete for the title "King of the struggle" in  The King of Fighters XIV  our sponsors  SNK  and  Madcatz  expect major competitors for this unmissable tournament!!!
Stream willbe https://www.twitch.tv/itzromance
Get tickets here  get directions here
BRACKET RESET
Bracket Reset KOF is LIVE https://t.co/Sf2RJo1J84 @TheAlexValle @frionel26 @MAD_KoF13 @aws_ccl @Louffy086 #KOFXIV pic.twitter.com/hjiFofKLk0

— Unequalled Media ?? (@UnequalledMedia) September 8, 2016
More in London!
https://twitter.com/Frostybolty/status/774382245511630848
AND THEN IN FEBRUARY/MARCH 2017
CANNES WINTER CLASH
Gunsmith has already booked his tickets….
https://twitter.com/GLcwc/status/773884210121740288
kula plz pic.twitter.com/ltXkdv4B9O

— Akai Riot (@AkaiRiot) September 9, 2016
Did I miss something? Leave a comment!