Today's round up has BBCP2.01 bugs and combos, Brackets from CPTA, some notices for tournaments and super offers!!
Brackets for CPTA KR
Well, Bon chan doing good but Infiltration going all the way. Angry now, not angry enough! Pshaw Tokido needs to work harder.  With Daigo now also attending Stunfest it's going to be very hard to get those CPT points.
Casablanca featuring #KOF #GGXRD and #USF
Stream will be here starting 9am (local time) Sunday!!!
Watch live video from vsfmorocco on www.twitch.tv
More info
https://www.facebook.com/vsfmorocco
FREE Shipping at Spreadshirt!
Head over to our Spreadshirt Store to check out our new designs and make use of the free delivery offer for more than two items!
Sega Dengeki Matches from ACHO
TOKIDO & MISTERIO & DAIGO
coming to Stunfest
Plus there are a mysterious four slots reserved???

KOF and Ultra @StartupBox SouthBronx
This Sunday 26 April 2015!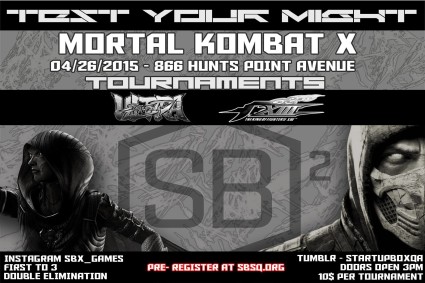 More info
http://www.sbsq.org/gaming.html
https://www.facebook.com/StartupBoxSouthBronx
Unleash the power!!!!
"METAL SLUG DEFENSE", which has been already downloaded more than 21 million times since its release on May 1st, 2014, welcomes today a new update with even more new Special Missions and Unit characters such as "Sol Dae Rokker", a famous boss character originated from "METAL SLUG 3" who gave a hard time to many players of the game, and will be available on Android and on iPhone devices.
Here's the newest trailer! 4 PLAYER BATTLES? WHAT THE-
Grab the game here for FREE!
SNK SUPER 99 cents SALE!
In order to celebrate the 25th Anniversary of SNK's legendary game console "NEOGEO", all SNK PLAYMORE paid apps currently published in the App Store and on Google Play, including the latest releases such as "FATAL FURY SPECIAL" and "GAROU: MARK OF THE WOLVES", will be available to purchase at the very little price of $0.99 during SNK's "NEOGEO 25th Anniversary Commemorative" Sale Campaign. Don't miss out on this amazing opportunity to get the very best of SNK at a knock-down price! NEOGEO 25th Anniversary Commemorative Sale Campaign Details: Duration: April 24th, 2015 ~ May 7th, 2015
FATAL FURY SPECIAL $3.99 > $0.99
http://itunes.apple.com/en/app/id959469304?mt=8
https://play.google.com/store/apps/details?id=com.snkplaymore.android012
GAROU: MARK OF THE WOLVES $3.99 > $0.99
http://itunes.apple.com/en/app/id958848462?mt=8
https://play.google.com/store/apps/details?id=com.snkplaymore.android013
METAL SLUG 3 $2.99 > $0.99
http://itunes.apple.com/en/app/id530060483?mt=8
https://play.google.com/store/apps/details?id=com.dotemu.neogeo.mslug3
METAL SLUG X $2.99 > $0.99
http://itunes.apple.com/en/app/id602990197?mt=8
https://play.google.com/store/apps/details?id=com.dotemu.neogeo.mslugx
METAL SLUG 2 App Store $2.99 $0.99 http://itunes.apple.com/en/app/id589779009?mt=8
https://play.google.com/store/apps/details?id=com.dotemu.neogeo.mslug2
METAL SLUG  $2.99 > $0.99http://itunes.apple.com/en/app/id574641836?mt=8
https://play.google.com/store/apps/details?id=com.dotemu.neogeo.mslug
THE KING OF FIGHTERS '98 App Store $2.99 $0.99 https://itunes.apple.com/en/app/id885792725?mt=8
Google Play $2.99 $0.99 https://play.google.com/store/apps/details?id=com.snkplaymore.android007
THE KING OF FIGHTERS '97 $2.99 > $0.99
https://itunes.apple.com/en/app/id727466621?mt=8
https://play.google.com/store/apps/details?id=com.snkplaymore.android001
THE KING OF FIGHTERS-i 2012 $2.99 > $0.99
http://itunes.apple.com/en/app/id507937883?mt=8
THE KING OF FIGHTERS-A 2012 $2.99 > $0.99 https://play.google.com/store/apps/details?id=com.snkplaymore.kof2012a
THE KING OF FIGHTERS-i  $2.99 > $0.99 http://itunes.apple.com/us/app/id445305792?mt=8
SAMURAI SHODOWN II  $2.99 > $0.99  http://itunes.apple.com/en/app/id660687537?mt=8
https://play.google.com/store/apps/details?id=com.dotemu.neogeo.samsho2
PSN ARCADE GREATS SALE ENDS 6MAY
The King of Fighters XIII Gold Edition
75% off – Original price £24.99/€29.99
Virtua Fighter 5 Final Showdown Complete Edition
70% off – Original price £19.99/€24.99
10% additional PS Plus discount
Dead or Alive 5 Plus
80% off – Original price £34.99/€39.99
10% additional PS Plus discount
Guilty Gear XX Accent Core Plus
60% off – Original price £8.99/€10.99
Tekken 6 + SoulCalibur: Broken Destiny
60% off – Original price £11.99/€14.99
The King of Fighters '94
50% off – Original price £5.79/€6.99
BBCP 2.01 from Acho
BBCP2.0 will also be at STUNFEST