HEY! One more chance to grab a Stunfest ticket NOWWWWW – last 8 tickets!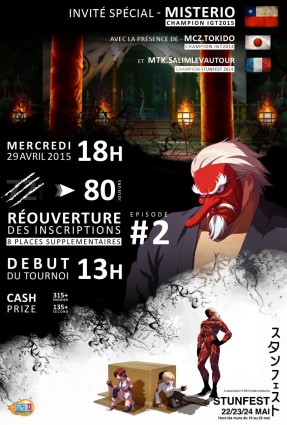 GOLDEN WEEK
Just some quick info about what's coming up (one already passed)
April 26 [ Kuso KOF tournament (KOF94, 2K, 11) ]
A tournament where the only thing close to a rule is to do whatever broken stuff is possible in the game!!!
This has now ended but here are the replays! If you thought you could play KOF94, I suggest you check these videos and think again!
and Mikado is using beautiful 60fps streaming with Ustream!
*now updated with youtube videos where possible
KOF94 Kusogame
Broadcast live streaming video on Ustream
KOF2000
No surprises here, Clark + Joe ftw lolllll
Follow Mikado Arcade on Youtube & Ustream!
Broadcast live streaming video on Ustream
KOF11
COMING NEXT

May 3 [ HOWARD ARENA (GarouMOW) ]
Possibly the biggest MOW tag tournament to date. This is going to be run at an e-sports center in Akiba.
http://destiny1211122.wix.com/mow-howardarena

May 6 [ DUELLING THE KOF TOKYO qualifiers ]
Duelling the KOF usually takes place in Kyoto, but this year there's another one taking place in Tokyo during the summer. The first qualifiers will be on May 6.
Source
Don't forget in EU
STUNFEST
NEXT: DOUBLE KO SUMMER EVENT #3