We got some flashbacks, some matches with Poongko and Wawa, some Tech and some news! Enjoy!
GOOD OLD SNK
I didn't think this was worth posting but it's gotten huge attention on facebook.  So here it is for everyone!
In 1994, SNK sponsored Chigusa Nagayo, a female wrestler, and so she wore Krauser's costume to the ring!
Check out the match below:
https://www.youtube.com/watch?v=tCuqGZhJJd8
In 1994, SNK sponsored a japanese female wrestler who had to wear Krauser's outfit: https://t.co/ZLXn7x3nDG pic.twitter.com/0cfvDrpuU2

— Youloute en Sucre (@Youloute) March 6, 2015
TSS Whiff Tech
Check out his tech on "making it whiff", explaining why it's better to get the opponent to whiff an attempt to punish. Especially with some characters that may have a smaller hurtbox when standing
KOF13Live!
We were live again, and it's rare to get the chance to see this beautiful stream in 720p! Contains a full tournament and grudge matches, plus a Maxima face off!

-if you watch the video on youtube you'll see timestamps in the description to take you straight to the moments you need!
We've collected the donations from the past weekend and done really well! We gotta keep going though! IGT is coming up April 5th! We need to break that 800€ mark by 30th March!
[donation-can goal_id='get-freezer-to-korea-igt2015′ style_id='default' show_progress=true show_description=true show_donations=false show_title=true title="]
VOYAGE TO THE LAND OF GARCIA
Italy's tournament is coming up and we're working to get some qualifiers going for 22nd March!
Here's some info to help you travel:
http://www.hotelarcoditravertino.it/
single E 65,00 + 3,00 tassa di soggiorno
double E 100,00 + tax –
triple E 115,00 + tax
Breakfast, parking and wifi free
It's possible to cancel the reservation even 2 days before
But they have to be specific it's for the tournament colosseum
Here there's 2 B&B
www.bed-and-breakfast.it/pagina.cfm?id=17721&idregione=7
http://www.bed-and-breakfast.it/pagina.cfm?id=27398&idregione=7#lista_prenotazioneStrutturaMiddle
More info soon!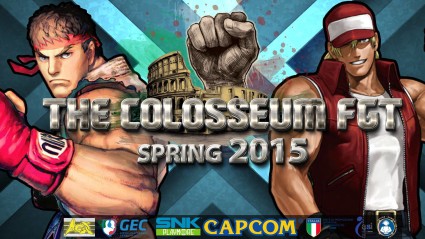 COLONOV in Japan
Colonov is currently in Japan, having enjoyed a meet up with his bros! Did you see the stream on Nico?
.@shibainutakechi @tennkawa1989 and @haregoro Thank you for a great time! Glad I could hang out with Team ON Japan pic.twitter.com/pTOp2lnD4K

— ON Colonov (@Colonov) March 8, 2015
— zp (@zp_R) March 8, 2015
MISTERIO CONFIRMED FOR IGT2015!
LUIS CHA & MISTERIO CONFIRMED FOR LONESTAR!
STUNFEST 2015 confirms KOF 13 in the lineup!
(Now I'm pissed I didn't get the early bird ticket! – but it's not fair to not reveal the line up first!)
Argentina: https://www.facebook.com/events/1605853966314796/
Italy: https://www.facebook.com/events/359417140911895
Scotland: http://www.hypespotting.co.uk/
USA: https://www.facebook.com/events/691238810996042/
Korea: https://www.facebook.com/events/881037498613725/
France: http://www.stunfest.fr/ 
Cannes Winter Clash
Last batch of KOF Cannes matches from Youssef!!!