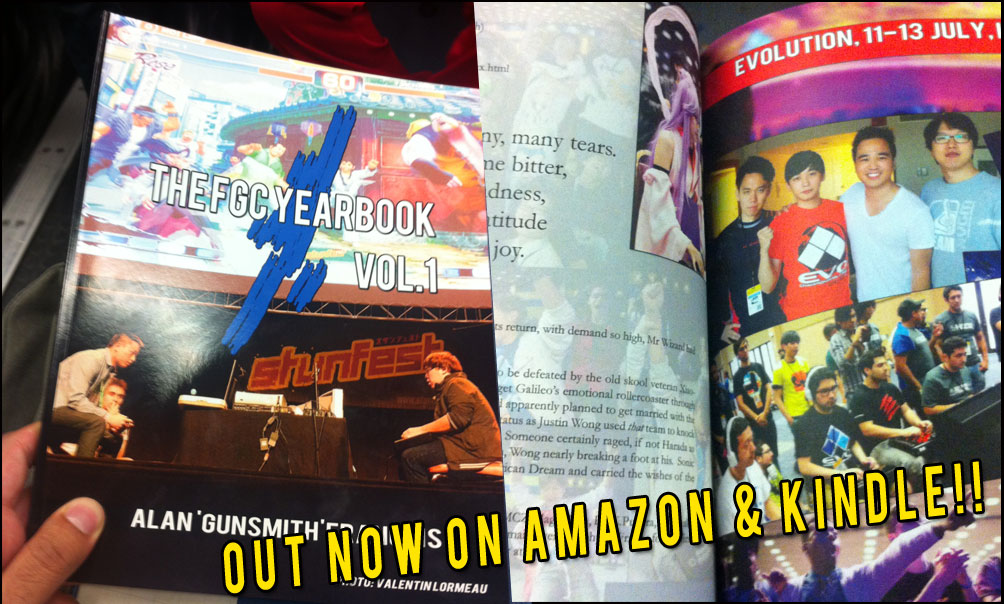 #FGCYearbook Discount Code!
So you missed the Cyber Monday 30% discount? Ouch. Well, here's the next best thing:
Hop over to ON Books, and you can use this special discount code just for the ON crew to get $7 off!
LQM2F7HV
You can of course check out the book on Amazon here.
@orochinagicom @gyt i was just telling @koogyplz that i wished someone would make an FGC yearbook! he looked at me funny

— Patrick Miller (@pattheflip) December 1, 2014
@pattheflip @orochinagicom @koogyplz Really cool that this is available. An instabuy for me.

— Glenn – thegametwok (@gyt) December 1, 2014
C'te classe @LN_Yamato RT @orochinagicom: get $7 off #FGC Yearbook http://t.co/MFghAWX71g pic.twitter.com/U3wACmvdSn

— AlabhamaMan (@AlabhamaMan) December 1, 2014
Coming to Kindle soon!
PS. IF YOU HAVE PHOTOS OR ARTICLES FOR VOL 2, SEND THEM IN NOW!
PPS. Tshirt code XMASTWO runs out end of Dec 2nd!