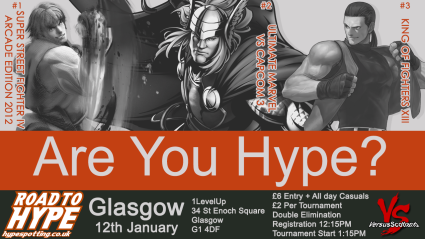 Versus Scotland is pleased to announce the first of our Road To Hypespotting Qualifiers on January 12th at 1LevelUp Glasgow.
6 pounds for Venue Entry + Casuals and 2 pounds entry per tournament.
Seeding points are on the line for the top 3 participants for each game and Hypespotting Tournament Entry for each winner!
This is your chance to ensure you allow yourself the best chance of progressing at Hypespotting 3, Get Hype!
We will be streaming it to our channel as well so everyone around the world can tune in and watch the fun~
http://www.twitch.tv/versusscotland/
Get Hype!