INAGIKU Teppanyaki
14 Rue de Pontoise, 75005 Paris, France
Phone:+33 1 43 54 70 07
Well, to start off, have to say it's not an authentic restaurant but until I find better, this is absolutely of no importance.  The ingredients are top notch, the service is great with nice waitresses and chatty chefs, so what more could you ask for?  Well if you wanted Japanese chefs then I guess this isn't for you.  They've tried pretty hard to make it as Japanese as possible though.
The cost is expensive.  The Inagiku course (@54€) has all you could want, unless you want Lobster, and there are higher and lower priced courses.  The Inagiku gives you choice of starter, sushi, seafood, chicken, fatty entrecote (ribeye) or fillet. Of course you still need to order drinks.
INAGIKU COURSE
STARTER (Two people eating out of the choices available)
It's a SALAD! It tastes like the salad I had in Japan! Therefore it is good! lol
Seafood soup!  Very good!  Fresh!
Sashimi or Sushi
Very good standard here. The fish was soft and tender, the tuna was almost melting. Way above Yushi, maybe just under Michi.  Their web advertised O-toro but no such item was written on the menu.
Uni is on the alacarte menu. It tastes as good as I remember, and better than that weird rose flavoured thing at Foujita.
Then you get the tofu and veg.  I really liked the egg.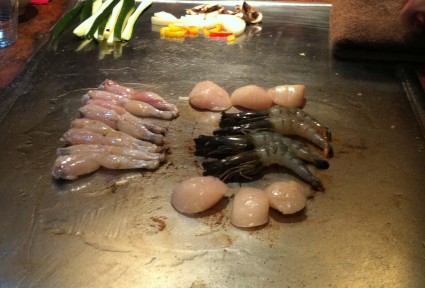 Frogs legs, Scallops and Gambas (King prawns).
And of course who doesn't like a bit of flambe action.  I should have brought my Kusanagi gloves.
Wonderful, and I'm not really a fan of sea food!
Again, very high standard of ingredients, appropriately priced *sigh*

The chef takes the thin slice of meat and wraps it around some vegetable stalks.  REALLY REALLY GOOD!!! EXCELLENT! Fatty and sugary and savoury, it's what makes Japanese food so awesome for me!!
Probably the worst part of the meal for me! Had some sinewy meat.  The chef will cook it to your desired degree, if you don't like blood har har.  It wasn't all bad, had some nice tender pieces but it doesn't compare to the ribeye.  Maybe you'll prefer the more meaty taste, I prefer the fat and sweetness of the entrecote.
Wasabi Ice cream with the usual fondant cake.  Just a teeny bit spicy!
The usual green tea ice cream, authentic! The asian touch was there with the spring roll filled with chocolate.
I've had teppanyaki in Japan and the meat there was way better lol of course but I was at a hotel with a rooftop view etc. All things considered this is an excellent choice for the next best thing.  All I have to do now is find a bad teppanyaki to compare it with.  Shouldn't be too hard…
So using my experience….
8/10
Which is VERY VERY VERY VERY GOOD
This grade may change after visiting another teppanyaki in Paris.