Various branches across Osaka and Fukushima, check website link at the bottom.  Visited branch was just off the Dotenbori in Osaka.
What's the fuss about? Fat's the question. If you shudder at the thought of eating anything less than lean steak, stop reading!  If you're wondering why people talk about Wagyu beef, massaging cows and feeding them beer, please continue (btw all of that is a myth… probably). To check what Wagyu beef actually is, click here. 
In the Yakuza series, there is a steak house called Ikinari, with the usual thick cut of steak on the plate.  Kiryu also likes to visit Kanrai in Kamurocho for Korean BBQ, and the concept is similar, if not the same as yakiniku, to how Wagyu beef is served here, at Matsusaka M.
Wagyu is actually the name for several types of cattle that contains higher fat than usual, which, when added to how they are raised, produces a very marbled meat.  The areas they come from then give them a specific name such as Kobe, Matsusaka, Sanda, or Yonezawa.  Then you get grades such as A5 being the highest.
When this is grilled at high heat, the rich fatty taste comes through, a savoury adventure riding on meat juices and crispiness, often too much without a side of rice or vegetables.  More than a thin slice can ruin the experience!
After trying Kobe Beef at Kobe511 (link at the end), the next hype is the Matsusaka beef, touted as the most expensive beef in Japan.  The M chain obviously specialises in the meat, with a few branches spread over western Japan. Be wary, as while each store stocks the meat, they specialise in different things, the Dotonbori being the Yakiniku (Japanese BBQ) spot, while the Yokocho branch is the Japanese BBQ house and the M300 is a shot bar. And yes, there shouldn't really be any difference between BBQ and Yakiniku, but eh, just check the website first and choose which atmosphere and seating style you would prefer. The shot bar is open space, for example, while the Dotenbori features private rooms.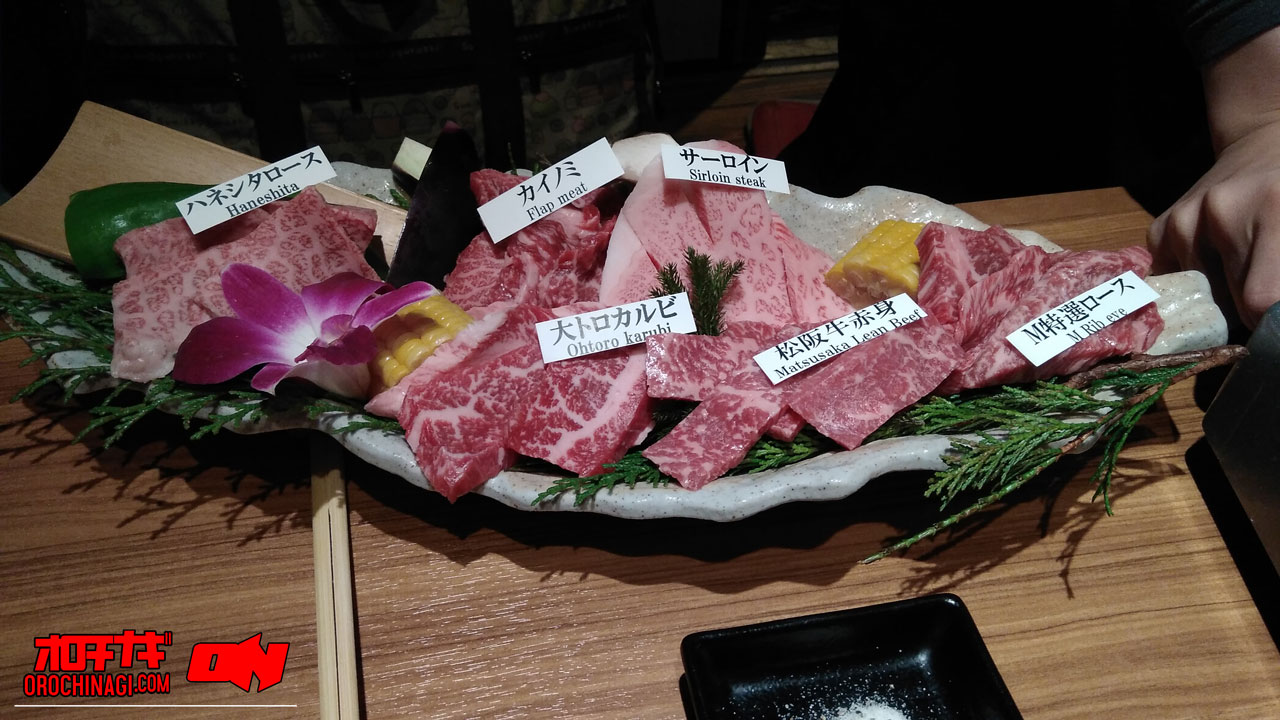 High end restaurants will give you your own personal booth and then bring in a gas stove or some hot coals. Either way, sit back, things are about to get hot and perhaps sticky!
Prices are reasonable, especially if you're coming from a Metropolitan city. For example the Matsusaka Beef Premium Course is?7800 / per person ($70 USD), and that's without drinks or sides (compared to the cost of a similar dish in Paris, we were laughing).  Note the variety and compare with the rich steak course at kobe511 that will cost 20k ($178)…
Looking at the photo above, it may look easy to finish, but as with every type of Wagyu, the fat content has a tendency to choke your arteries, or perhaps it's the rice that is needed to balance the aforementioned drizzling grease goodness coming from the meat, even though quite a lot already dripped off on the grill!  Imagine…
Before splashing out, perhaps the big question is which is better, Kobe or Matsusaka?  Frankly the experience is not too different, it's incredibly fatty meat that sizzles away and then melts in your mouth, delicious either way.  You may cry.  Salt, soy or spices to season with fresh vegetables make for a great dinner or lunch; they supply paper aprons but still, please beware of the grease that could drip onto your clothes. They surprisingly have some local pilsner as well as the usual beers. Good stuff! Some of the sides are ridiculously good too!
The rarity of getting this meat is really the factor, as lots of restaurants have to freeze it to send it to Tokyo or give you something else entirely.  There is a lot of debate over who really stocks it outside of Japan, with vendors claiming to have cross bred the cattle with Angus and all kinds of confusing marketing. They do exist, but good luck with the authenticity (and price).
Osaka seems to be the better place to be in this respect.  If in Kobe, eat Kobe beef there, that's also Wagyu!  If in Tokyo, head over to Kobe511.  Got money?  Hit both cities, tick off these boxes and smile to have achieved these gourmand landmarks.
Booking in English wasn't a problem.