NOW UPDATED! CHECK HERE!!!! <====
THE FOLLOWING IS OUT OF DATE but we've left it for prosperity ^^
As you may know, I visited Japan in 2009 , 2010 and 2012. I returned again in 2014 (AND NOW IN 2017! STOP READING AND GO HERE!!!). Here are your updates!  Some shops aren't mentioned as are they are on the main street and you can see what the shop is like from the front. If there's a shop in front of you that looks nice, go in!
There are still lots of shops in Akiba, but these are the ones that I frequent.  There are still some that I haven't even visited yet, such as Liberty 12 and Yellow Submarine.  If you have time, go for it!
I couldn't find the pocket map anywhere, in Japanese or English. What I did find was a free magazine called RADIKAN, which you can get from location #1 the Gashapon Tower, from the Cospa shop. Here's the map with my notes. VERSION 2.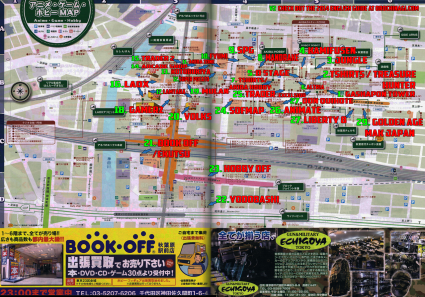 Map updates
Update: Oct 2015 – Volks (20) is no longer at this location but at the old Radio Kaikan building.
What's changed since the first visit to Akiba?
More arcades and gamer goods shops have closed (or never existed due to the Stein's Gate effect).  Maid cafes have exploded! I've provided links to eating and subway stuff on the last page.
Akiba seems to be getting smaller… and I've given up using Google maps because the van just didn't go precisely to all the places it should have…
Tax Free services
This is fine, but you'll have to spend over 10,000 yen and then probably claim it at the airport.  Check with the attendant (if they speak English) and keep all receipts, then be prepared to queue up at the airport with everyone else.  If you're a big spender, it's worth it, if not… time is money, and queuing is a waste of time.
Store Guide
Here are the stores I visited.  There are no doubt more, but they must be pretty well hidden and to be honest I didn't fully cover it this time. It may feel smaller, but it certainly will take at least 2 full days to cover it all.
My advice to you: if you only have a few hours, start at Souehirocho station and buy whatever you fancy.  For new items, it's cheaper the further you are from Akihabara station.  For 2nd hand, that's dependant on that and the quality of the item.
If you do have at least two days and don't have to worry about someone feeling tired or having to meet people for dinner, go to the Cospa shop (or Gamerz if you're coming from Akiba) take a notepad and visit everything, marking down location of the shop on your map with a number and on your notepad, the number with PRICES of the stuff you like.  After you've finished, target your stores, and buy buy buy!!!  Of course, there's always the risk someone will buy your item if you wait…
NOTE: Prices also fluctuate because of conditions of the item.  Small shops are almost certainly selling second hand items.  Japanese standards are very high so something like a B grade will be pretty awesome but be careful as very cheap items (when you compare with other shops) will have things like missing items, scratches or sun damage.  In my opinion, if an item is RIDICULOUSLY cheaper than in the other stores, ask why (Look for red writing on the price sticker and ask "mondai arimasu ka?" and they may show you the reason), or just avoid.
Prices are in Yen, conditions of models vary!
Terms to note:
Catcher refers to a figurine normally found only as a prize in a UFO catching / Crane machine.  The quality and attention to detail is normally basic, but as technology progresses, quality has improved.
This guide is written in a way to take you on a tour of Akiba, starting, and finishing with, Souehirochou station [Google Map]. Exit out of the station (any exit will do) and you will find yourself at a crossroads.  You want to have UFJ Bank (red sign) on your right hand side.  If you walk on Chou Dori towards the big blue towers of Sofmap in the distance, you're on the right track.
1. Gashapon Tower
Merchandise|Capsule Figurines|Cosplay|New
This is easy to find (ish). Come out of Souhirochou, walk past UFJ Bank, down Chou dori and take the first right. The first floor is all gashapon (capsule) machines. Upstairs used to have some cool stores but some have closed.  The Cospa shop for goodies and obviously cosplay items is still there. You can get merchandise like mugs, key rings and tshirts too.
2. Tshirt shop (closed in 2017)
It's a bit of a weird one, lol, it seems to sell "homages" to anime series, memes, and then some blatant rip offs. Still might be fun to check for 5 mins, it's on the right of Treasure Hunter (Shop #4). Oh yes, did I mention it had a panty capsule machine?
2. Treasure Hunter (closed in 2017)
Merchandise|Figurines|New
Right next door, on the left, is a ominous stairs that leads to a rather nifty shop.  Does each store have exclusive rights to merchandise?  It would seem so!  They seemed to be doing a special on Jojo's, had a huge section including merchandise not found in other shops. Lots of Sonico stuff too. Seems to specialise in latest anime and new stock at fair prices. I also noticed a Dio figure being sold at half price because they had taken the stand's MUDAMUDAMUDA accessory hands out.  They decided to sell that accessory separately, at the same (half) price of the Dio! 
Jojo 3980
Jean Pierre statue legend 2980
P3Portable Aegis 4980
3. Jungle
Figurines|New|Used
Nice new shop, saw them getting a delivery from amazon.jp lol. They also had a gaijin working at the front desk!
Update 2015: The gajin's name is Anton, and he usually works there during the week, and speaks English! On weekends, he works at Jungle's second store on the 7th floor at the new Radio Kaikan, which seems to be just across and a few streets over from Sega Arcade in Akiba.  They also offer Tax Free purchases for over 10,801 yen, while many competitors such as Mandarake, do not.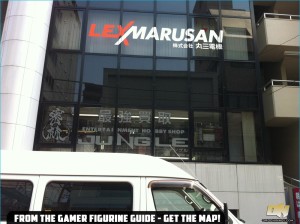 Liz Persona 3 46440
G1 Grimlock 59400
Liz d arts 3240
Terry d arts 2160
P4 Chie 756
P3 Liz sitting 1080
Penguin Drum Penguins 1944
Jojo 3240
4. Kamifusen.jp (closed in 2017)
Merchandise|Figurines|Cosplay|Used
There is actually a pretty serious cosplay shop on the 2nd floor. Kamifusen had some good prices plus some exclusives/rares such as the P3 Mitsuru Alternate Color. You will also find some more sketchy figurines here…
Noel 3315
Liz 3505
alt. mitsuru 7124.
chie 11239
Mu12 7124
Mai kofxiii 5981
http://kamifusen.jp/product_list.php?kindcd=0069
5. D Stage (closed in 2017)
Merchandise|Figurines|Used|H|Games
Go the 3rd floor (remember ground floor = 1F)
Games and slightly loli and h stuff
http://d-stage.com/akihabara/about.html
6. Toys Altria
Figurines|Used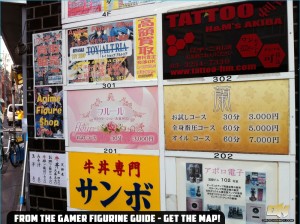 On the map it seems to be on the main road but in fact there's a side street.  Turn into it and you'll find it on your left on the 3F. Lots of figurines crammed into a tiny space, prices seem average but lots of nendroid 2nd hand! And unboxed big figurines! Bargains!
Persona Large Catcher Yukiko for 1980
If you found this site useful, and you use Play Asia or Amazon, please use our affiliate links!