Edit: Went back in 2014. Many shops are closed.  More shops have closed. Akiba seems to be getting smaller…
>> CHECK THE NEW 2014 GUIDE HERE! <<
Stop reading and go straight to the link above.  The rest is old irrelevant archive that might be useful one day.  But probably not.
(Edit: I went back again in 2010! The shops I covered are still there...)
Ok let's face it, Akiba is not just electric town, it's the place where geeks and otakus come to shop, and it damn well caters to their tastes. There are maids friggin everywhere, offering to look after you or feed you, if not at least inviting you to their cafe. I took a video of one but she got suprisingly pissed off (dunno what she was saying lol) which is weird when you consider that standing on the street in a maid costume almost guarantees a million ecchi/skebe/perverts taking photos and videos of you home to… er… collect.
Akiba Map
Funnily enough, the best map I have of Akiba was actually given to me by a maid and as you can see, it lists the name of pretty much every shop, so if you don't print out mine (and have a good grasp of kana) then pick one up. It will prove invaluable. If you're really lucky you could pick one up with shop names IN ENGLISH.
Update: rummaging through my collection, I've just found that I have one!
English Akihabara Map
So now you have two options. You can either use the google map links to make your own map, or you can print out the English Akihabara Map and refer to the building numbers. Not exactly precise, and don't forget a lot of shops don't have English signs! At any rate, I would have a plan B. In other words, do both. Note that to make the Akiba Map match google maps, you need to rotate the map 90′ anti-clockwise.
When you get to Akiba, you need to find the Gamerz shop or a maid or an anime shop and hope to find an up to date map there (it's free). Check your favourite shop hasn't been demolished, or moved. This kind of thing does happen!
USING THIS GUIDE
This guide will list the shop name, and the building number, which you can then find on the Akiba Map (both the English and Japanese versions). There will be some pictures or a video, and a google map link. If there is a photo with a google map, note that the man on the map is facing the direction of the photo.
This guide will not describe every shop.
There are a whole load of shops, but this guide will tell you the best shops (in our opinion); this is where this guide will come in extremely handy. If you don't know any kana at all, don't worry, I've got some google map links coming up, but don't forget to print or save the images on your phone/laptop, because you most likely won't get reception while in Japan.
This part of the guide is about which shops to visit to buy anime goods. Go back to the index to look at the other guides for arcades or joystick parts, and subway guides etc.
LET'S SHOP!
Those in the know will tell you that you should actually start shopping at Suehirocho station, as the prices are cheaper the further you are away from Akihabara station. However, this is not strictly true, plus you have to consider that some stores simply will not have what you are looking for. I advise starting from Akiba station and NOT buying anything at all until you get to Suehirocho. MAKE SURE you take a notepad with you and list:
SHOP NAME
ITEM NAME + PRICE
You will find the same item, generally, at different prices all over, and will generally kick yourself if you buy the first thing you see. The temptation can very great… good luck!
What's Popular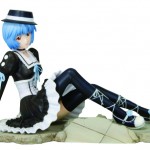 At time of writing, Evangelion 2.0 You can (NOT) advance, has just been released in the cinemas, which has caused not just old stock of Eva goods going back on the shelves but a whole load of new Eva merchandise (bearing the 2.0 or 1.0 tag) to fill up the shops.
Goth loli Rei anyone? Lucky Star and K-ON are also very popular, not to mention of course The Melancholy of Haruhi Suzumiya. Expect lots of out of character figures and poses…
Lucky Dip / Small toy collections
You should be aware that many gashapon and small toys are sold in wrappers or boxes meaning you don't know what you're going to get. However you can find these out of the box in certain stores (obviously at a higher price). This explains the rows of plastic bagged figures in many of the stores, again at different prices depending where you look and how far you want to travel.
SHOP LISTINGS
From Suehirocho station – on the street towards Akihabara, on the left side, you will find a good row of figurine, model kit, TF and toy shops, including Liberty (Figure Hobby Shop) and Toys Golden Age.
[ google map link ]
>> CHECK THE NEW 2014 GUIDE HERE! <<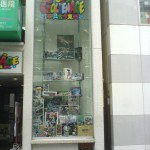 Toys Golden Age (74) – Not exactly a large shop, but worth a check if you're hunting for older anime figures.
LIBERTY (74) – Liberty has a series of shops, that all have specialities, for example one does army models, another does anime, and the other does transformers. The one pictured in the shop, with 8 floors, is where I spent most of my money, and cheaply. All the KOF small figurines were mostly purchased here. It has a huge range of figurines and well, it's the best for me, and that means best for KOF figurine collectors. I got my B Jenet here too.
Backstreets of back end of Akiba (near Suehirocho Station) here you'll find Spot and Joyful Cross.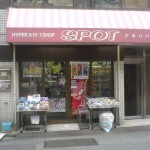 Closed. SPOT – Hyper Korekuta-zu (40). This is one of those shops you must check as you reach Souhirocho station, before you head back towards Kotobukinya (You should start at Akiba then work up the road then on the way back make your purchases). New stuff and old here, at good prices, Eva Rei DX Potraits 1,680 but don't expect to pay that much less for newest releases. The store owner has not wasted any time and has the Monster Hunter 3 cats unwrapped from the lucky dip bags, immediately on sale for around 300 yen (normal price 230).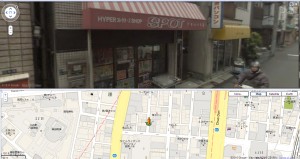 [ google map link ]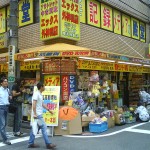 Eekutsu (34) This store sells random junk and toys at bargain prices. Maybe you don't like The Great Muta but at 300 yen for a double figure pack, I was almost soiling my pants with excitement. Worth a quick visit and next door upstairs is another quiet and slightly ecchi anime figurine store. Quiet stores have generally good prices.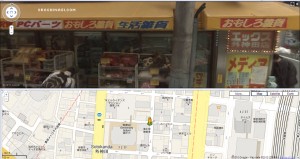 [ google map link ]
>> CHECK THE NEW 2014 GUIDE HERE! <<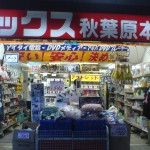 Eekutsu (88) Next to Book Off is a small store which is actually the 2nd outlet of this chain. Again, random toys and anime goods can be bought here for bargain bucket prices. This was the first place I found Toradora goods (well okay it was a lighter but hey it's something).
[ google map link (for Book off ]
Kotobukiya (X)- This chain actually produces models, so don't expect any discount, however expect prices in other stores to be higher! On the 2nd floor you can find their display showroom, so you can have a good look at their best without the plastic wrapping in the way.
Kotobukiya has now moved to the other side, go behind Taito HEY!
Around Kotobukiya – The building that houses Kotobukiya has three alleys and SEVEN floors of anime shops but I strongly advise not buying anything there until you return from Suehirocho. This is the place where tourists get ripped off as they know no better but of course some things you won't find anywhere else. Be strong, shop around before settling on what to buy. Go right through each alley, right to the other side of the building, then go up each floor.
I saw the main character from Shin Megami Tensei Nocturne, a gashapon sized figure (10 cm), for 2,500 yen. Ouch!
Down one of these alleys (facing Kotobukiya head left) you'll find a row of trading card shops, if that's your thing.
Sometimes, the higher you go up a building, the cheaper it gets. Remember to take notes!
For example the new King of Fighters Trading Cards were on the ground floor for 1,300 and I bought them on the 2nd floor for 1,100yen.
Regardless of the tourist trap, you should check out Kotobukiya's display section, which has their finest figurines.
[youtube]http://www.youtube.com/watch?v=hMkLKvLOQvo[/youtube]
Also, on the 2nd floor, is K-books, which is awesome for 2nd hand crap.
Softmap (63)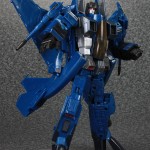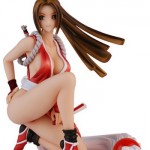 Softmap is huge computer goods chain and you'll find their towers everywhere, but this particular one has a floor devoted to anime goods and TV Game (aka Console stuff). Strangely for a mainstream chain, I found the Monster Hunter Cats to be cheapest (toy 260yen / med plush 1,050). This was the only place I found the Transformers Thundercracker Masterpiece for 7,680. I wanted Skywarp dammit!
They also had lots of ALTER / SMILE figures and some odd stuff like KOF MIRA Mai for 13,980 (Ebay 16,000),
Capcom Maniax Felicia 5,280 (going price is 7,140/ US$75). I also noticed a Cammy going for 7,000+. Sheesh!
Kotobukiya have a little section in this Softmap store so check here if your hunting something you didn't find in their main store. P3 Mitsuru for 4,980 (going on Ebay for 7,000yen not including postage!).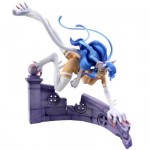 GAMERZ (59)- Opposite Kotobukiya is the Gamerz tower. Here you can find lots of goods on many different floors. Many will be 2nd hand but in perfect condition. It's not like you're going to get it anywhere else and at least it's not some HK bootleg! Good prices but again you should check out Liberty 8 (74) first.
Akiba Star (10) Between KFC and Mandrake, you'll find the entrance next to a food stall on the left, barely recognisable by the rather ecchi anime posters on the door. This is worth a visit I think, just because it's such a well hidden shop, it just has to be good. Lots of ecchi stuff but some good figurines too. Nakoruru 4,980 yen (Ebay 7,000). That's the only reason I'm giving you the location.
[ google map link (remember it's down that road]
Shop (10)Another hidden figurine store with great air conditioning. Mostly Lucky Star and current anime goods… visit if you like young and cute female figurines… Can't find it on google maps, must be far too dodgy. [ map link ]
Christ, I'm trying to find these shops through google maps but they just don't go down the right little alleys!
Mandrake (24)

Oh boy. This visit will surely blow your mind. Unless you demand brand new goods, as a lot of it is 2nd hand, but bear in mind most 2nd hand stuff in Japan is A+ grade, and will heavily discount if it is not. LOTS of older anime figurines, a whole floor devoted to Gundam and Ultraman type goods. I rant on about its transformer collection in the Transformer shopping guide. This shop is a must see, VERY impressive collection, many floors to go through. Have you brought an empty suitcase? You should have…
Note, I picked up my KOF: Kyo here.
[ google map link ] Note- There's also another Mandrake in Ikebukuro…
Also recommended:
Animate (65). You'll find all the latest brands here and expect to pay top price for them.
Don Quijote (65). Total gamble here. It's like a bankruptcy/excess/bargain bucket store. Once it's gone, it's gone.
Don't forget to mark out where the public toilets are (33), failing that Excelsior Caffe (36/63) and if you're hungry grab some crappy but cheap food from Yoshinoya (16). If you're buying drink from 7 eleven etc, you're being silly, because vending machines are generally the same price. Supermarkets or vending machines in the middle of nowhere are cheaper. Check the index for more details.
>> CHECK THE NEW 2014 GUIDE HERE! <<