Looking for a stick? Sanwa buttons? Arcade parts? Jamma boards or Neogeo MVS carts? Retro goods? Vintage consoles? Or just cheap / used console accessories? If so, this guide is for you. If you're looking for anime goods, go back to the main page and select the link from there.
Mak Japan
MAK JAPAN is just above GOLDEN AGE, next to Liberty 8, just out of Souehirochou station.  You'll need to take the lift up.
Just go here and get your Sanwa parts ok? The owner is very nice and you'll find loads of old kit, including boards and market valued pcbs, plus used and sticker damage MVS carts in bundles for insanely cheap prices, as well as the newest Sanwa and Seimitsu parts (plus other brands).
Does not stock Hori parts – now while it's understandable that this is an arcade parts shop, and does not stock any console stick parts whatsoever, it was not pleasing to hear the shop attendant say 'well… Sanwa buttons are the same thing'.

Retro
This is new store on the strip and at first glace makes you think it's another branch of Super Potato, it's not, but it's the same content.
Beep
This retro shop, has taken over Treasure Hunter's basement store with has a variety of old console and arcade stock, boards, carts, parts, even has random bags of sanwa buttons, probably used, for competitive prices.

Went to @BEEP_akihabara for the 1st time today. Super crowded but really cool retro games store. Especially for old computer games. ? pic.twitter.com/FbQjnrv5eL

— Kuso Gaki (@KOFUK) November 5, 2017
Trader 1
Found on Chuo Dori. A used console game and parts shop.  For the rarer items, take note of stock and compare with Super Potato.  Trader 1 had the Garou NG stick for PS2. In 2017 you can find the latest used HRAP ps4 sticks alongside Beatmania controllers. That's how they roll.  Lots of accessories for consoles plus game manuals (mooks).
2014: I actually highly recommend Trader 1 now, it had the best prices for 2nd hand stuff, and remember most used goods are in pristine condition, but do ask to explain any red writing on the stickers.  Some things are missing cables or have a big scratch (which can turn out to be only a centimetre).
LAOX
You can find this on the way to Trader 2. LAOX Duty Free is a bit of a joke – they were trying to sell Guitar Freaks (Heroes) World Tour Box Set for 28,000 (US$294 / 175) when you can get it for much cheaper in your own country!  However… the store has this habit of stocking things you wont find in the other stores, for some reason…
It's easy to find LAOX DF, you'll see it at the top of Chuo Dori, as you're crossing the road near Sega/Hey. The selection of console stuff was barely a corner's worth and if anything to judge by, the whole store was pretty empty. Fancy a US PS2 for 20,000 yen? Are you mad? It may be better to buy other things there – they were selling their "top model" Canon EOS 10MP camera for 474,286 without duty.  Remember that in 2017 there are new rules about duty free, they might even reimburse you immediately, otherwise you'll have to keep all your receipts.
Trader 2
is under the bridge opposite KFC. The ground floor greeted me with VF5 and DOA4 sticks for around 7,300 yen and upstairs a floor's worth of vintage including the Hori Neogeo Stick for 1,680 and MVS KOF 96 for 3,880. Note I didn't see any KOF 98 carts ANYWHERE. New 98 boards were being sold at Mak Japan, for crying out loud. Trader reminds me of CEX in the UK- 2nd hand goods at quite expensive prices for the mainstream, but of course when they've got something rare, what can you do? You should visit all the Trader shops, really. [ Google Map Link ]
Super Potato
Serious about vintage. Obviously you'll get a nice feeling of nostalgia when you reach the 3rd and 4th floors, I just hope you got some cash to spare!  2017, prices have apparently come down as perhaps certain guides were telling people to stay away.
[ google map link ] It doesn't go close enough – however, if you come from this direction, it's obvious.  2017, Super Potato now has a store in Ikebukuro.
TRY
You may find this listed on the web for arcade parts – you can try to visit this store, if you're smart enough to find the entrance, but in fact it's mail order only!  They will not accept any orders!
Book Off / Hard off
A chain of stores that specialises in manga with the odd small game section (for example the Ueno store has practically nothing) but the store in Akiba has lots of console stuff. This is where I saw the Japanese SFIV Fight stick for 14,000. Here I bought KOF MIA / Another Day box set for 1,500 yen. OMG CHEAP! In fact, the cheapest prices I saw for 2nd hand games in general. And yes, it was mint condition.
[ google map link ]
Yodobashi Akiba
is worth a look. It is a massive department chain store but it also stocks 2nd hand goods. It has a decent selection of sticks too. I found PS3 Neogeo Sticks on sale for £14. You read correctly. I was laughing. You can hate me now.
[ google map link ]
Softmap
Another department store, and there's loads around Akiba. Go early, and check them out. You will be exhausted. I can safely say visitthis one (map link).  Softmap now has a used goods section, definitely worth looking through, as the products are more mainstream, like ps4 stands or cameras, or Madcatz and Hori sticks.
Unsorted Notes
Buying a HRAP3: Softmap was selling it for 6,890, while the shop next to Trader 1 sold it for 7,500… just shows you gotta shop around…
Ishimaru – Big department store around the back, past Messe Sanoh's import shop. In my notes, I wrote down "shit" so I guess there's not much else to say.
Now closed
Messe Sanoh's Import Shop. If you've just arrived from the West, don't step into this shop. It's an import shop, selling all kinds of US games and stuff. However, seeing their GI Joe collection, with Blanka still sealed in his card, gave the visit some sort of merit.  Note, in 2017 I can't recall seeing this shop, it may have closed down.
The other arcade parts store behind Sega Taito/Akiba Zone has closed down. Messe Sanoh, another console store, which was next door to Trader 1, has closed down. LAOX Computer has closed down so don't bother trying to find it, it's been replaced by Akiba Zone!!!
NS Time (Duty Free Game Shop)
2017 – has now closed
Across the road from Book Off, this store looked like some dingy oriental stall compared to the usual shiny store, but in the spirit of exploration I decided to nip across to check it out. Here is where I found a PS1 generic stick, a Sega Saturn Stick and both versions of the KOF XII sticks. Uh… so much for HRAP. God bless the spirit of exploration. The store owner seemed quite proud to sell me the NG stick 2 and said something about hachiban… uh… oh well (Edit- I'm told he most probably just had a funny accent – so he was actually saying "kore wa ichiban" which means "this is the best" hehe damn right!). But anyway, definitely worth a visit if you're into sticks, that was the only place I found the NG stick 2 for PS3.
Updated 2017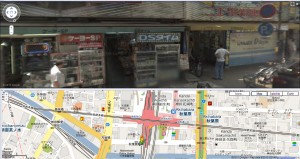 [ google map link ]