Which fans should SNK listen to?
The commenters on the last post were quite clear about what they wanted, even as they clashed, and yet it did echo previous sentiment: some said that nothing was needed, others wanted VANESSA, while others just wanted the magic of more people playing the game.  The term "DLC" seemed to pop up very often, and yet, looking deeper into the survey results, this isn't what the majority of fans actually want!?!?
Whaaaaat?
I was as surprised as the next guy.
I asked James Alderson to dig around the data to back up what people were saying and the results were shocking.
Here's the data from the US.
 What did they want most?
Better story mode
Improved training mode
Frame data
Wait what? Only 3.8% specifically wanted dlc characters. What is the world coming to? Are these the same people who complain about character tiers, graphics and online? Let's compare with the EU voters.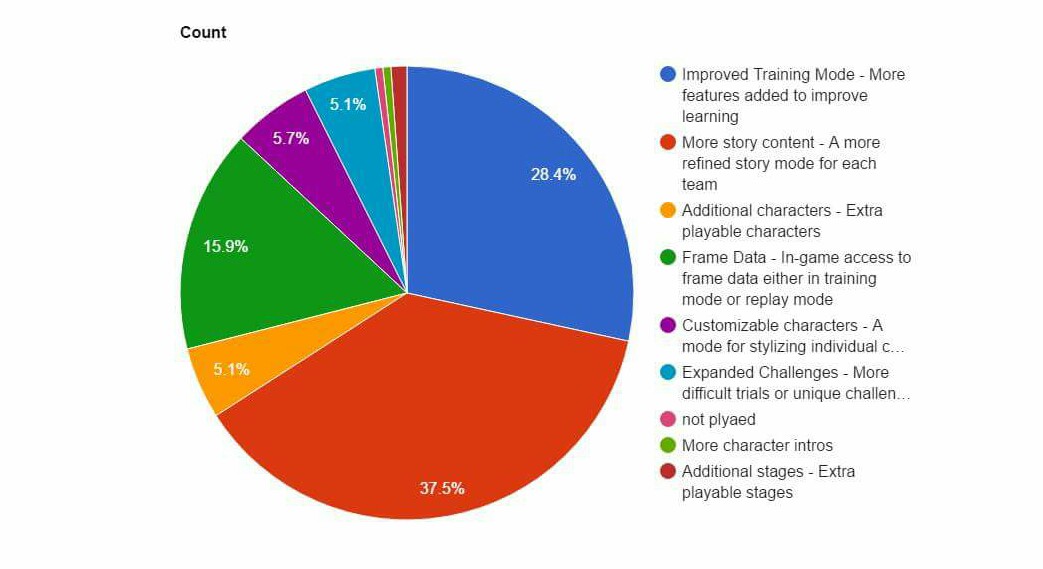 A larger number wanted dlc (5.1%), but otherwise it's the same.
So what does this mean? Perhaps the loudest voices on the internet are not to be taken as representative?  Were they just trolling? How is anyone supposed to pass on the wishes of the community when faced with contrasting data like this?  People had an opportunity to vote, to express their wishes clearly, and…. Well it's certainly confusing, but why wouldn't anyone not go with this data?
KOF XIV Sylvie comparison Ver 1.05 (Left) & Ver 1.10 (Right)#KOFXIV #KOF14 pic.twitter.com/ZtQFU9zrBG

— Gatoray (@gatoray_kof) November 29, 2016
Well, with under 2000 participants, it's not exactly truly representative of the whole community, unless you're telling me that the community is actually that.  Why didn't the others fill it in?  They didn't have a google account? They were too lazy?  Didn't have time?  At the end of the day, the people who made the time are probably the people who care the most.  Why not listen to them?
The other language versions will close Dec 1. (Please look to the side bar!) What will the results yield?  It'll be interesting for sure.
Whatever the case, I still think a dlc campaign, advertised in advance, even if it is just costumes, would keep people interested, and keep them coming back to the game.
KOF XIV Xanadu Comparison
Ver 1.05 (Left) & Ver 1.10 (Right)#KOFXIV #KOF14 pic.twitter.com/9S4nvdu71C

— Gatoray (@gatoray_kof) November 29, 2016
This is not a point for fans to argue over (but feel free to express yourselves) as it's not up to us, ultimately.  SNK will make their decisions, and probably had made them a long long time ago.  We're now waiting to see the impact of PSX in December with v1.10 on display.  You can clearly see it's not just changing of lighting effects, or shading, more detail is being added to the models!!
If you're going to PSX, there is a chance to meet Oda, and if he has a translator, you could quickly tell him what you want most and wish him good luck!
KOF XIV Producer will attend a autograph session at PSXhttps://t.co/bQfvLf91BZ#KOFXIV #KOF14 pic.twitter.com/TVfcUbW8qz

— Gatoray (@gatoray_kof) November 29, 2016
Feel free to mention SNK should give Orochinagi a free license to make shirts :p coz they are real fans innit :p
It should also be said, there isn't any point differentiating between "real" and other types of fans. Just because some have more money and can buy all the dlc doesn't make them a "better than you" fan, although it's physically more helpful to SNK 🙂 Enjoy the game together, please!
Frankly, if I was SNK, I wouldn't know what to think.  Every fan, every customer has a different need.  How to please all of them without annoying the majority?  To be honest, I think it's time to forget the mainstream.  I think the window to promote the game has gone.  It's way beyond budget to re-promote the game, even with the graphical improvements.  I think SNK should focus on keeping the fanbase happy, and grow from there.  The fans right now are really happy with what is happening and the continued work on the game.  SNK should continue in this way.  Or should they just throw in lots of DLC characters?  What do you think?
Next events:
??????12?2?????e????? KOF XIV ???????????????????MVS??KOF '96????????1????????KOF???????#KOF14 #KOFXIVhttps://t.co/ifZbeaJHYs pic.twitter.com/hRXzWMvUKW

— SNK JAPAN (@SNKPofficial_jp) November 29, 2016
Btw Cannes Winter Clash Trailer is now up – see you there!!!