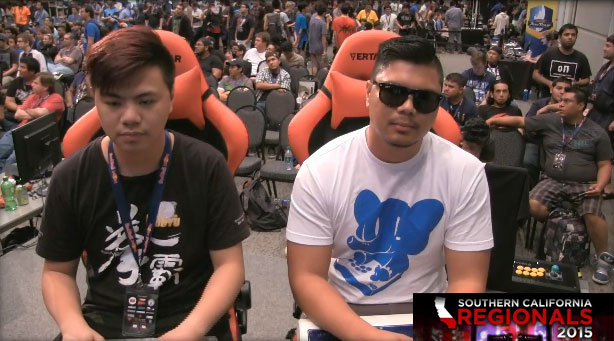 #Socal2015 results, replay, #kofxiii in China, #Duelling
Replays first. We recommend watching the twitch replays in 60fps of course, but if that's not possible there are some choppy YouTube replays below.
Tekken starts
DOA at 2:17
KOF at 5:06

Watch live video from leveluplive2 on Twitch
If you have problems watching full quality video, you can watch the KOF finals on low quality version on youtube here.
We will have KOF pools footage up next!
Here are the KOF brackets, which haven't been completed but oh well it's ok we have the results underneath.
Top 8 scr15 KOF
1- Misterio
2- XiaoHai
3- Reynald
4- Kanibalito
5- Fabricio
5- El Rosa
7- ChrisKOF
7- Vicio
(Thx Khanibalito)
Pools footage coming right now
go straight to Texas Crew FGC for more
 
Thanks Krons Knot for the photo!
Well done to all competitors, and it was great to see the Evo champ Reynald back again with his swag style, but perhaps a bit rusty…
Xiaohai showed that even the best can lose due to lack of match up knowledge (go Maxima!) but as an Evo champ himself, proved his worth, adapting to the threat and dealing with it without breaking a real sweat.
Vicio in top 8! He needs to sharpen that blade called Vice and his toolbox will be complete.
Misterio is urm… proven.  He's confirmed best in the East and the West.
We could stretch it to say, ok, now he has to go to Japan and fight M' on home ground.
Well, why not, because it seems there's nothing left to do.  We just hope everyone will still be playing KOF13 in 2016/7.  Considering Duelling the KOF still celebrates KOF 98, 2002 and 13, we don't see why not.  KOF14 doesn't even seem to be on arcade…
COMING NEXT
Xiaohai is organising a tournament in China, December 31, if you remember Yacheng Cup, it should be awesome, with the best of the East attending.
And perhaps Misterio too!
More info soon!
Also added to the list, DUELLING THE KOF!
This Sunday will also see the return of, er, the start of Maximum Impact Glasgow! Take that opportunity to crush David Cameron with your bare hands!
Events 2015
Weeklies
Fife, Scotland Turbo Tuesdays
Toronto, Canada TTT A&C World Mondays
Nottingham, UK Geekzilla Wednesdays
CA, USA Desu Nation Saturdays
Specials
Oct 18 Rabat, Morocco Otaku Show
Oct 17-18 Monterrey, MX Thunderstruck III
Nov Versus Dojo, Paris (TBD) Ratio Tournament
Oct 30- Nov 1 Toronto, Canada Canada Cup 2015
Nov 14 Texas, US Lonestar Admonition III
Nov 14 Brooklyn, US Battle Royale II
Nov 21-23 Osaka, JP Duelling the KOF
Dec 11-13 PA, USA NEC16 $1150 bonus
Dec 12-13 San Jose, Costa Rica Furia Tica $2000
Dec 25-26 Dubai KOFGCC 
Dec 31 China Dakou & Xiaohai's tournament
DISCOUNT ENDS TODAY
FALL5 / FALLFIVE offer only runs till Oct 13!!! Ikari double sided shirt will be removed from the store! LAST CHANCE!