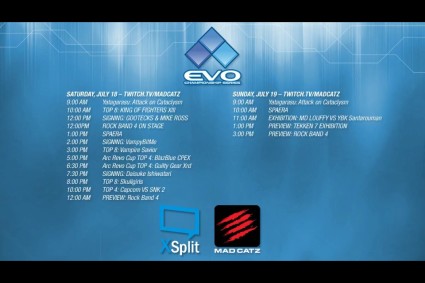 The stream has started and you should be able to catch an hour of Yatagarasu before the final stages of KOF but it seems KOF is starting RIGHT NOW.
Then later on you'll see BBCP and GGXRD.
Kof Brackets

So we should be seeing El rosa vs Kanibalito, violent kain vs Chriskof, kira vs Ren, xiaohai vs koji and then all the way to the grand finals!
Thanks to Kanibalito for this update!
Thanks to MarkMan and company at the MadCatz booth.
Watch live video from MADCATZ on www.twitch.tv
Don't forget tomorrow there is still more action from DUELLING the KOF.
SHIRTS EVO SPECIAL DISCOUNT!
Up to $3 off shirts this weekend!
Our Tshirts: USA