FINAL ROUND 18
1.) QANBA.DOUYU|Xiaohai
2.) RZR|Xian
3.) QANBA.DOUYU|Dakou
As we said on twitter, worth watching for the attempt by Xian to surprise Xiaohai with a pocket Liz.
Here's top 4:
https://www.youtube.com/watch?v=LavEacqNpQg
Why did it all look so casual? Because it wasn't on any stage, and it was all done on the Friday. Thanks for flying in fellas!
SFF
Well, this event is getting bigger and looks to cement its title as the anime fighting major of Europe! Everyone looks like they had a great time! Lots of international guests were had and friends were made.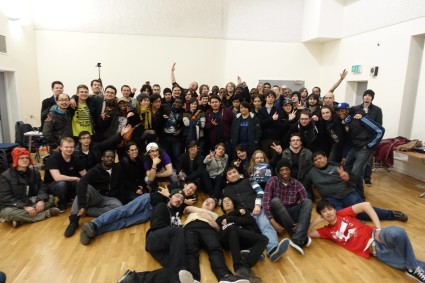 —————————-Sakura Fight Festa Results—————————-
— Arcana Heart 3: Love Max —
1st: AngelDarksong (ENG) – Elsa
2nd: Frost (ENG) – Konoha, Nazuna
3rd: LordspectreX (ENG) – Lieselotte
4th: Firei (ENG) – Kamui
5th: Tu101uk (ENG) – Fiona,
Pawndriver (ENG) – Scharl
7th: Bowser (ENG) – Weiss
Wauhti (FIN) – Heart
— Melty Blood Actress Again: Current Code —
1st: Aerisu (FRA) – C.Satsuki
2nd: Frost (ENG) – H.Arc
3rd: Shion (NL) – H.Kohaku
4th: Firei (ENG) – F.Hime
5th: Pawndriver (ENG) – C.Nero
Wauhti (FIN) – H-Sion
7th: Geinonen (FIN) C-White Len/C-Aoko
Big Ben (FIN) – F-Wara
— Dengeki Bunko: Fighting Climax —
1st: LordspectreX (ENG) – Kuroyukihime–Dokuro
2nd: Dblanks (ENG) – Asuna–Kaga
3rd: Mr. E (ENG) – Shana–Alicia
4th: GATK Crothers (SCO) – Taiga–Dokuro
5th: Wauhti (FIN) – Selveria–Izaya
Big Ben (FIN) – Miyuki–Kino
7th: Slack (GCE) – Tomoka–Accelerator
GATK LoliloverX (SCO) – Tomoka–Shina
— Persona 4 Arena Ultimax —
1st: Rawkid (ENG) – Sho
2nd: Wauhti (FIN) – Rise/Naoto
3rd: Scopey (ENG) – Yu
4th: Moko (ENG) – Minazuki
5th: Gordaveo (ENG) – Minazuki
NOx400 (MAL)
7th: GATK Crothers (SCO) – Yu,
Shion (NL) – Minazuki
— Dead or Alive 5: Last Round —
1st: IX C4lRL IX (ENG) – Lisa
2nd: Hurricane Rec (ENG) – Mila
3rd: Eternal Warrior (ENG) – Bayman
4th: CheekyChi (ENG) – Nyotengu
5th: Dulciria (SPA) – Ayane
JD SILVA (ENG) – Sarah
7th: Quixotic Neutral (ENG) – Hitomi
Micah (ENG) – Kasumi
— Blazblue: Chronophantasma —
1st: Kiba (ENG) – Valk
2nd: DragonlordZ (ENG) – Bang
3rd: Seo (ENG) – Kagura
4th: Kid (ENG) – Ragna
5th: Kinkuli (FIN) – Azrael
MUFN Exonestar (ENG) – Litchi
7th: GATK ZT5 (SCO) – Hazama
ZeroD14th (ENG) – Ragna
— Under Night in Birth: EXE LATE —
1st: Wauhti (FIN) – Hilda/Eltinum
2nd: Voidere (FRA) – Eltinum/Gordeau
3rd: Big Ben (FIN) – Byakuya
4th: Jackal (FRA) – Eltinum
5th: Geinonen (FIN) – Vatista
DragonlordZ (ENG) – Gordeau
7th: AngelDarksong (ENG) – Carmine
GATK LoliloverX (SCO) – Akatsuki
— Virtual Fighter 5: Final Showdown —
1st: Marlyjay (ENG) – Vanessa/Eileen
2nd: Mister (ITA) – Wolf
3rd: Ash Kaiser (ENG) – Wolf
4th: Jide (ENG) – Goh
5th: LUK7YDARK (ITA) – Pai
— Guilty Gear XRD —
1st: Jackal (FRA) – Millia
2nd: Aerisu (FRA) – Millia
3rd: Wauhti (FIN) – Elphelt
4th: Kyzertron (ENG) – Bedman
5th: NekoChristina (ENG) – I-NO
Sean (ENG) – Venom
7th: President (AUR) – Zato-1
Kinkuli (FIN) – Leo
Thanks to Bob Sagat.
In fact, the group is public, so you can see lots of photos if you just visit here!
Here are the Dengeki Fighting Climax Finals
More coming soon! subscribe!
Interview with Xiaohai
KOF Project posted an interview, but it's in French, (posted below). It's short, but interesting, and (minor?) shots are fired!
Here's our translation!
Having been able to talk with the champion of EVO 2014 KOF XIII, Qanba | Xiao Hai, here is the summary of our discussion.
Q: Congratulations for winning the EVO 2014 KOF XIII. How did that make you feel?
A: I am of course very happy and proud, this is the most prestigious tournament I've won.
Q: And winning Tougeki KOF98?
A: That was nothing compared to EVO.
Q: Here in Europe, a good majority of players think the game is "dead", particularly because of the Top Tiers (Mr.Karate, EX Iori and Kim), what is your opinion on that?
A: That's not right, I find that all the characters in this game are strong, look at how I lost against MadKof (Duo Lon).
I think if you think that way in Europe, is that the players are not working hard enough and/ or being persistent.
If it was so easy to win big tournaments just by taking this team, believe me that I'd have been at the top a long time ago (laughs).
Q: Are there any characters that you fear?
A: Chin! I fear nobody but him.
Q: Who, for you, are the five strongest players of KOF XIII?
A: MadKof, M ', ET, Tokido and myself.
Q: Can you give us a brief opinion on some French players? 
A: Fox plays well, Salim is OK and Wawa is improving*.
*translation could also mean "getting on/fending for himself/managing"
We also have an exclusive interview with Xiaohai, and we're putting it into FGC Yearbook VOL2.  See more of our Cannes footage here.
FREEZER DRIVE
Freezer has been the main push behind KOF in Morocco would like to show the world how much work he's put into the game! We believe he deserves a chance to get to Korea and show the world how popular KOF is across the world! Let's help him and show the international spirit of KOFGC!
Check out his skills here vs the legendary Frionel!
Orochinagi of course will be helping out, with more steam code prizes for our donators, through lottery at the end!
The following PC STEAM games are up for grabs!
Thief – The Master edition
Metal Slug X
Murdered Soul Suspect
Lara Croft and The Guardian of Light
Deus Ex – The Fall
Nosgoth Founders – Warlord Pack
COMING UP NEXT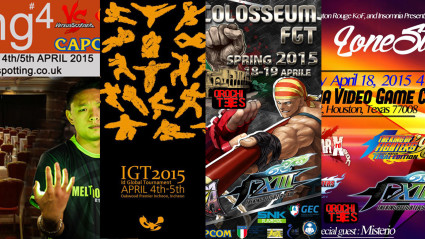 | Hypespotting | Admonition II | Colleseum FGT | Road to Colombia | Id Global Tournament |
KOF2002UM on Steam!
is now OUT!
The same devs who developed the awesome netcode for KOF98FE, Code Mystics, are on the job!
66 characters in all
New and old moves return!
MAX2 Moves with super detail!
Redone background music and win potraits!
Based on NESICA LIVE version with Tougeki changes!
Visit the steam page here:
Athena, Kensou & Chin join METAL SLUG DEFENSE!!!
Psychoballllllll @IkariLoona #metalslugdefense #msd #kof pic.twitter.com/wtXDCZ72Dk

— ON.Gunsmith Cats (@orochinagicom) March 18, 2015

20 million downloads and going strong!
GET the game here
FGC GAMING SHIRTS!
Now with Pao Pao flavour!
THE FGC YEARBOOK
Physical Copy Now $20.69 or less| Digital Copy $5 or less!
@pattheflip @orochinagicom @koogyplz Really cool that this is available. An instabuy for me.

— Glenn – thegametwok (@gyt) December 1, 2014
C'te classe @LN_Yamato RT @orochinagicom: get $7 off #FGC Yearbook http://t.co/MFghAWX71g pic.twitter.com/U3wACmvdSn

— AlabhamaMan (@AlabhamaMan) December 1, 2014
SNKPLAYMORE
Follow SNK for news and giveaways @SNKPOFFICIAL !
FOLLOW OROCHINAGI