Today we have some news for Tokido stalkers, a competition and some obscure game plus Hokuto No Ken  match videos !
MURDER AND KILT
Unfortunately Xian is pretty much dead from illness but he's trying to play at Meltdown tonight. Meanwhile Tokido has been spotted at Versus Dojo today (right now in fact) and thanks to Frionel we can report some FT5 results.
Tokido (Ex Iori, Karate, Chin) vs Tom Sawyer (Karate, Chin, Kim) : 5 – 1
Tokido (Duolon, Claw, Karate/Chin) vs Fox (Chin, Karate, Vice) : 5 – 3
Tokido (Duolon, Claw, Chin) vs Frionel (Kyo, Karate/Shen, Claw) : 5- 3
Tokido (Ex Iori, Karate, Chin) vs Piccolo (Kim, Karate, Claw) : 5 – 0
Looks like he's ready. Are you?
There are no videos. No evidence. Just already urban tales of stretchy limbs carving up mans from behind and a claw that scrapes life from already skinned limb.
See you in Scotland!
COMPETITION!
We have 10 (TEN) Metal Slug codes to give away! These are CROSS BUY – that means once you have used the code (or purchased the game), you can play it on your PS3, PS4 or Vita!*
The game is also CROSS PLAY! So you can play with others, no matter which platform they are on! Play on your PS4 with your friend who is using a VITA!
ART FINDERS FEE
We want to see your favorite Metal Slug Arts!  For the ones we like the most, we'll award you a finders fee, in the form of a Metal Slug Code (US PSN ONLY)!
What you need to do is:
Go to METAL SLUG WORLD
Click LIKE!
Post your favourite Metal Slug Artwork on the Metal Slug World page!
We will select 10 winners by this Sunday 5th April!
Don't forget that SNK's 2D action shooting pinnacle "METAL SLUG 3" is now available on all North & South Americans' PlayStation stores for $14.99* during SCEA's "Spring Fever" campaign!
Time has come to return to the missions, soldier!
This price allows you to play "METAL SLUG 3" on all three PS4, PS3, and PS Vita platforms at once via the "Cross Buy" feature!*
Terms & Conditions:
Competition Ends SUNDAY 5th April
Please note: the prize codes will only work with a NORTH AMERICAN PSN Account.
If you take artwork from an artist's site, we advise you provide a link with your submission.  We are not responsible for people posting artworks without permission.
Metal Slug 3 will be released in other territories soon.  You can find out more about the game here.
*The Cross Buy Feature is not yet confirmed to continue after the close of Spring Fever campaign.
WINNER FLIES TO DUBAI!
In cooperation with CafeId and to support the ?#?kof13? community at Arcade Café the winner of the ID Global Tournament in Korea will get a free ticket to Arcade Cafe annual Tournament in ?#?Dubai? December 2015!!!
FREEZER FINAL PUSH
Nearly there just around 200 Euros to!!! LET'S GO! FINAL PUSH!
[donation-can goal_id='get-freezer-to-korea-igt2015′ style_id='default' show_progress=true show_description=true show_donations=false show_title=true title="]
Freezer has been the main push behind KOF in Morocco would like to show the world how much work he's put into the game! We believe he deserves a chance to get to Korea and show the world how popular KOF is across the world! Let's help him and show the international spirit of KOFGC!
Check out his skills here vs the legendary Frionel!
Orochinagi of course will be helping out, with more steam code prizes for our donators, through lottery at the end!
The following PC STEAM games are up for grabs!
Thief – The Master edition
Metal Slug X
Murdered Soul Suspect
Lara Croft and The Guardian of Light
Deus Ex – The Fall
Nosgoth Founders – Warlord Pack
COMING UP NEXT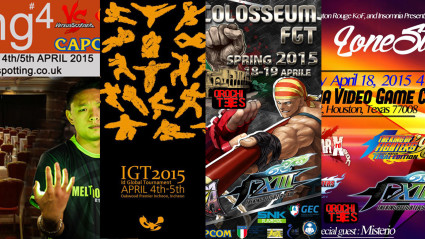 | Hypespotting | Admonition II | Colleseum FGT | Road to Colombia | Id Global Tournament |
I DON'T KNOW THIS GAME
BUT I KNOW THIS ONE….