So you may have seen the amazing image of Team Ikari and was shocked, well here's an interview with the creator, Daniel Adami.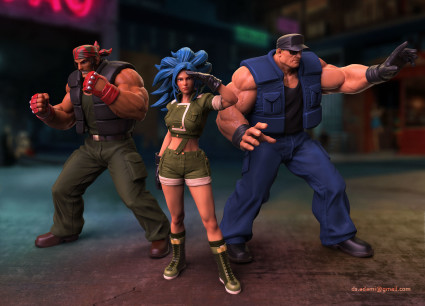 So who are you? What do you do?
– I'm a 3D artist who lives in Sao Paulo, Brazil. I work with computer graphics for advertising and games.
How did you make these toys?
– They still are 3D models, but I think they could make nice toys.
I've made them on ZBrush. It's an application for digital sculpture, the good thing about it, is that you work there almost as the same as you would in real clay.
What? 3D models? But they look so real! 
– During the lighting and rendering process I thought it would be great if I could make them look like real toys and that is what I tried to do.
So I can't buy them? Well, would it work with a 3D printer?
– Unfortunately they are not real products, I made them having an illustration in mind, but after some adjustments they certainly could be 3D printed.
Why did you make these? 
– A friend invited me for a fighting games fan art challenge, that was my entry.
Why did you pick Team Ikari?
I used to play with them often, Clark was one of my favorites in KOF 97  and I think they look nice together as a team, which was perfect for what I had in mind for the challenge.
– They were made during my free time and that's something I don't have in abundance, but I'm always working on something.
Which character would you like to make?
– Right now I'm working on a creature from a movie for study purposes. But if I would pick someone from a fighting game I'd say Victor von Gerdenheim, Oboro Bishamon from Darkstalkers or Robert Garcia would be definitely on my list.
What would you like to do with 3D in the future?
– I definitively want to make collectible statues. Right now I'm talking to a few friends who created a comic book called QUAD-HQ about turning some of the main characters into 18 cm statues.
What do you think about using 3D in games? Do you think the graphical limit has been reached eg SF V /Tekken /GGXRD? 
– It has improved a lot in the last years, but I think it still has some points to be enhanced, we still have to cope with limited textures resolution, polygon count and lighting issues for example.
What do you think SNK needs to do with kof14? Use 3D? Or 2D art? 
– I think the SNK aesthetic is very important for their games and in my opinion their animation is the best. But I think they could benefit from the 3D technology from the production point of view and still keep their 2D look doing something like Arc System Works did in Guilty Gear Xrd, what an amazing job they did by the way.
Thanks very much for the interview!  You can check out more of Daniel's work here:
FREEZER DRIVE
Freezer has been the main push behind KOF in Morocco would like to show the world how much work he's put into the game! We believe he deserves a chance to get to Korea and show the world how popular KOF is across the world! Let's help him and show the international spirit of KOFGC!
Check out his skills here (he's on P1 side)
Orochinagi of course will be helping out, with more steam code prizes for our donators, through lottery at the end!
The following PC STEAM games are up for grabs!
Thief – The Master edition
Metal Slug X
Murdered Soul Suspect
Lara Croft and The Guardian of Light
Deus Ex – The Fall
Nosgoth Founders – Warlord Pack
COMING UP NEXT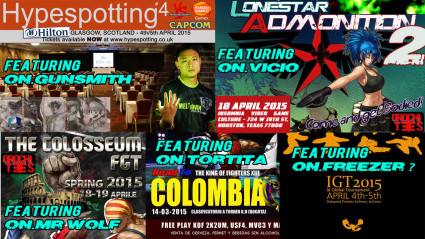 | Hypespotting | Admonition II | Colleseum FGT | Road to Colombia | Id Global Tournament |
KOF2002UM on Steam!
is now OUT!
The same devs who developed the awesome netcode for KOF98FE, Code Mystics, are on the job!
66 characters in all
New and old moves return!
MAX2 Moves with super detail!
Redone background music and win potraits!
Based on NESICA LIVE version with Tougeki changes!
Visit the steam page here:
Athena, Kensou & Chin join METAL SLUG DEFENSE!!!
Psychoballllllll @IkariLoona #metalslugdefense #msd #kof pic.twitter.com/wtXDCZ72Dk

— ON.Gunsmith Cats (@orochinagicom) March 18, 2015

19 million downloads and going strong!
GET the game here
THIS WEEKEND
FGC GAMING SHIRTS!
Now with Pao Pao flavour!
THE FGC YEARBOOK
Physical Copy Now $20.69 or less| Digital Copy $5 or less!
@pattheflip @orochinagicom @koogyplz Really cool that this is available. An instabuy for me.

— Glenn – thegametwok (@gyt) December 1, 2014
C'te classe @LN_Yamato RT @orochinagicom: get $7 off #FGC Yearbook http://t.co/MFghAWX71g pic.twitter.com/U3wACmvdSn

— AlabhamaMan (@AlabhamaMan) December 1, 2014
SNKPLAYMORE
Follow SNK for news and giveaways @SNKPOFFICIAL !
FOLLOW OROCHINAGI
Orochinagi


Promote your Page too