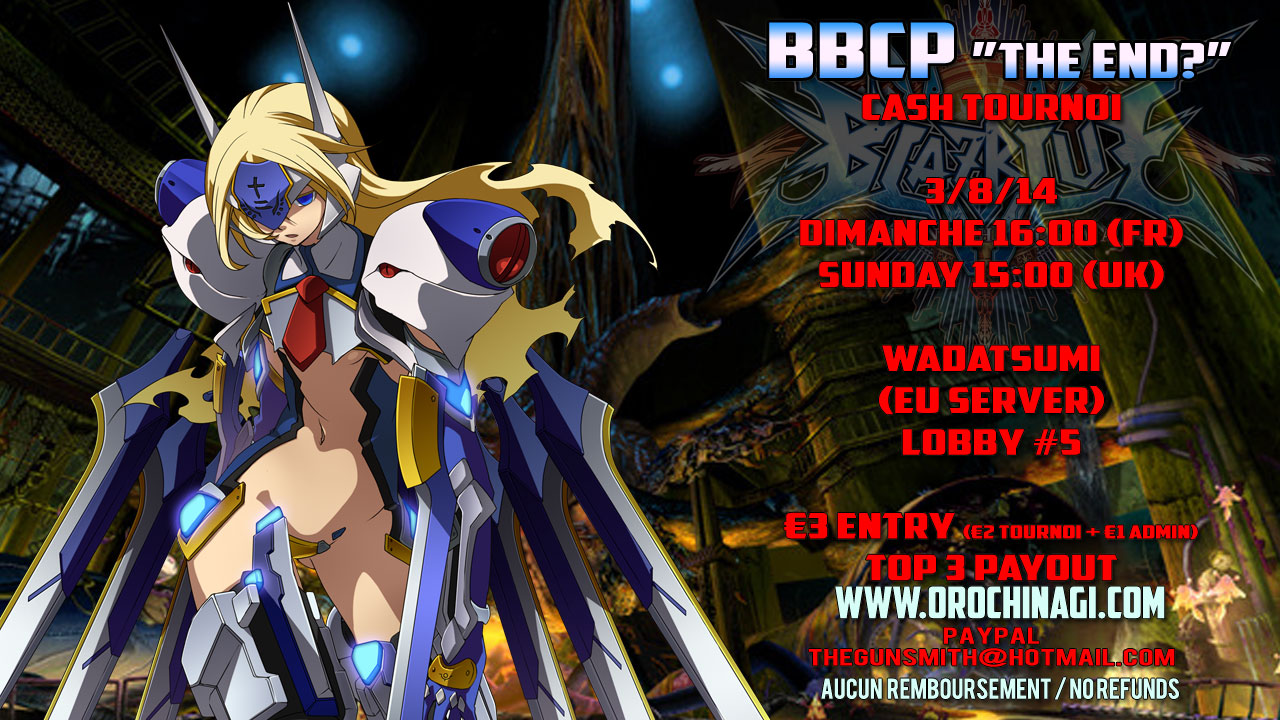 #BBCP "The End" #MSD 10million #UNIEL Combos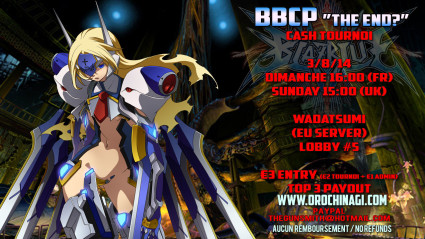 This Sunday: MONEY OR DEATH
Two tournaments: Mini cash and Hardcore cash
Regles/Rules:
EU REGION ONLY
Double Elimination
3rd August (Aout) Sunday (Dimanche) 3pm UK (16:00 FR)
Payment via Paypal: Charges paid by Sender.
Payment to: thegunsmith@hotmail.com – Euros only.
Mini Tournament: 3 Euros. (1 Euro is taken for admin)
Hardcore Tournament: 10 Euros (1 Euro is taken for admin)
Top 3 winners will be paid approximately 65% 22% 13% minus paypal fees.
No refunds / Aucun Remboursement 
BONNE CHANCE! GOOD LUCK!
@orochinagicom @EvenFrthrBeyond @Len_Stark I am available for this tournament 😉

— DestroY (@Zetsubou_no_ko) July 31, 2014
@orochinagicom @Len_Stark @Zetsubou_no_ko @EvenFrthrBeyond You must be wearing your best funeral blacks to participate.

— Shadon (@WInsurrection) July 31, 2014
@orochinagicom @Zetsubou_no_ko @Len_Stark I'm away on sunday lol, ggs

— SuperDLZ (@EvenFrthrBeyond) July 31, 2014
iPhone / Android application "METAL SLUG DEFENSE"
Breaks a new record once again with more than 10 million downloads worldwide!!
* Total amount of downloads of the game on iOS & Android (excluding China)
* This number does not take in account several downloads done on the same user account.
SNK PLAYMORE CORPORATION (Corporate HQ: Suita-city, Osaka, Japan, Company, President & CEO: Koichi Toyama) is proud to announce that the iOS / Android application "METAL SLUG DEFENSE" has been
downloaded by more than 10,000,000 users.*
"METAL SLUG DEFENSE" is the latest installment in the legendary 2D run-and-gun game series "METAL SLUG"  and its first entry as a tower defense / strategy game. Since its release on May 1st , "METAL SLUG DEFENSE" has been already downloaded more than 10 million times, and a special event campaign celebrating this new record is scheduled in the days to come.
Spurred by the success of this blockbuster game series worldwide, especially in North America, Europe, South & Central America, South East Asia, and Japan as well, we are looking forward to see the number of downloads increase from here on out as well!
FREE Metal Slug Defense
It's FREE on IOS and Android!

Best of all? It's FREE!!! Go get it! Android : iTunes
Uniel Eltnum Combos
FOLLOW OROCHINAGI
The FGC Pro

Ever thought about running your own event, or wanted to know what goes on behind the streams?
Check out this guide, available from amazon for only $3.72!