Here are MORE chances to win KOF98 on IOS!!!
To win KOF 98 on IOS*
*(Not Android, sorry, Google is not supplying promo codes right now)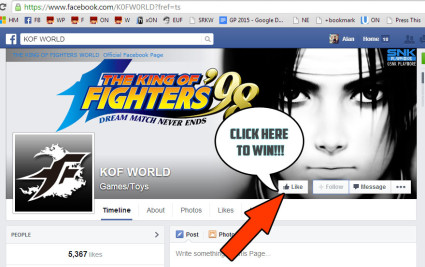 1. Go to Facebook and LIKE KOF World – SNKP has already picked a winner and will pick another this week!
2. Look at this post and reply with ANY picture or video of KOF 98!
3. Go to Orochinagi on FB and Like – we will select someone new and send them a code! (You can unlike and like to be eligible!)
4. Follow Orochinagi on Twitter – we will post a code there on Sunday (and warn you when it's coming!)
MORE CHANCES, MORE WINNAAAAHSSSS
@orochinagicom WOOOOOHOOO!! THANK YOU VERY VEEEEEERY MUCH!! ?(???)? pic.twitter.com/hyeOmCAiNI

— M11 (@SuitaM11) July 26, 2014
@orochinagicom arcade perfect man 🙂 KOF best of all time in the palm of my hand! haha #KOF98 #SNK #android #ios

— SBR_BeNDeR (@SBR_BeNDeR) July 28, 2014
USF4
Have you seen Gouken's Air Focus in action?
ProudStrawberry ( Gouken ) Vs TalkingQ ( Bison )
https://www.youtube.com/watch?v=suZ05JvpomY
KOF13
Tech from ON.Tortita
UNIEL
To ban or not to ban?
And now for some Pamyu
Bonerus
Chun Li image from article about how SF4 designer would use bikini model, on eventhubs