Japan Expo Report
26 Sign ups for BB, that's good! Lots of people and anime fans taking an interest in the game, as the Expo has a huge footfall, and it was interesting to see the gaming area was quite full of people doing low budget stuff like simply meeting up for 3DS gaming and just mashing on Naruto. The publisher stands were quite well attended but you could see that they were catering for the mainstream, for example Jojo had a few stands but it was Naruto that was the main attraction and getting a real push with a tournament. It was interesting to see the demographic, not as young as I thought, and/or were these actual FGC members?
Looking around the console gaming stands such as Ouest Games and Gameslines, it was indeed the usual crowd of FGC players with some mashers attacking the Xbox capsule setups. Think I might do some writing on this for next year's edition – thinking about how game shows influence sales, how do casual players feel after trying the game? Would they buy it straight away, or just have enjoyed the experience of playing it for free? Or the next time they walk into a store, would they suddenly remember the game they had fun with? I believe it all has to be done in advance, people are very competitive and very often, if the game isn't bought at launch, it'll only be bought when in the bargain bin.
At any rate, the Ouest Games and Gameslines stands were very busy and Blazblue got good exposure, apart from when one certain player played a match with a casual anime fan, and totally destroyed him.  Unless the player got angry and swore to take revenge, scaring players away doesn't exactly help the scene lollllll. I was surprised to find KOF was not in place as scheduled but nevermind, something big is coming for the EU KOFGC…
Thanks to Clement, Jonathan and the Ouest Games team for hosting the stand and Abou & Gameslines for hosting the finals.
En tout cas, les Ouest Jeux et Gameslines peuplements étaient très occupés et Blazblue obtenu une bonne exposition. Et voila, c'est tout :3
Results
Gameslines was running USF4, 3.3 and Pokemon, and a few others.  Keep an eye on their channel for videos, I know Saunic & Valmaster were there.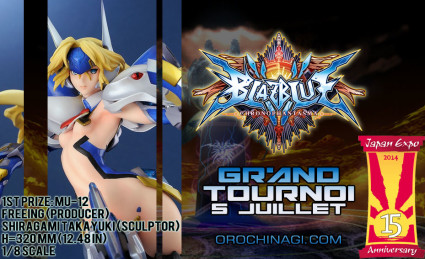 Destroy
Kimaf
Omanko Kanon
Congrats to our winners! 1st got the Mu12 figurine, 2nd and 3rd got coupons for the Expo!
The Lottery Noel Figurine was won by Kimaf! Such bad luck for everyone else!
Merci à vous d'être venus and subscribe for news of the next tournament!!!
Videos
Finals videos coming soon – here's some matches we recced to keep you going till then!
Gallery
ET vs Misterio FT15
From the house of Romance :3 Oh baby! KOF Challenge was so hot! Here's a set between ET and Misterio. Umm yeah.
MSD Update
metal slug defense is sooooooooo addicting, only problem is i have to wait and get my points to fill back up ;~;

— SoleChris (@Sol3Chris) July 4, 2014