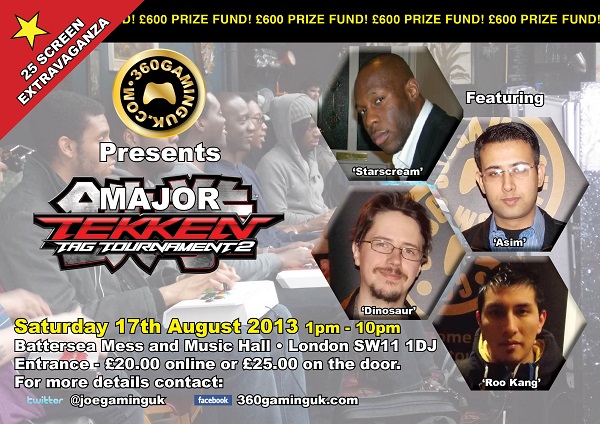 UK TTT2 Major – Saturday 17th August 2013, London UK (by 360GamingUK)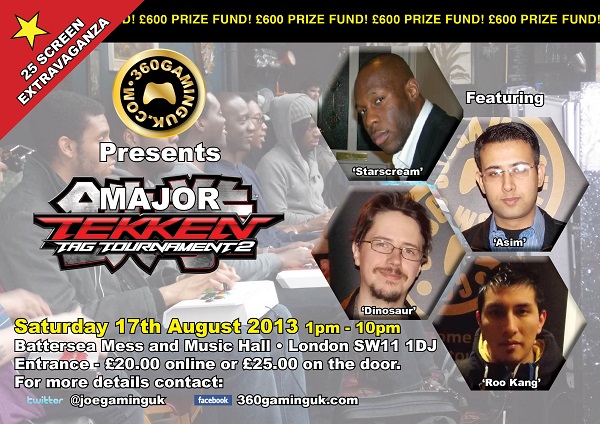 After months of hype during all these regular Tekken events in the UK, the MAIN EVENT has finally arrived!!!!
[youtube]http://www.youtube.com/watch?v=PnJ6L0Kh8XA[/youtube]
* £600 PRIZE POT!!!
* 25 SCREENS TO PLAY TEKKEN TILL YOU DROP!!!
* The legendary ASIM, COBRA COMMANDER, STARSCREAM, PRODIGAL SON RYAN HART, DINOSAUR, ROO KANG, KING JAE AND MORE….
THE BEST PLAYERS IN THE COUNTRY, AND BEYOND!!!!
Date: Saturday 17th August 2013 1pm-10pm
Address: Battersea Music and Mess Hall, London SW11 1DJ
Entrance: £20 online or £25 at the door (online payment facility will be up soon)
Format: Double Elimination (full rules to follow)
If you are a Tekken fan in Europe, you do NOT want to miss this!!
Also take a look at the initial teaser trailer here: http://www.360gaminguk.com/2013/05/360gaminguk-tekken-major-coming-soon/