Yatagarasu out NOW
The hardcore SNK fans will remember this.  3 ex-SNK staff went about making their own fighter.  We covered it way back in 2010 when it was still in development and it was discussed in the forums.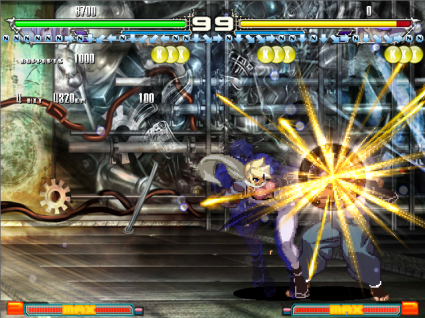 Time flies as usual and Rice Digital have stepped up to publish the game for the indie mavericks PDW:HOTAPEN!!!
The buzz has begun, the game is due for release tomorrow, but is out now for £7.99 or something else in dollars (it will change when you checkout)!!  Don't worry, it comes with an English manual.
FEATURES
Eight unique characters.
Stunning sprite artwork and animation from King of Fighters artist, Kotani Tomoyuki.
Choose your trash talking commentator from top Japanese players, Tokido, Kokujin and KSK – who'll react to your play style.
Innovative 'button locking' parry system to give you the defensive edge.
Unique damage mitigation system where tapping the attack buttons to correspond with incoming attacks, limits damage taken.
1-2 players with 8 player lobbies.
Exclusive part-localised version, only available on Rice Digital.
It's even got a mention in the guardian.
And this is only the start.
 "We were getting frustrated," says Evans. "We kept seeing these exceptional games, but they weren't getting any love in the Western media, so we decided to set up a site to promote them. It was editorial at first, we wrote about the games we felt deserved more attention. The other side to it now is looking to work with those doujin circles, helping with a little bit of localisation, a bit or PR and support; just to introduce them to a new group of fans."
What are you waiting for?  It has commentary from Tokido and KSK, it even has online?!?!?!  RETSGO
Videos
Here are some matches to whet your appetite… ONLINE!
Review from Monster_energee
I just wanted to say the training mode in this game surpasses some of the main stream fighting games I've tried. You can really tell that the guys who developed this game like their fighting games. They have multiple options that allow you to recreate different situations and best of all they have 'custom triggers'. You can basically set triggers (can be punches, kicks, a particular move etc) that toggle your training dummy to do a particular attack. So if your friend keeps on kicking your ass with the same move over and over again, you can go recreate it in training mode to practice.