Dune has just tweeted what seems to be a new model of Qanba stick which has a table clamp.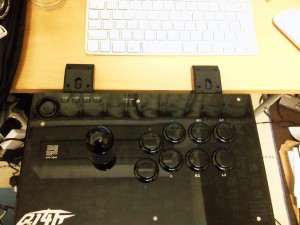 The stick is for Ps3/PC, features a 1.8m usb cable and is available at a discount (on KCE link below) 8200 Yen / 85 USD / 58 GBP / 67 Euros.  Comments explain that it is very compact and light to carry. With the clamp attachment, it will take up to 10kg pressure. It has a storage box and comes with square and octagonal gate, plus 2 button covers. Non slip bottom, and the clamp is removable.  There doesn't seem to be any mention of Sanwa parts but apparently the buttons seem are 'just as good'.
Dune mentions that the stick is very sturdy but light, but 180cm cable might not be long enough.  Also the start button is top left which completely avoids accidental pressings (why didn't anyone think of it before?) but the select button is perhaps too small.  He thinks it's great to take around; it has the exact arcade layout.
Check out more pictures here: http://k-c-e.jp/qanba/zan/top.html (Japanese) And if you can read Japanese, you can order it at the discounted price (not sure if they deliver outside of Japan yet).