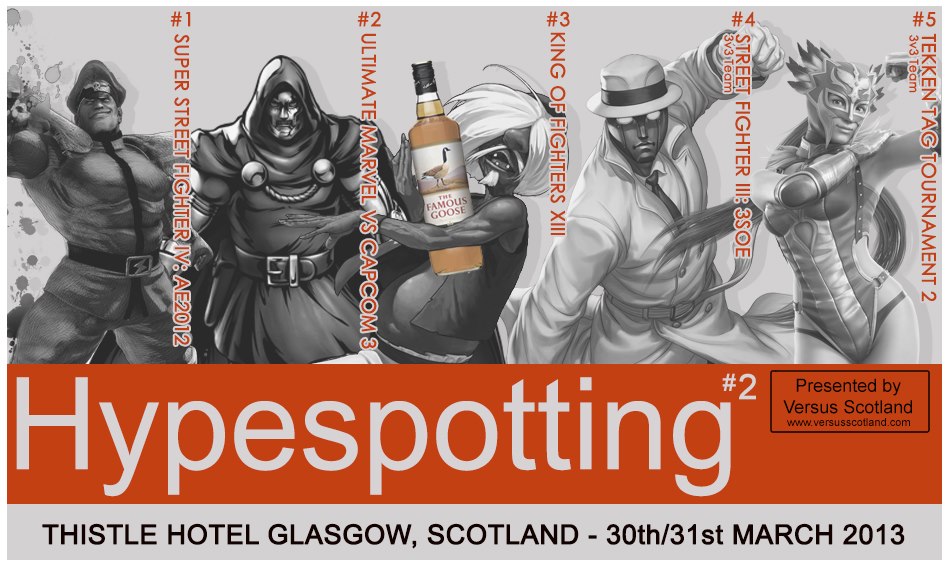 Road to Hypespotting2
Welcome to the next stop on The Road to Hypespotting 2 !!
On December 9th we'll be in Glasgow at 1LevelUp with more opportunities for you to win your entry to the main event next year. Of course you'll also be able to get in some good games, and that vital competitive practice. So make sure you come along and experience the awesome hype of this Versus Scotland event.
Edinburgh – November 25th 2012
Glasgow – December 9th 2012
????? –
????? –
Don't forget there are two more stops on The Road to Hypespotting 2! Keep checking the Versus Scotland website (versusscotland.com) and Twitter (twitter.com/versusscotland) to keep up-to-date with the latest announcements!
The Road to Hypespotting 2 – Glasgow
1LevelUp, 34 St Enoch Square, Glasgow, G1 4DF
Registration – 12.00PM
Tournament Start – 1.00PM
Tournament entry + 1 game = £8
Tournament entry + 2 games = £10
Tournament entry + 3 games = £12
Casuals only = £6
This is a Double elimination tournament event for all games.
Standard tournament rules for each game found at www.hypespotting.co.uk/?page_id=21
Platforms :
SSF4:AE2012 – Xbox 360
Best of 3 rounds
Best of 3 games
Character lock for winner
UMvC3 : Xbox360
First to 3
Character lock for winner
King of Fighters 13: Xbox360
Best of 3 Games
3v3
Character Lock for winner
The winner of each tournament will receive Hypespotting 2 event entry + entry into the tournament of their winning game title. Second place will receive game title tournament entry only. Event entry is still payable to participate in any tournament/s.
Hypespotting 2 will take place on 30th and 31st March 2013.
See www.hypespotting.co.uk for more details.