For the week ending 22nd Oct… what do you think was most pre-ordered?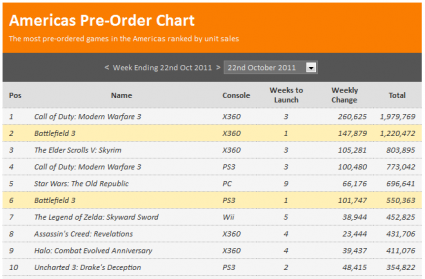 C'mon now it obviously wasn't KOF XIII. KOF isn't a mainstream title… yet. However, if we go down the chart to see the more niche titles, you'll spot KOF XIII..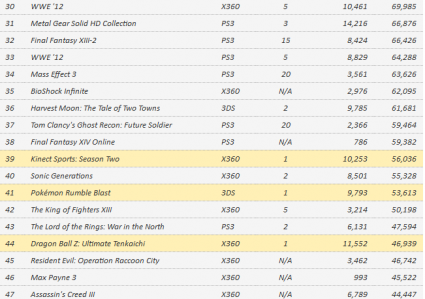 It's pretty fantastic when you consider the titles XIII is up against.
Another point of interest is that this represents the 360 orders. Where are the PS3 owners? The chart does show orders for each console. Perhaps this is a telling sign about PS3 owners. What's that? Cheap, did you say? PS3 owners don't want to pay to go online. PS3 owners like to wait for the price to drop. Is this the truth? A poll was run to determine which console did ON users plan to play KOF XIII on, and PS3 came top… So where are these users now?  Did you pre-order on PS3 or 360?
And it has to be said… where the heck is Ultimate Marvel vs Capcom 3? Or… is it really not in the top 50? While we don't want the Fighting Game Community to burn out, let's hope the mashers have developed a taste for a deeper fighting game, and that less orders for UMVC means more orders for XIII!