MICHI
58 bis, Rue Sainte-Anne, Paris, 75002
On the same day as visiting Yushi, we travelled to the infamous area of Opera and skirted the non authentic restos searching for this little hole in the wall.  And nearly missed it. It is indeed tiny. Now let's compare prices, shall we?  Taking your travel fare into account, the choice should still be obvious.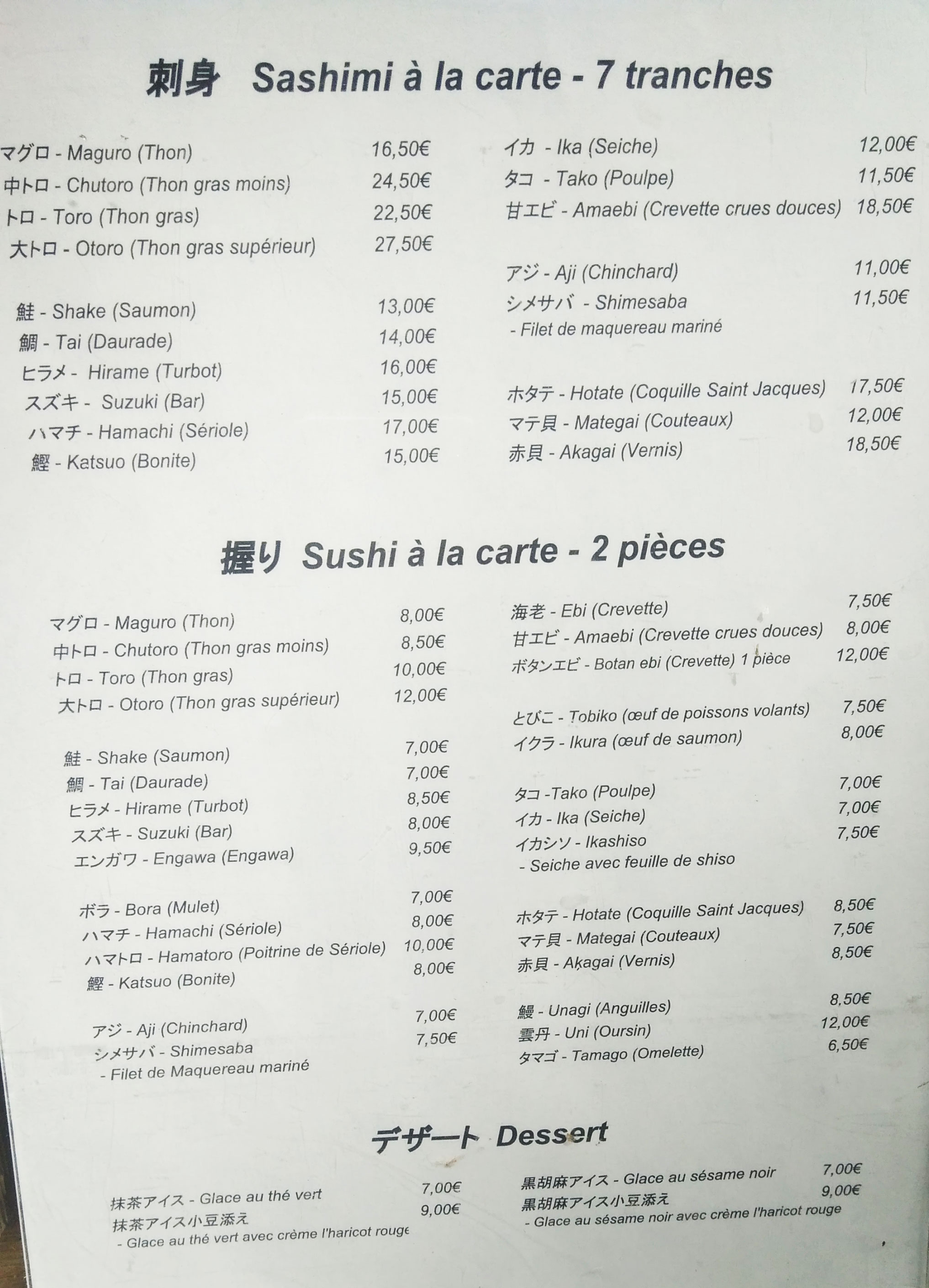 Maguro = Tuna
Chotoro = Fatty Tuna
OToro = ULTIMATE fatty Tuna
Shake = Salmon
So then let's compare choice (to the average non authentic).  Dude, they have chu-toro AND o-toro on the menu.  And, it was available – many non authentic AND authentic restaurants advertise it and don't have it.  Perhaps you need to be lucky! There was space for 6-8 customers at the bar, but we discovered that there was also space downstairs (6 tables and a bar).  Japanese pop music played in the background and all the staff were Japanese (not that that's important).  We were given a little bowl of Japanese vegetable and fish as a free starter.  Main service was slow, as there is only the one chef (who as it turns out is a former employee of Takara)!  Japanese customers were present, talking to the chef, obviously regulars, always a good sign.
The chef has a blow torch for authentic aburi style.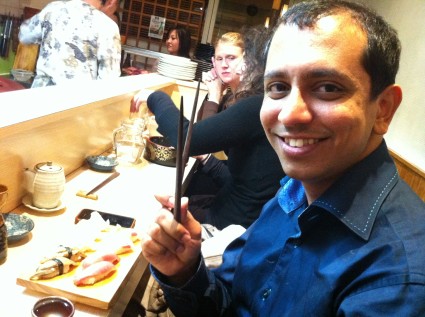 READY? GO!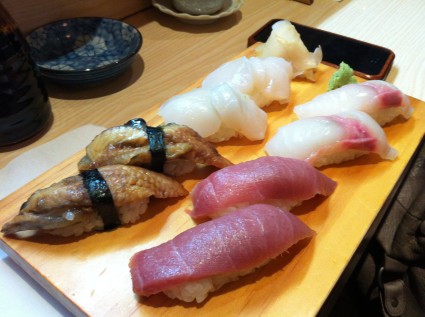 Obviously I took the whole range of Tuna.  Otoro can be a hit and miss, because sometimes you can taste too much fat, sometimes you can get gristle, this time I got a bit of hard don't-know-what-it-was but I'm sure you can see it in the picture below – the brown bit at the end of the 5th piece… hmmm.  I forgave this issue as the rest of the dish was very good.  Not excellent, but very good.  The fattiest tune should melt in your mouth – this was pretty good but not quite there.  The rice was also better but still below that of Foujita & Takara's, though not far off! The uni seemed good (I'm not an expert)… The egg was less sweet and less fried than I would like but objectively good.  The sweet shrimp tasted the same as anywhere else (ok).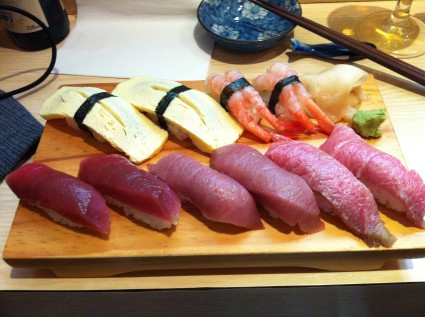 Overall, it's simply a place I'll be coming back to, it's good value (for expensive authentic sushi) and has the right vibe for a nippophile!  Takara has to be saved for those special occasions, this is somewhere I'll go to eat regularly (unless I find better). Kilala is too expensive for the experience.
FINAL SCORE 7.5/10
Best and cheapest place to grab some quick authentic sushi!
If you want something more expensive then check out Kilala and even better Zen and then Takara.