Kotteri Naritake Ramen
31 Rue des Petits Champs, 75001 Paris, France
Phone:+33 1 42 86 03 83
By the way, it's open till 3.30 for lunch, as opposed to certain website informations.
Here we are again with another quick review of food in Paris. Yes, I have been to Japan and remember very well the thick broth of Ichiran.
I've also eaten at Shoryu Ramen and Tonkotsu Ramen in London, which I didn't think too highly of (only because of the experience abroad lol)
If you don't know your Miso from your Shoyu, there's a good introduction guide here.
Naritake / Kotteri Ramen is recommended by pretty much everyone so we checked it out.
The first time we went was on a Friday, trying to get seats for 7 people. Huge mistake. At a glance, the place can seat maybe 20 people. There is always a queue and if you come down at a leisurely time, you'll be standing in the cold wayyyyy down the street. We came back for lunch.
The restaurant is tiny. It has mirrors to give it a bigger appearance but this doesn't do it any favours when inviting lots of friends.  Still, you get to watch the chef at work, which is cool.  Actually, it was surprising, as he seemed quite blaze about throwing ramen around and letting stray bits fall to the floor.  It was… interesting.  Note for you racists out there, I mean, authentiphiles, the chef was Japanese but had two foreign assistants.  The waitresses were Japanese, if that pleases you!
They had two main types, Shoyu and Miso. On top you need to decide how much fat you want in your soup.
I believe our mistake was ordering the extra fat, hoping for a thick broth. In retrospect, it was rather stupid. There was so much fat I could barely get through half the bowl. However, friends have noted even at the lowest level, the dish is greasy. To be fair I'd like to try it again.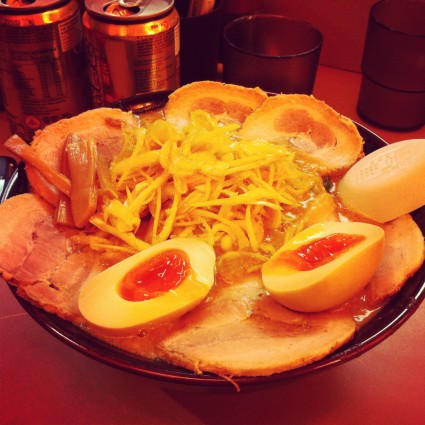 Fat aside, the ramen itself is good, very good. Soft and chewy without needing effort to slurp and masticate. There was heaps of pork.  However, the average nippophile will be ordering everything as side orders including those lovely 'lava' eggs.  Unfortunately, lovely as they were, the eggs were a bit cold when they arrived… like… straight from the fridge.  The pork too was cold.  After dunking everything into the ramen and leaving it to settle it was.. better.
However, at this price, 15 euros for a bowl of authentic ramen, including drink, it's acceptable.  The ramen itself is better than what I've tasted in London but ahhh let's not make those silly comparisons to Japan – let's say it's indeed the best yet you can get in Paris.  BUT the miso was very salty and the extra fat made the dish inedible.
6/10 (personally bad experience but will re-review) (SEE BELOW!!!!)
SECOND REVIEW!!!
We went again, kind of desperate hahaha
This time I ordered the Shoyu with normal normal settings in everything.  It was much much better.  Also at this time of day (around 3pm) there was no problem with chilled ingredients.  She ordered the miso, with normal 'fat', which was much better, in the way that it didn't make her choke on grease, but it was still too salty for her tastes.  Ramen itself was as good as last time.  So, while rather expensive at 20€ per person including a drink and supplements, it's not like you can get better.
Current score may be revised if other restaurants found to be better.
8/10