Main Guide Index > Gold
You'll need gold, the in game currency, to pay for adding cores to your characters and buffing your cards.  You will need LOTS of it.
Here's the order of things to do, in order of best things to do overall.
Login!
Gold dungeon!
Daily/ Growth/Festival quests
Roulette
Tower of Trials
Story
Other quests
Sell cards
Guild requests
Buy it with real money!
1. Login
Just login everyday for free cash, at some point.
2. Gold Dungeon
The big money is from the dungeon.  Again the max level is only available 3 times a day.
When your characters are strong enough by meeting the CP requirements, you can set the game to auto for a few matches while you do something else.
Gold Team
For a real boost, check out this strategy, originally shared by
You'll need
Yuri x3 from any year
Robert x3 (not 94) or Mai or King
King's set cards
if you don't have Robert you can use Mai or King but they must match the year.
Raise your leader (I used Robert 97 because he's a gold and has higher stats) to level 40 and the others 20. No need to raise Yuri. Go to their cores and unlock their super move.
Put Yuri as supporter, three times. As supporter for Robert, you will get a 12% gold bonus.  As supporter for Mai or King, you will get 6%.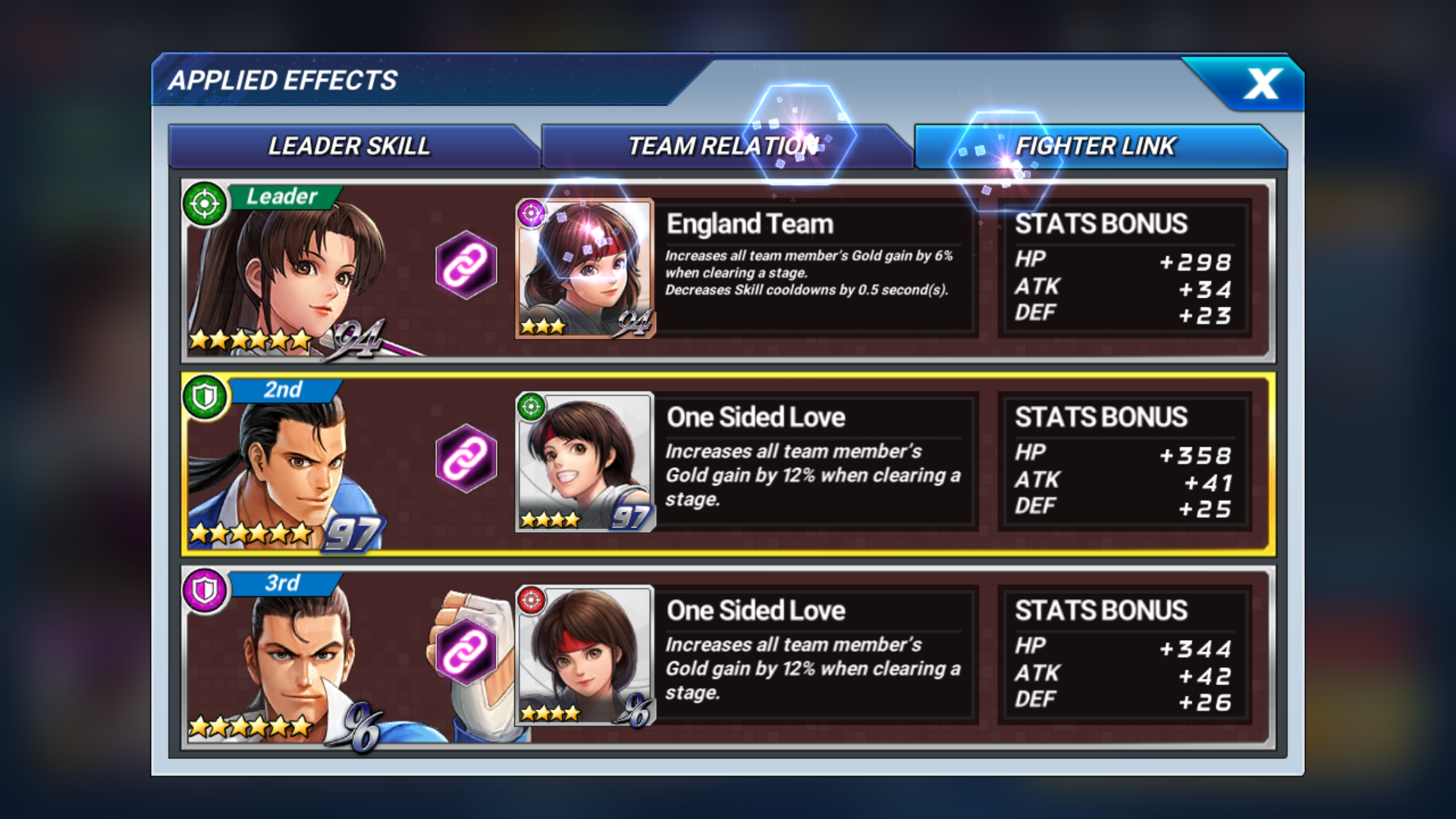 Adding the set cards, you will get another bonus, depending on the skill level of the cards.  Each character can put on these cards.  Prioritise the set of three first for one character.

Not sure yet if the skill from the set can be boosted.
Now put them in the gold dungeon on auto and let the money roll in.
3. Daily / Growth / Festival quests
Daily Quests will force you to level up by going to the dungeon etc, with rewards!  You don't need to do all of them but you can clearly see which will give you gold.
For Festivals, check the rewards, but some quests such as completing a dungeon with three defense characters can be part of your levelling up routine and bring in cash.
4. Roulette Event
It seems quite simple but there's a little trick to it to boost your chances of a bingo, which gives you a bonus.
When you get an item that you want, don't collect it. Tap the other items that you don't want to collect them and leave the one you want. Spin the Roulette and it will fill the empty slots.  It will not spin until one slot is free. You can even leave the screen and go back later.
Roulette is a limted event.  Don't forget to spend the tickets before it ends!
5. Tower of Trials
The tower of trials has cash to win but did you know you can use your auto clear ticket everyday to collect the same skip prizes?
Each floor has a skip reward value.  This value is added up when you use the auto clear ticket – this is the same one for the arena mode, so be careful using it.  You get a new one every day.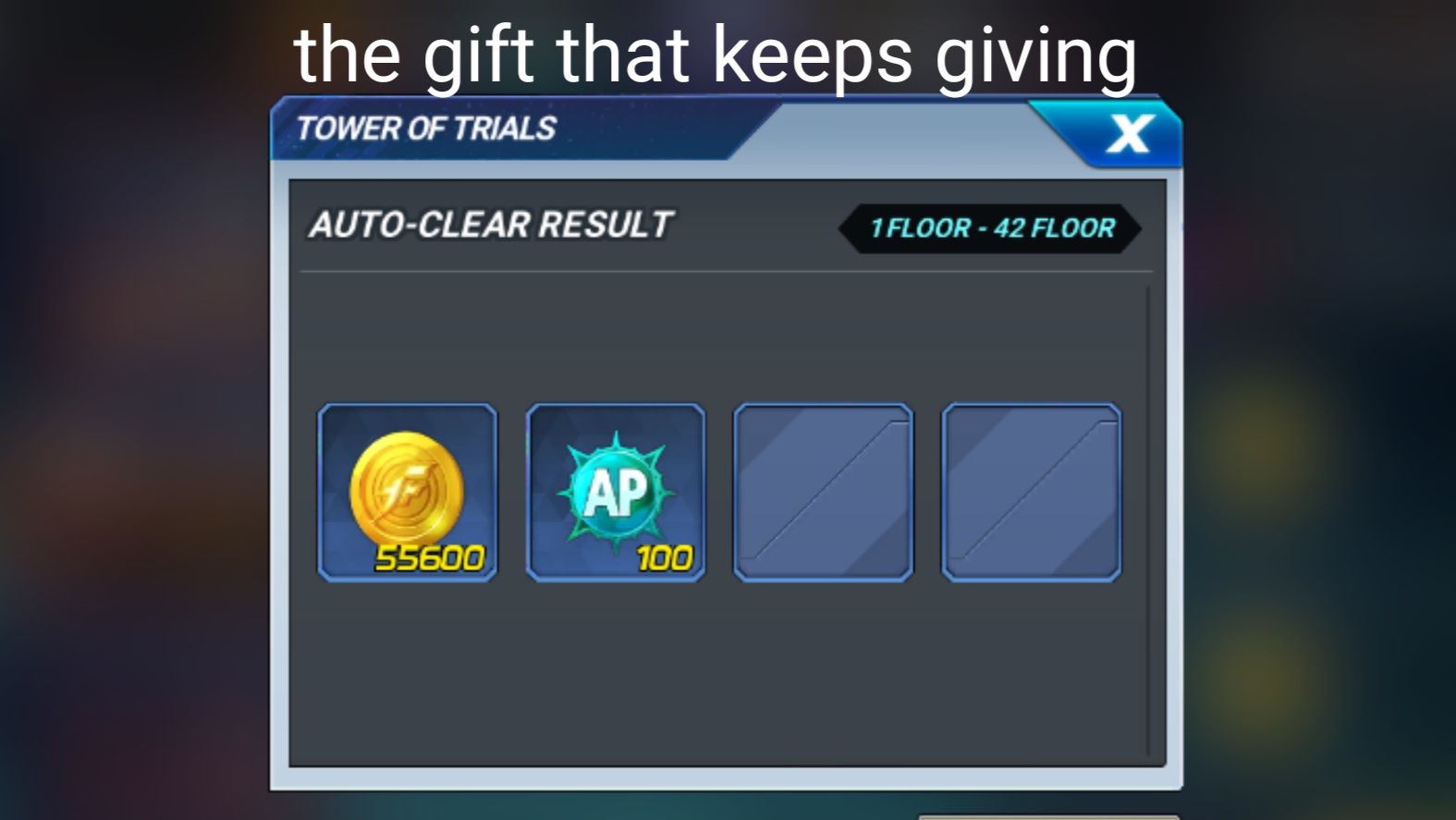 After clearing tower 40, which I cannot beat, using the skip ticket nets 55K and 100AP – and you can still try to clear it afterwards.
6. Other Quests
Advent festivals such as Element Bosses can award around 1K per match.  The advent dungeons, Time Challenges, King's Quest, Epic Quest offer over 1M for serious grinding.  Be careful with what you commit to.
7. Story
You'll need to progress through the story anyway to unlock other festivals. Every new episode awards you money and items.  You can get gold from completing quests but it's quite small, around 500.  The chests along the bottom of the screen also give rewards.  You'll be asked to play 3 times a day anyway by the daily quests.


8. Sell cards
Seriously? Well, you have a limit of 300 so you might have to!
9. Guild Requests
In your guild, members can ask for an item to help with their quests or levelling up, such as a glass of wine for King.  Giving one of these items can get you 5K gold.
10. Buy gold with real money!
The shop is only more than willing to take your money in exchange for rubies and topaz…