So you're looking for buffs? You should be at 60 before coming here.
Here are some places to get some.
Make sure you've done the quests for the day
king's quests
Epic Quest
others
King's Quests (the most precious thing to King)
Get to the last stage of chapter 1
put all the characters listed for bonuses in your team, especially as supporter
Let your main be the leader, if they have a much higher level than your yellow element fighter.
spend AP and then refill with 50-150 AP elixirs, leave it on auto while you're doing something else. Keep an eye on your Rank level because you'll get the free AP refill from the rank up (you are awarded 250 rank points with every quest complete!)
25AP gets you 300 quest points
100,000 points needed to finish, divided by 300 = 333 matches
BUT if you have the characters in your team you get bonus points (590-640 on my last try) and it builds up super quick!
the position of the members (front or striker) or level of the cards does not matter.
when you finish, you'll get:
King 96
Venom Shot action card = if you're a King user then you need this, it's her ultimate move!
30 Hp, 30 atk and 30 def capsules (I ended up with 40-44 each)
270K gold
and stuff, you could take all the soul dust and covert it for your character
considering it's easy (7k CP required) it's a good farm
but if you're luckier you could get the same from other quests, if you're lucky…. but do you feel lucky? Well, do you?
Leverage check:
97 Athena (lv69) gets one mission done in 27 seconds
97 Shermie (lv80) takes 19 -29 seconds ….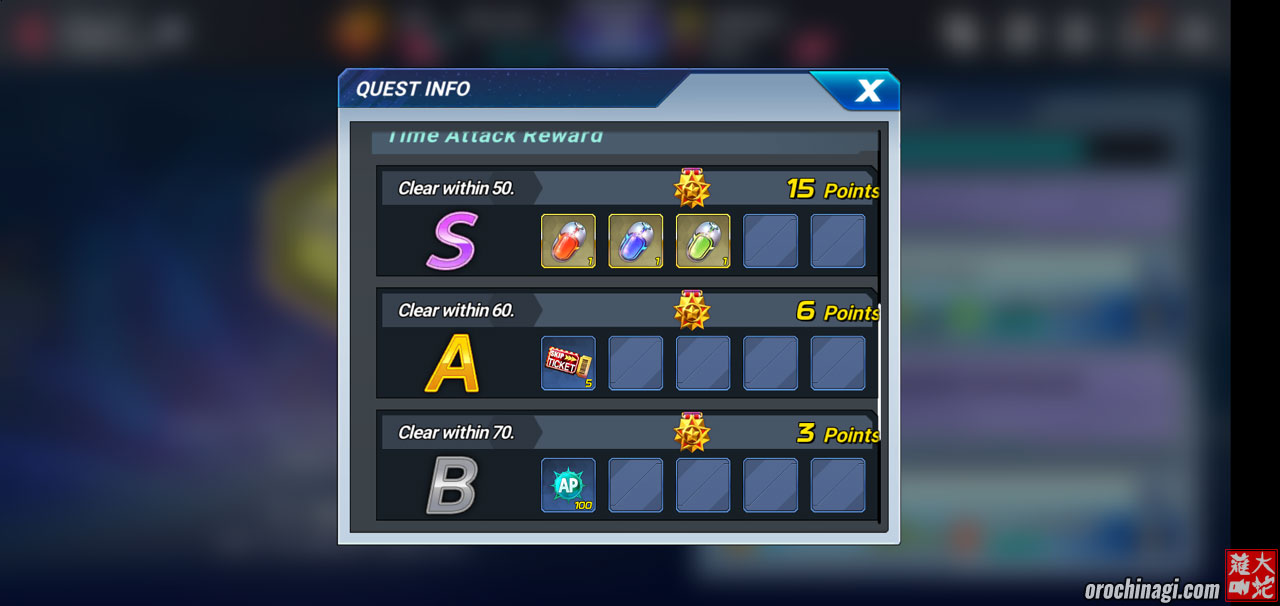 Epic Quest
You'll have to do this in steps, even your level 80 character can't beat chapter 2 on auto.
1. beat Crazy Mary Boss at end of chapter 1
Your character should be blue element level 60 with all available cores to beat Blue Mary but it's not necessary. Kyo or Terry 96 at level 80 should be fine. If you got the manual skills and the time, anything can work.
2. Farm / Grind Crazy Mary till your epic levels ( atk / def etc) are 3.
She can drop capsules and of course buff you, to be able to complete the rest of the quest.
but it depends on luck. Also capped at 4 a day.
if you grind, you'll get Strong enough to correct four AS characters, a load of cash, approximately 140 capsules…
3. Go for chapter 2 and beat Rugal.
4. repeat the cycle for the next bosses.
Others
Some events have the chance to drop capsules, even story events but remember some of these cannot be repeated, once you have obtained the rewards, that's all you get, or it's limited daily.
Check rewards of daily quests and festivals.
The secret shop often has capsules for 150 rubies omg, I wouldn't recommend it but if you have money….
And of course you can get capsules in the packs available in the shop for real money.
Time attack