Playland Carnival
Spot 21
Sega Battle Arena
Shinjuku Sportsland
Gameplaza has now closed
Playland Carnival
1F HUMAX Pavilion Shinjuku Kabukicho 1-20-1, Kabukicho, Shinjuku-ku, Tokyo
If you know your way around Kabukicho and the Yakuza /RyoGaGotoku series, it's easy to find – it's on 'theater square'.
Famous players gather here for tournaments Myu, Cap, Oz, Dune, etc.  It's been a popular spot over the years for tournaments, with many international guests!
Carnival has the advantage of space, with sections designated to game series, and a central location in the city.   The disadvantage is some laggy Vewlix setups, but these may have been upgraded.
The HUMAX building is easy enough to find, but you're looking for this arcade here called Playland Carnival, which is on the upper floor.
Spot 21
Spot 21 is another legendary arcade, although perhaps not for fighters. Still, last time I checked, they had the latest fighters.  Haregoro, famous KOF Joe player, is a regular here.
[ google map ]  SPOT 21 website
Club Sega Shinjuku West (Battle Arena)
Great arcade here: lots of high level challengers and SNK games. Also a tournament hot spot (Tougeki qualifiers are held here). Go to the basement floor to enter BATTLE ARENA, with all the fighters.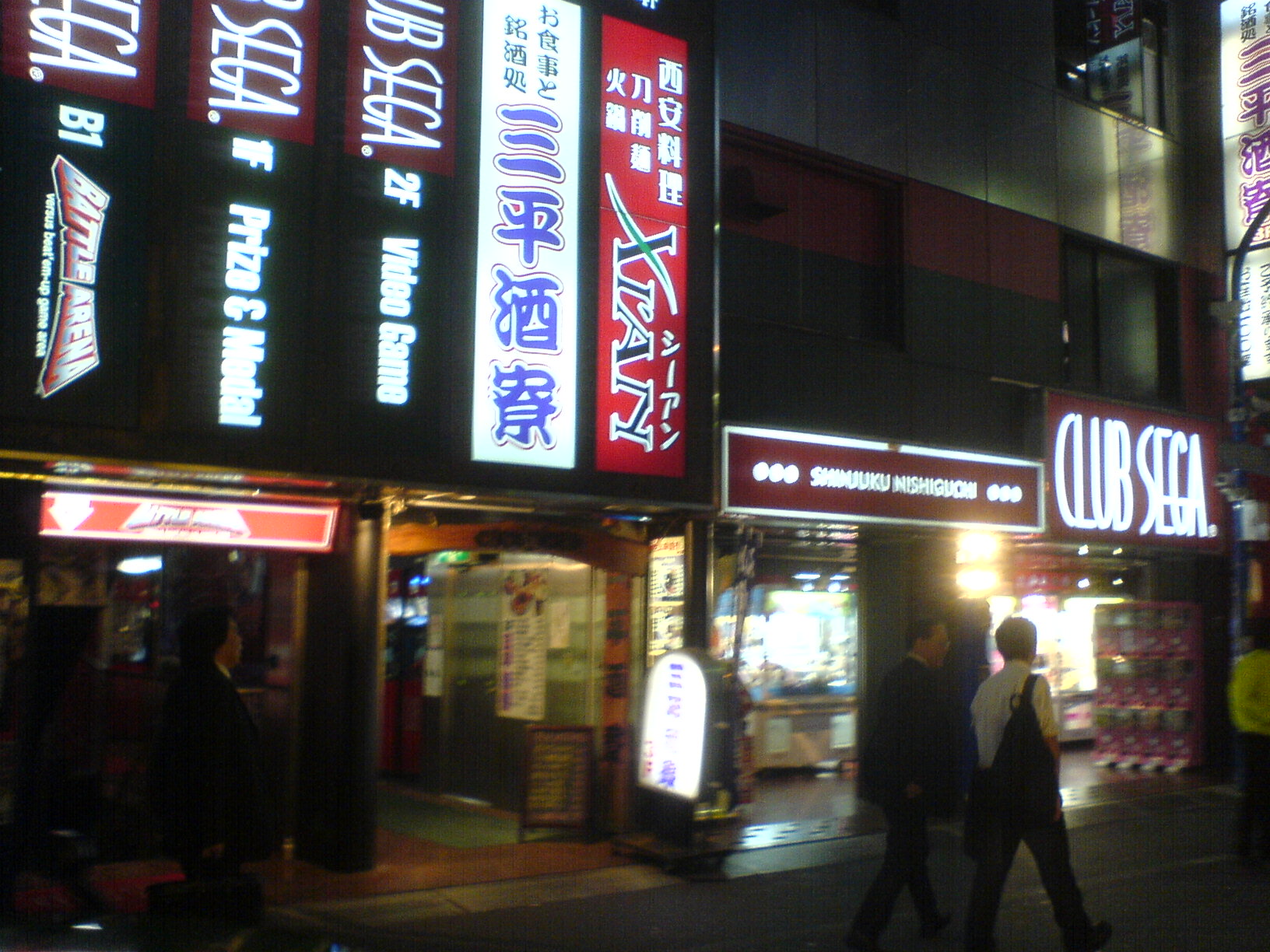 For you SNK fans, this is a definite. There is a cheaper arcade around the corner but you should visit here just to check out the competition. It's also spacious and ermm… lovely, with game posters etc. All the latest fighting games will be here.
Directions:
In the map above, I'm facing Sega Shinjuku, although it doesn't look so glamourous in the daytime.
[ google map ]
Shinjuku Sportsland
Top SFIV players were said to play here. It's still famous for fighting games on the 3rd floor, while tourists complain about their crane machines.
[ google map ]
Game Plaza Frontier
EDIT: As of Autumn 2010, this arcade has now closed. Info left for prosperity
I can't remember where exactly this arcade is, but it's close by. I think it was the cheapest in the area.
Here's a video of Game Plaza Frontier, inside. I think this was the arcade I found some gaijins hovering around KOF. That's cool, right?
Anyway, just check them all out if the arcade you're at in Shinjuku sucks for any reason, all three arcades are within easy walking distance.