The following is a restoration of a reallllllly old page I had up on Planet Dreamcast.? Some of the info is now outdated, but some, such as K Books, haven't changed.
]–= GUNSMITH IN JAPAN =–[
Akihabara, Tokyo
Posters that size are normally reserved for Cindy Crawford in some skimpy outfit. But what do you get here? A massive poster of Ivy from Soul Calibre. Joy Joy!
Akihabara has a section called "Electric Town" where all kinds of electronic goods are sold. Find the exit from the Subway (No6 down at the bottom of the stairs if I remember correctly), take a left to leave the station and then turn right. Go straight forward and the junction you will clearly see Segaworld.
Before you go to SegaWorld, before you reach the junction, on your left side you will see a brightly coloured building with escalators leading to the upper floors. The ground floor have mobile phone and hi-fi shops.
The first escalator you want to go up, as it leads to "K- Books", who deal in new and used Anime goods; I picked up the Kyo 97 Key ring, Athena soft toy from Band of Fighters, Orochi pin badge, Last Blade 2 Mousepad, Evangelion soft toy… They had anime costumes, posters, models, cards, LDs and a HUGE selection of hentai books (however they are all sealed in clingfilm). The funniest moment was when I visited the Hentai section (purely for research) and I stood behind a small crowd of hentai guys huddled around looking through some book covers. "Darling?" My girlfriend, who was previously resting outside the shop, had come looking for me. Suddenly the Hentai section had become a ghost town. Go figure…. Heh Heh.
If you continue from the escalators towards Segaworld, there is another building. If you look up, the second floor should have the advert "Gamerz" all over it. Follow the signs to go up. This is THE chain of shops to get game related merchandise. I got my KOF 99 OST on the day it was released (which luckily for me was the day I visited the shop). They had lots of reduced KOF 97 and KOF 98 stuff. I got a KOF 98 Folder. I picked up Iori's suffering for a real bargain price and it's much better looking at it in your own hands (it's bigger than A4 size) than on the web, believe me! However note, probably because of its location, that its stock of KOF stuff was much lower than the Gamerz store in Nihonbachi, Osaka. I'll cover that store later.
Segaworld: Following the posters for KOF '99, I headed downstairs into this suprisingly dingy room. However I suddenly realised it was packed full of versus machines of all the latest fighting games. I was suddenly VERY happy. I headed over to the KOF corner. Okay… they had 5 machines (actually 10 machines converted to versus play) of KOF '99. I was VERY VERY happy. I took two photos. I must add that taking photos in arcades is not allowed. However I don't speak or read Japanese (sumimasen, ne?).? After two games (the first in which I got destroyed pretty quickly by some Athena and Kim mind games I hadn't seen before) my girlfriend gave me the "look" (which means it's time to go or I find my own way to the airport.)
Nihonbachi, Osaka
This is Osaka's equivalent to Electric Town. Take the exit and turn right. Head straight down that road. Once you see a escalator leading up to a porno shop on your right hand side (yes I checked it out and was given directions to a bookstore that did doujinshi manga by the very helpful assistant), turn around and take the next left. Take the next left and you will see a cool and LARGE videogame store, with PC stuff etc upstairs (Good grief there's a lot of PC Hentai stuff!! I mean TONS of it! Games especially!!!). If go on past this shop if you take the next right down a small alleyway there's a manga bookstore (yes it has doujinshi) and if you don't take that right and keep going straight you'll meet another Gamerz store. This one was really cool. Here I saw Billy Kane's Jacket, got a Iori clock (pic soon), some Gamest Street Fighter Final Key rings (for my friends), a box of trading cards (I should have got the folder but I was a little bit wary of the price)…
(? Where am I, I forgot, was too delirious at the time- I thought I was hallucinating) Osaka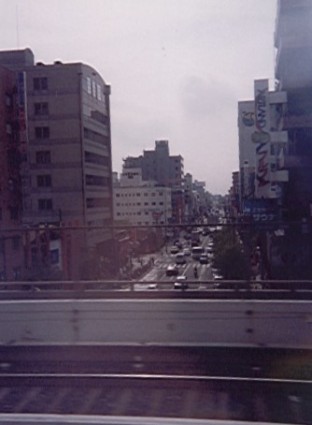 This is a picture from the train. On the left is a Neo Geo Land. On the right you can see Gees- I mean, er.. [SNK Tower]. Yes this was the pinnacle of the trip. The holy pilgrimage of a Neo Geo Freak to the homeland. On this street there are actually 3 Neo Geo Lands (not including SNK's headquarters). The bridge I'm on is the bridge under which Japan Stage in '98 is held (*faints*). One is the [Karoake and Sports Centre] which was the setting for [KOF '95].? Just look at the left hand side of the photo to see the blue Karaoke writing just under the "No Bicycles" sign and then compare *swoon*.
The Cafe. At this point I was trying to explain to my girlfriend to get as much of the scenery as possible. The ground floor has a majority of photo machines and upstairs has the games. This is where they hold KOF '99 tournaments every week *scream*. They hand out pamphlets to all the contestants. I came on the day when they were getting ready for the next one. I was just politely enquiring to what they were and they explained about the tournaments. I thanked them then walked away. Two seconds later, an attendant ran after us and … gave us a pack of pamphlets as a souvenir! *swoon* I LOVE SNK!
It's a rainy day, but this Gaijin is grinning his face off.
Neo Geo Land 2.? Okay. This is it. The real deal. This is what arcades SHOULD look like. No photos allowed (I got told off by an attendant- sorry, nihongo o hanashimasen- gomen ne?).? What can I say? Big fat Neo 50s. Versus machines. BIG posters of Kyo Iori and the other SNK fighters. Sob. Weep. Weep. More weeping…
Oh I went to see the Glico man in Osaka too, hoho SVC Millenium Match!
Jan 2010: Remember, I wrote this in 1999!? I returned to Japan in 2009 and things were very very different, sadly.? Check out that guide by clicking on Japan in the top menu.