In one more month we will see one of the most competitive KOF-centric tournaments to date. A tournament that has surpassed all expectations with its exponential growth and quality of players in attendance; and not to mention one of the first Street Fighter V tournaments. We are talking about Winter Showdown 3 hosted by the Kings of Co at Denver Colorado, where the first Dream Cancel Cup Finals will be held at. The tournament will host Super Smash Bros.,  Guilty Gear Xrd, Street Fighter V, KOF 98 UMFE, KOF 2002 UM, and KOF XIII as main tournaments. These are some of the elite KOF XIII players who will be in attendance:
Team Chaos is indisputably, LA's strongest and most well established KOF community and team. They always have a tournament presence in important KOF events. Team Chaos members have made it to top 8 in KOF XIII at multiple past Evos so keep an eye out for them at Winter Showdown 3.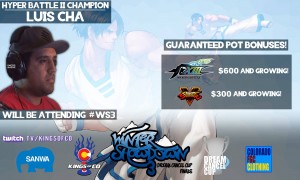 Luis has proven himself over the years as a top contender in big KOF events, most KOF players are familiar with his insane setups and short but deadly Ex-Iori combo "the Luis Cha".
From Mexico City, this contender has shown in many occasions that he will give the most elite players a great fight. He constantly makes it to top 8 in Evo, SCR, and any other big tournament he attends.  His team is always wearing pink.
Animal, aka Kahnibalito, one of the most creative combo makers out there, he understands the game like no other, this is why he stands out in skill to whatever tournament he attends, he placed 2nd in Evo 2015. His Mr. Karate's mastery is fearsome and he recently set Vice in his main team.
Violent Kain, also known as Mr. Rekkas, is a renown player from Mexico city Furia Tica's champion over the best of the best Misterio and in several occasions a top contender at Evo. Everyone fears getting caught by his rekka loops, which not many people have documented proficiency to do them at Violent Kain's level. if you ever beat his Iori, watch out for his true secret weapon.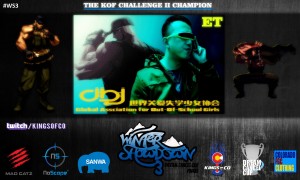 The Taiwanese warrior and fearsome Clark player. The vortex is real, just ask anyone who has played against him. Top player at multiple Evos and many other international tournaments.
I can already feel the tension, this tournament is going to be of the greatest quality in skill and character variety. Don't miss it for the world! KOF XIII has a pot bonus of $600 and growing. Street Fighter V has $300.
You can register here! pre-registration is still open.
Visit the event page for more details!
Ps; Please help Kings of Co by buying a limited edition t-shirt! All profits made from this will be used for pot bonuses or to bring an out of state(or country) player. There are three designs to choose from so pick the one you like. Kings of Co will thank you for the support! T-shirt 1. T-Shirt 2. T-Shirt 3! Hurry!! There's still time to bring an international player at a somewhat reasonable price.
Exclusive! Yes! this never before seen footage of KCO Pedro vs TxC [ON] Vicio going all out in their last possible match of KOF XIV at PSX. Check it out!
[youtube id="kID4Ln25nHU" align="center"]
The Texas Crew would like you to enjoy these previously unreleased KOF XIII matches from the day before LoneStar Admonition III.
AC Albanna vs TxC [ON] Vicio
[youtube id="4PAoGNnVPkk" align="center"]
ST|TL Animal(Kahnibalito) vs TxC [ON] Vicio
[youtube id="Ws2JsUbBuB8″ align="center"]
ST|TL Animal(Kahnibalito) Vs AC | Albanna
[youtube id="oCYHeab383w" align="center"]