Tournaments: Scotland, Korea, Italy, USA, England & Germany!
Well, Cannes is over.  Had a good time, will post up some videos soon but first here's some news on what's happening next!
HYPESPOTTING NEW LOCATION
ATTENTION – VENUE CHANGE
Thistle is OUT – Hilton is IN
$15,000 POT BONUS FOR ULTRA
and I will be commenting KOF. Ahem.
MD.Luffy confirmed!  With Heicko away, will BigFool & Atma be able to defend the Scots' KOF pride against Luffy's King, EX Kyo and Vice team ??
Get more info here – Hypespotting
IGT 2015
It is rumoured that 777 will be attending to show why he is the best Kim in the world.
Taki, Woo & Sange have also expressed interest but not confirmed yet.
get more info here! Id Global Tournament
THE COLOSSEUM FGT!
18-19 April in Italy!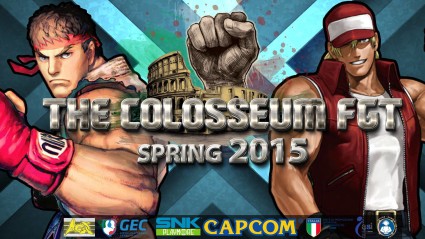 Primo classificato al torneo di USFIV: 800 euro
Primo classificato al torneo di KoF XIII: 300 euro CANCELLED
Here's the facebook event page
LONESTAR ADMONITION II
With special guests Misterio and Luis Cha!  Get more info here- Admonition II
UAFG Road to Colombia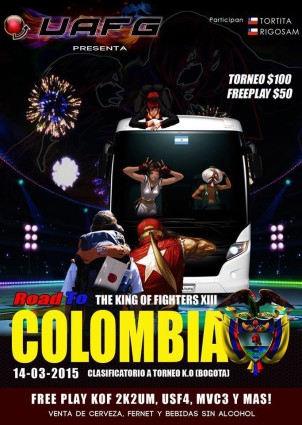 This event has ended.
MAR 2015
FAB TO FFM!
Luffy will also be joining FAB in Germany at Rumble 8 29-31st May!
KOF2002UM on Steam!
is now OUT!
The same devs who developed the awesome netcode for KOF98FE, Code Mystics, are on the job!
66 characters in all
New and old moves return!
MAX2 Moves with super detail!
Redone background music and win potraits!
Based on NESICA LIVE version with Tougeki changes!
Visit the steam page here:
Kyo, Benimaru and Daimon join METAL SLUG DEFENSE!!!
20 million downloads and going strong!
#KOF20thAnniversary Collaboration Campaign starts today on #MSD with the arrival of famous #KOF characters!! Moetaro? pic.twitter.com/8VGVHkshOV

— G-Mantle (?????? (@SNKPofficial) February 9, 2015
It's like having a whole load of NESTS clones at your disposal hohohoho
GET the game here !
Orochinagi


Promote your Page too
@pattheflip @orochinagicom @koogyplz Really cool that this is available. An instabuy for me.

— Glenn – thegametwok (@gyt) December 1, 2014
C'te classe @LN_Yamato RT @orochinagicom: get $7 off #FGC Yearbook http://t.co/MFghAWX71g pic.twitter.com/U3wACmvdSn

— AlabhamaMan (@AlabhamaMan) December 1, 2014
THE FGC YEARBOOK
Physical Copy Now $20.69 or less| Digital Copy $5 or less!
FOLLOW OROCHINAGI
SNKPLAYMORE
Follow SNK for news and giveaways @SNKPOFFICIAL !
FGC GAMING SHIRTS!
Now with Pao Pao flavour!