#DOA5U 2v2 Tag Battle @versusdojo @VSDOJO_TKO
En Francais and In English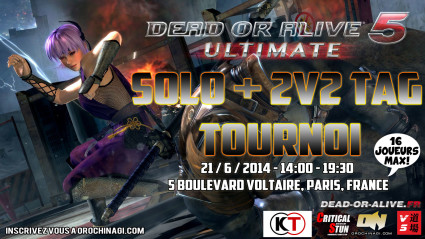 Tournois Tag 2v2 Aléatoire!!
vous ne choisissez pas votre partenaire d'équipe, NOUS LE FERONT.
16 joueurs maximum.
3 bornes avec matchs enregistré.
Plus de details bientôt!
Discutez ici
http://www.critical-stun.com/index.php?threads/versus-dojo-sessions-r%C3%A9guli%C3%A8res.302/
http://dead-or-alive.fr/forum/viewtopic.php?f=8&t=1746
mais inscrivez vous ICI avec un comment!
SOLO Tournoi
Double Elimination
TARIFS
Entrée : 5€
Tournoi Solo : 5€
Tag Tournoi : Gratuit
FORMAT: XBOX
Freeplay toute la journée, sur toutes les bornes d'arcades.
2v2 MYSTERY Tag Team Tournament!!
You don't pick your team partner, WE DO – well, it's random to start but if we see two powerful players together, we will edit teams.
16 players maximum.
There will be 3 setups and matches recorded.
Format: XBOX360
More details coming soon!
Please Register HERE by leaving a comment with your name and character!