So you may know that there is a big third strike tournament this Sunday, 5 on 5.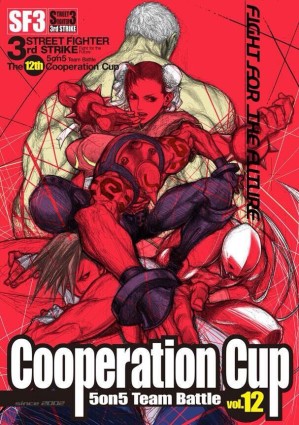 Did you know that team 36 consists of
ON. Myu
ON. Haregoro
Kake d
Keykakko
Maccoy
36? ???????
ON?????UR? ON???????AL? ????KE? ?????CH? ?????RE?
Full list here http://www.cooperationcup.com/#contents1
Stream will be here:
http://live.nicovideo.jp/watch/lv165123157
Schedule times (thx Shoryuken) – JST is Japan Standard Time so use a Time Converter
12th Cooperation Cup – Sunday, January 12

Qualifying Round – 10:00 AM to 10:30 AM JST (off-stream)
1st Round – 11:00 AM to 3:00 PM JST
2nd Round – 3:00 PM to 5:00 PM JST
Play-Off Round – 5:00 PM to 5:30 PM JST
Final Tournament – 5:30 PM to 9:00 PM JST
Thx to Myu for the photo
GOOD LUCK TO ALL CONTESTANTS!
But especially team KOF :p  LET'SGOOOO