OzHadou Nationals 11 + Tiers
There's no escape!!!
The longest running annual fighting game tournament for Australia – the 'OzHadou Nationals' (OHN) – will take place in Sydney, Australia next year from February the 22nd through until February the 24th. Once again our venue will be the 'Red Room' which is located in the Sydney CBD at '99 on York' on 99 York Street.
This marks OHN's 11th iteration and with it we will be running official tournaments for the following titles:
– Super Street Fighter IV: Arcade Edition 2012 (Xbox 360)
– Ultimate Marvel Versus Capcom 3 (Xbox 360)
– The King Of Fighters XIII (Xbox 360)
– Tekken Tag Tournament 2 (PS3)
– Virtua Fighter 5 (Xbox 360)
OHN 11 follows a similar format to OHN X, whereby Friday will be a meet/greet/casual matches/social session running from late afternoon through the evening; tournament brackets will be run on Saturday (alongside casuals and time permitting, any featured exhibition matches); with the top four for each official tournament game being held on the Sunday. Again, with time permitting we may be able to factor in additional exhibition matches on the Sunday also.
In the coming weeks we will be releasing more detail on OHN 11?s timetable, registration process and overview. Until then, please check out our announcement trailer above put together by Kientan from Sydney which covers key pieces of information. Please also visit the forum thread which you can find here to join in on the discussion and also fire away with any questions you may have.
Here's hoping we will see you all at OHN again this year!
http://www.ozhadou.net/announcement-ozhadou-nationals-11/
OZ TIERS
Colonov and Dark Chaotix had a discussion about tiers and this is what they came up with.  In other words, they didn't agree.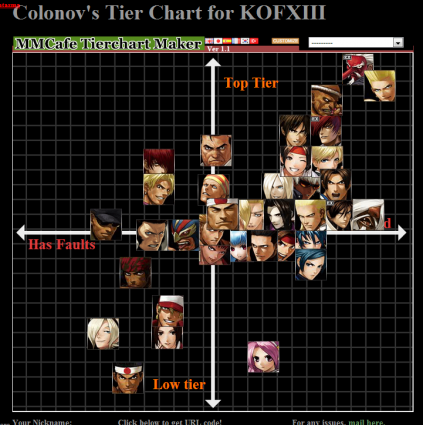 This is the overall rank they managed to agree on.
karate
beni
ex iori
hwa
king
kyo
takuma
yuri
claw
kim
k'
dou lon
andy
billy
ex kyo
saiki
chin
shen
eliz
clark
goro
mature
vice
leona
kensou
ralf
ryo
raiden
kula
athena
ash
terry
maxima
mai
robert
joe
I am sure that table has plenty of meat for discussion right there…